After a magnificent debut last year that doused the city in a cornucopia of colourful projections and brought contemporary art and live music to the masses, with over 300,000 attending, White Night returns for its sophomore outing this month.

Back bigger and better, the festivities will extend along the spine of Swanston Street from St Kilda Road's NGV in the south, right up to the City Baths in the north. With every major intersection and their hidden laneways involved, the 12-hour festival, inspired by Paris' Nuit Blanche, sees Melbourne join a global network of 20 cities that mark their White Night.

Artistic director, Andrew Walsh, says last year's outstanding success was a perfect storm of great weather, hard work and Melburnians' hunger for big, bold events like White Night. "It was a strange alchemy," he says. "Re-interpreting the city, closing the streets to cars and trams, gave people a new perspective, or an old one, one they don't have license to ordinarily do – to wander the streets with impunity and just stand and stare at stuff."

If music is your thng, this year's White Night more than delivers. The main Music Stage has been moved from the steps of Flinders Street Station to a platform on the La Trobe side of the State Library, which becomes the hub of the new Northern Lights precinct, with everything from trippy pop to electro to country programmed by Ali Bird, the brains behind Melbourne Music Week's Morning Ritual. Local bands involved include Beaches, Lost Animal, The Murlocks and Black Cab. The J+RnB jazz and blues stage also moves from Degraves to a bigger spot on Bourke Street Mall, so there should be less pedestrian traffic jams and more jamming.

The City Baths will play host to Moonlight Synchro, with Victorian Synchronised Swimming members tag-teaming a non-stop aquatic performance in the beautiful heritage surrounds. "Perhaps they'll decide how long each team swims based on how wrinkly they get?" Walsh wonders.

The impressive domed reading room of the library itself will be transformed into Molecular Kaleidoscope – Virus One Billion Times, with molecular biologist and artist, Drew Berry, projecting super-magnified viral beasties onto the stunning ceiling canvas for all to see, set to a score by award-wining Gotye and Kimbra producer, Franc Tétaz.

RMIT's Alumni Courtyard houses this year's answer to Michel Blazy's mad foam sculpture in the NGV last year. Dubbed Purple Rain, another French artist Pierre Ardouvin will create a huge man-made downpour lit up in fluorescent purple with umbrellas handed out to brave punters who can rock out, singing in the rain to the Prince classic on a loop. "It's on the same absurd-meter as Blazy's Bouquet Final 2," Walsh says.

Tim Winton's The Turning, directed by Robert Connolly, brought together a who's who of Australian actors last year, including Cate Blanchett, Hugo Weaving and Rose Byrne. Each of its chapters will be screened in key spots all over the CBD, with one part, Defender, showing at ACMI, which will also showcase Title: Sequence, compiling some of cinema's greatest start sequences.

Arts Centre Melbourne will be getting its spooky on with Phantoms of the Theatre Ghost Tours setting off into the creepiest, darkest back stage recesses every 15 minutes, with a brief history of Australia's frightening theatrical hauntings. Meanwhile, the Melbourne Symphony Orchestra will be doing a free Rachmaninov and Tchaikovsky concert over the road at the Sidney Myer Music Bowl.

Midden is a cool collaborative work from award-wining Melbourne art and design practice, ENESS, that pays homage to the traditional owners of the land by projecting crazy light and sound onto a 150 cubic-metre mound of rock in Birrarung Marr. "It's a pretty funky work that references the indigenous midden piles you find around the coast of Australia," Walsh says. "It'll be quite gorgeous."

Walsh himself has teamed up with photographer Nicole Reed and digital projection outfit, The Electric Canvas, for Tattooed City, a stunning work that will light up the exterior of the NGV, showing off some the city's finest art displayed on the best canvas: the skin of some pretty sexy Melburnians.

Queen Victorian Gardens, opposite the NGV, will be given over to Arcadian Reverie. Taking 18th century pleasure gardens as their inspiration, former Nuit Blanche Paris guru, Anais Lellouche, will curate a truly international wealth of artists showcasing sculptural and film installations for a weird and wonderful trip down the light fantastic.

Oh, and if you fancy a tipple to cap off your night, Trunk is licensed right through 'til 7am, with a light installation by acclaimed artist Kit Webster transforming the venue, dubbed Trunk Lux. And the best thing is, the trains and trams will run right through the night on all lines, so you can get in and out again without worrying.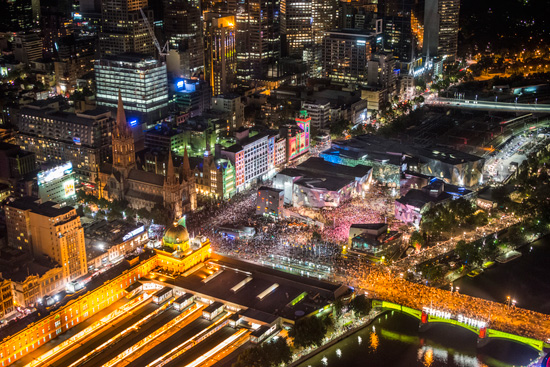 White Night Melbourne 2013. Photography by John Gollings.
White Night Melbourne
22nd February | 7:00pm - 7:00am
Website | Facebook | Twitter