Before you say, "quit livin' in the past, maaan" (I'm assuming you all talk like this), hear me out. While present day foods are all well and good, there is something to be said about snacks of the past. You know, those nutrition-less delicacies you used to munch on in front of the TV after school or triumphantly take out of your lunch box during recess? Those ones.
Here's our ode to the foods of the 90s we wish would come back into our lives.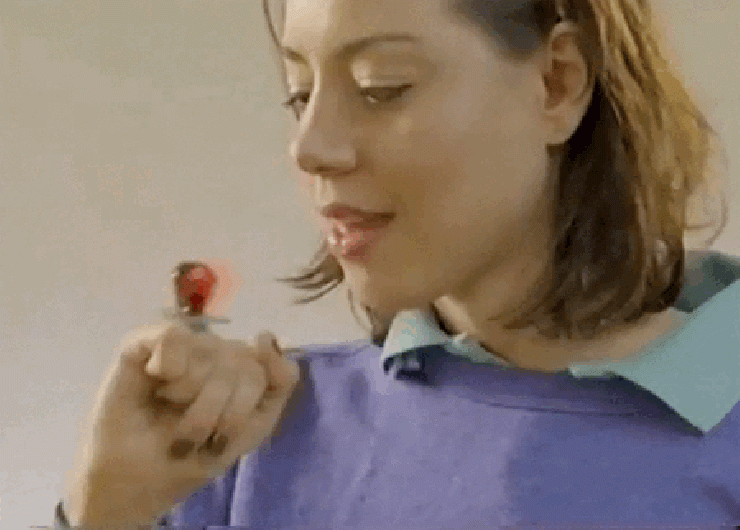 YoGo—don't mess with the YoGorilla.
Quik (before it became Nesquik).
Fruitymetres—were they actually a full metre?
Atomic Tomato Samboy chips, how we miss you so.
Dunkaroos—I'm pretty sure there was very little nutritional value in these.
Don't push me, push a Push Pop.
Summers weren't complete without Sunny Boys.
Incredibites—these truly were bites of incredibleness.
Chocolate spiders—these bad boys always featured at school fetes.
We couldn't get enough of Yowies.
Le Snak—the king of lunchbox snacks in primary school.
Cottees cordial because my Dad picks the fruit that goes to Cotteeeees.
CCs—did you know this stands for Corn Chips? Genius.
Wizz Fizz—we had no idea what this looked like when we were kids.
Mamee Noodles were strangely delicious. Could it have been the MSG?
Dixie Cups—the most inoffensive iced confection out there.
Getting sticky fingers with Ring Pops.
Space Food Sticks—because that's what spacemen eat, right?
Goldfish… The perfect accompaniment to watching Captain Planet.
How long could you handle sucking on some War Heads?
Spiders—soft drink + ice cream = parent's worst nightmare.
Cheese bread from Sizzler. Well, everything from Sizzler. Bring it back!
Frosty Fruits—remember those singing fruits? Those were the days.
The original freakshake… Wendy's shakes.
Wedges with sour cream and sweet chilli sauce, of course.
Smiths Chips featuring the creepy Gobbledok .
Roll-ups—it's "real fruit", flat out.
Ovalteenies are still the best.
There was nothing annoying at all about Melody Pops.
Coco Pops. Okay, so they never really went away, but we don't eat them nearly enough.
Petit Miam which was "aiiiii in calcium."
Want to relive the best of 90s fashion? Check out why we think the 90s was the greatest style decade of all time here.
---
Image credit: Push Pop