Navigating your way through the beauty world can be tough (seriously, why are all of the names so damn long?) but, as always, we're here to guide you through this fickle world. We've rounded up our favourite picks for your face and body, regardless of whether you need a good buff, wash or moisturise. You can thank us later.
1. Desert Lime, Vanilla & Orange Body Cleanser | Leif
This is the perfect night time body cleanser made with essential oils of citrus combined with vanilla and orange. Each ingredient serves a purpose, from the desert lime, which will stimulate and revitalise, to the sweet orange and mandarin oil, which promotes restfulness, and vanilla, which is both soothing and anti-inflammatory and simply smells delicious.

2. Eye & Lip Smoother | Sodashi
Buying two-in-one beauty products is a great way to treat yourself without breaking the bank, and since this product works to minimise fine lines and pesky signs of aging in your eye and lip area, we'll chalk this one up as a win. Who wouldn't want more youthful and smooth skin?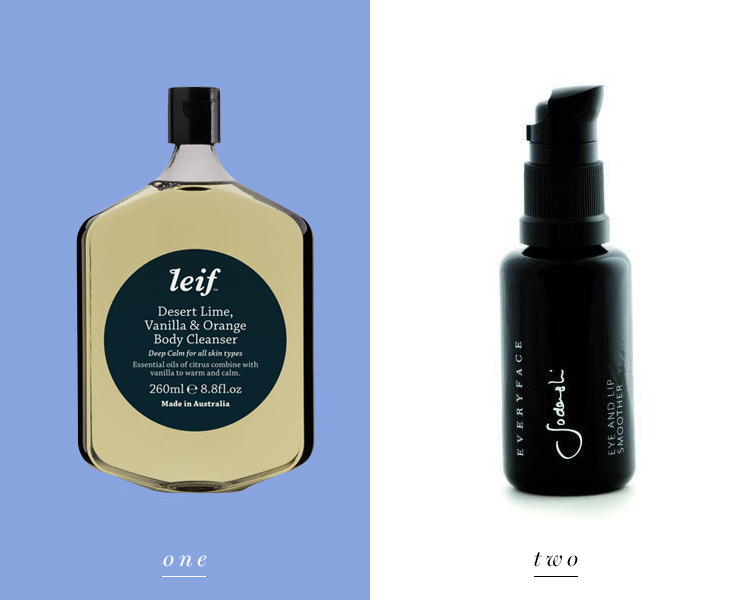 3. Resurrection Aromatique Hand Wash | Aesop
If you have Aesop hand wash sitting in your bathroom at home, then as far as we're concerned, you've absolutely got your shit together. It's exxy for a reason guys, and that reason is that it's created by wizards who have perfected the soft hand formula. Oh, and it also has a whole host of nourishing ingredients like lavender oil, rosemary leaf oil, orange oil and coco-betaine, which probably make a difference as well.

4. Seven Day Miracle Moisture Masque | O&M
Show your dry winter hair who's boss with this intensely moisturising miracle treatment by O&M. It utilises some of Australia's best native oils like macadamia seed oil and cold-pressed certified organic Australian argan oil to turn your colour and heat damaged hair around in seven days. Plus, it smells of vanilla so if you use it you will smell like dessert all day long.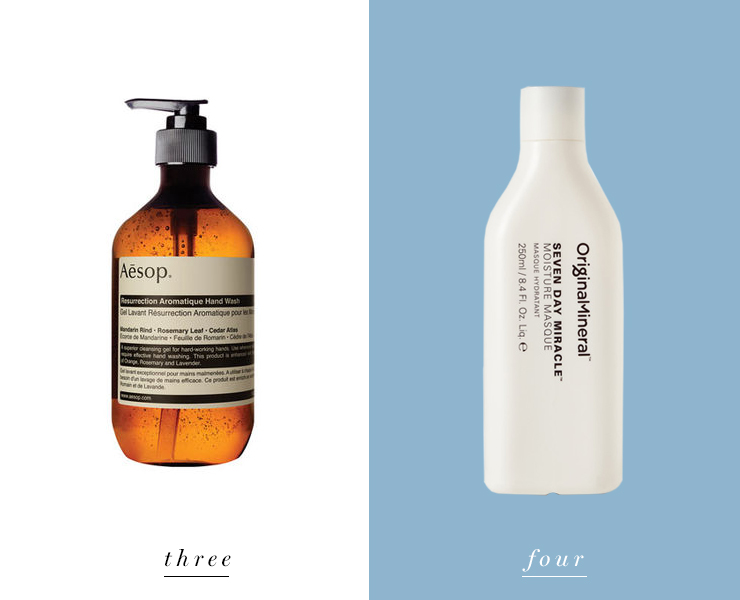 5. Age Repair Gel Masque: Pomegranate Extract & Peptide Complex | Grown Alchemist
Surely you'll excuse us for getting a bit lost when words like polysaccharide and hyaluronic acid start being thrown around. Assuming that you feel the same, we'll just say that this face mask promises to increase skin elasticity, hydrate and firm your skin and decrease the appearance of fine lines, leaving you with skin more supple than a baby's butt.

6. 100% Natural Ultimate Jojoba Youth Potion | The Jojoba Company
Youthful and radiant skin is on the cards when you start using this magical youth potion. It's a pretty fuss-free beauty product, since you can pick this one up from your local health food shop and a single bottle will last you yonks. The reason it's so magical is because of its high concentration of antioxidants, Omega 6 and 9 fatty acids and vitamins A, D and E. You get it—this stuff is good.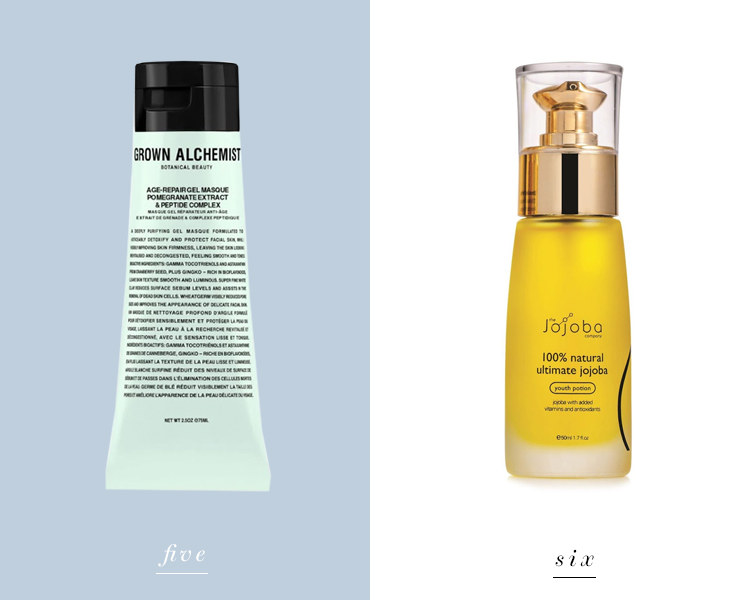 7. Hand & Body Lotion | MUSQ
You know the magical jojoba oil I just raved about? Yep, it's one of the MVP's in the hand and body lotion by MUSQ, which may be why it's such a fab moisturiser. Free from basically every single nasty imaginable, the key ingredients here are shea butter, jojoba and mandarin oil, which will work to balance and refine your skin.

8. Original Coffee Scrub | Frank Body
Frank is the straight talking man you need in your life and he's probably also the only man in our lives who can talk dirty, without making us actually feel dirty. The scrub is a cellulite and stretch mark buster, which comes down to their not-so-secret ingredient—roasted and ground robusta coffee beans. It also has sweet almond oil, vitamin E and sea salt. Go for the original or coconut flavour (but especially the coconut flavour).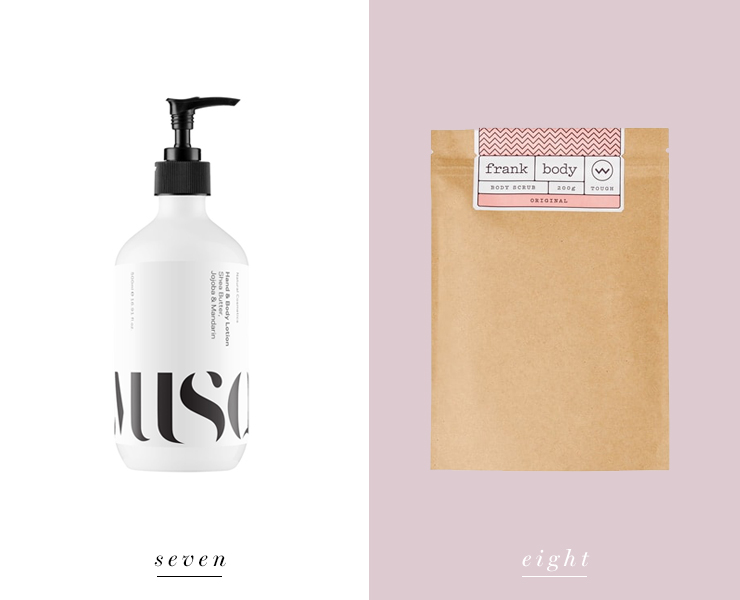 9. Rosewater Balancing Facial Mist | Jurlique
You can keep this one on your desk at work (we do!), to whip out, should you need it after that lunchtime gym class. Or feast—you know, whatever. It's the perfect way to freshen up and helps to balance and hydrate your skin in one quick spritz. It has ingredients like marshmallow root and rose flower extract, which are both extremely feminine and very effective.

10. Lucas' Papaw
A staple in most Australian's handbags, Lucas' Papaw is a go-to remedy for chapped lips and basically anything that ails your skin. Its red tube is iconic and if you don't have it in your lip balm rotation right now, then you'll be back to it soon. We alllllways go back.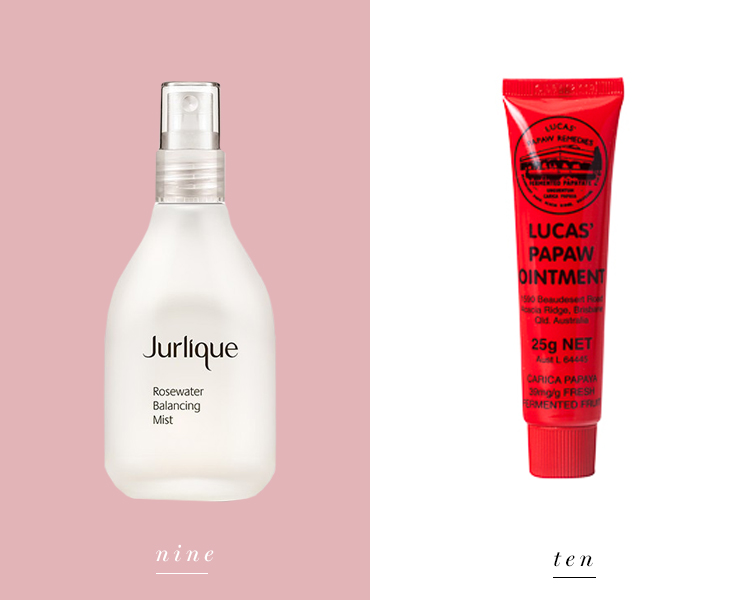 11. Chamomile And Walnut Face & Neck Scrub | Jacqueline Evans
This luxe facial scrub by Jacqueline Evans removes dead skin cells while stimulating circulation and encouraging cellular renewal, which all sounds like good stuff to us. It's designed to give your skin a more polished look and feel, serving as the perfect prep step before applying moisturiser.

12. Age-Defying AHA Face Exfoliator | Kora Organics
For a different kind of exfoliator that doesn't physically buff away all of your weekend's sins, opt for this guy. The key ingredient is the AHA (that's alpha hydroxyl acids, if you were wondering), which have been shown to promote cell renewal, thus making your skin appear smoother and younger. It weakens the bonds that hold your dead skin cells together, so you can easily shed your top surface of skin. It all sounds a bit freaky, but we promise it's a good thing.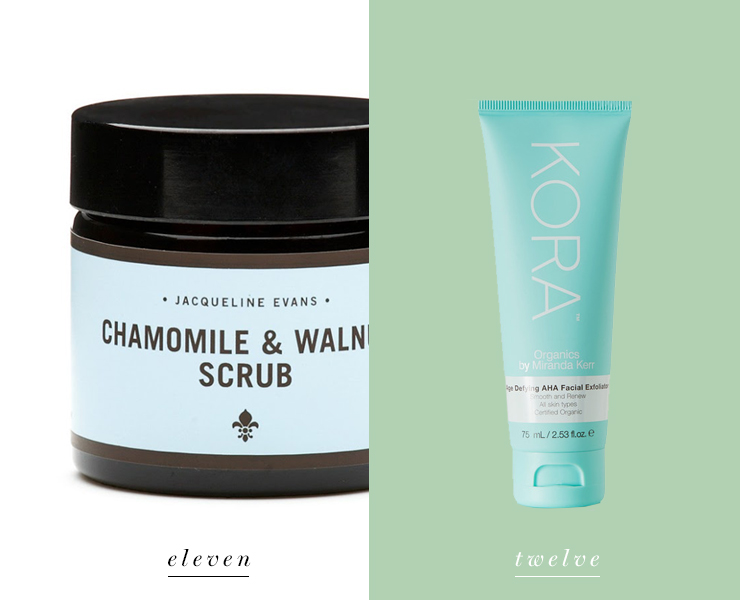 For those times when you head from work straight to drinks, here are the desk drawer must have beauty products you need!
---
Image credit: Gabrielle Stjernqvist Frank Body