Image Credit: Louise Coghill
Over the past few years, Perth's health and wellness scene has taken off and we are loving it! From the juice cleanse companies to the healthy cafes, from the wellness warriors to the hip yoga studios sprouting up all over town, Perth has got it going on.
To celebrate all of Perth's health magic, we're kicking off a cool little health and wellness series which will allow you to gain insight into the lives of some of Perth's healthiest cool cats. They'll share their tips and tricks and a whole lot of inspiration to help you live the healthiest life ever. Yesss!
This week, we met the incredibly cool, calm and collected Kate Taylor from The Yoga Vine in Perth. A huge advocate of yoga for health (duh!), we took ten with Kate to talk about her business, her top health tips and where she gets her daily caffeine fix.
WHY DID YOU GET INTO YOGA?
I took my first yoga class when I was 16 almost accidentally—I had no previous yoga exposure and literally just rolled into a class in Subiaco. That class was all it took—I was completely enamoured with the sensations that yoga created in my body and over the next 15 years, I travelled extensively to practice and train with some incredible yoga teachers in Australia and internationally. Through all of the twists and turns that I've experienced over the years—from the fabulous to the challenging and all the bits in the middle—yoga has been this constant thread. I like to teach dynamic classes that build heat and offer opportunities for people to be challenged, whilst hopefully being sumptuous and nourishing. I love music and use a lot of it in my classes—a great playlist can be a fabulous tool to stoke the ambience of a room and peoples practice.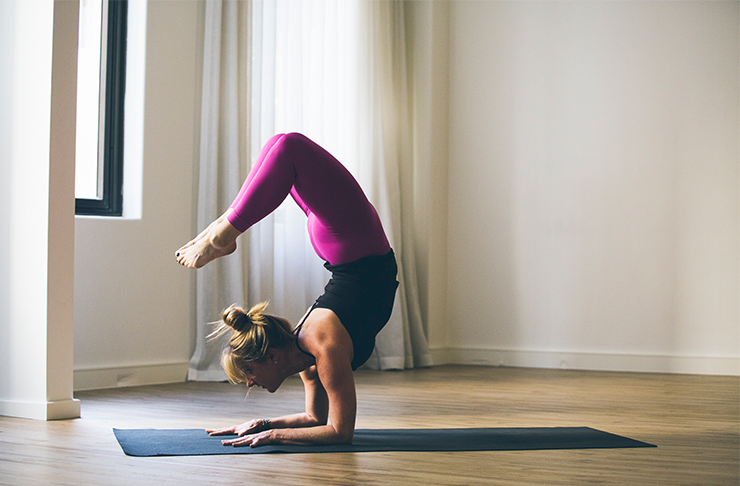 WHAT SPURRED YOU ON TO START YOUR BUSINESS?
Me and my business partner, Donna Buchanan, had been close friends and yoga practice buddies for some time, and we had been teaching the odd classes together and done a couple of small local retreats. The Yoga Vine was spurred on as a vehicle to formalise the things we were doing together, but it was really in January 2103 when we began popup classes at 140 in the Perth CBD that The Yoga Vine really took shape.
In April 2015 we opened the doors to our gorgeous studio on St Georges Terrace. We've put lots of thought into the interior design, the equipment and how we teach, all with the vision of creating a space that people feel comfortable, nourished and energized in when they practice there.
WHAT'S A REGULAR DAY LOOK LIKE?
There is no regular day for me, which I love! Every day is different as I move between The Yoga Vine management work, teaching classes, or working at Curtin University. The timing of my yoga practice varies depending on whether I'm teaching classes early or have other commitments—sometimes it's early in the morning, other times later in the day.
My friends and family are quintessential soul nutrition to me, as is walking—I usually try to get a good dose of these things daily too. I also love my solo time!
BEST PART OF YOUR JOB?
As a yoga teacher it is an absolute privilege to facilitate a space where people feel they can connect and be present with themselves and have an experience that feeds them in whatever they need on that day. One day it might be a sweaty workout or a good stretch, the next it may be to drop into a deeper space and process emotional stuff that's going on, and the next it might be to challenge our self-perceived limitations.
Seeing people come in stressed and tight in their bodies and watching them leave after a midday session calmer and more open—you do feel like your offering something that is giving people not just some relief but some lightness and energy in their working day.
FAVOURITE FORM OF EXERCISE?
This is probably obvious now—but yoga! I also love to walk—long hikes in nature and walking by the beach are MY favourites. I love riding and also doing Pilates and its offshoots for its structurally stabilizing effects, and love to dance.
YOUR TOP HEALTH TIP?
Drink plenty of water! So many of us don't realise how chronically dehydrated we are and how this affects our skin, how well our body is functioning and even the clarity of our thinking.
Also, move regularly in a way that inspires you—it doesn't have to be yoga, but finding a way to move your body is so important.
Lastly—sit still regularly. It doesn't need to be a big long meditation session, and it's often the belief that it needs to be this that puts people off in the first place—but even just five minutes a day, twice a week will have an impact.
WHAT'S NEXT ON THE HORIZON FOR YOU?
We will continue to grow and fine-tune The Yoga Vine and the experience for people who practice with us there. We will also be launching our online yoga classes in early 2016. Plus, we've got retreats planned in Yallingup and we will be kicking off our training and education programs soon. We've also got some internationally renowned teachers coming to The Vine to run workshops and have projects on the horizon with mental health and homelessness in the CBD, and in South Africa.
It's going to be a busy year but we love what we do so it's all exciting!
FAVE LOCAL PERTH SPOTS...
FOR A HEALTHY SNACK?
Market Juicery in Leederville or any place that serves a fresh-as Vietnamese cold roll.
FOR A DRINK?
Bar Lafayette, Bobeche and Lalla Rookh on St Georges Terrace in Perth and Clarences in Mount Lawley.
FOR BREAKFAST?
Panache in Perth, Little Shop of Plenty in Maylands and the Beaufort Street Merchant in Highgate.
FOR A COFFEE?
Crib Lane and Standing Room Only for coffee on the run in Perth CBD, Sayers in Leederville for longer coffee hangouts.
FOR DINNER?
Solomons in Highgate, Brika in Perth, El Publico in Highgate and Lucky Chans Laundry & Noodle Bar in Northbridge.
Want to know the best places to get healthy in Perth? Search Health in The Directory!