While stacked with community good vibes, my neighbourhood Shenton Park has been poor in the restaurant scene for a while now.
Galileo's upmarket menu has always drawn the crowds, and Kiri Japanese has diners spilling out onto the footpath in warmer months, but other than that we're fairly skimpy on decent evening eateries.
It was certainly time for a fresh face, so the cherry new Piccolo Trattoria has been received with gusto (just try and book on a Friday or Saturday night…patience required). We finally nabbed a table for six one stormy Wednesday eve, intending to try all of the mid-week $16 special pasta bowls (did I just admit on the Internet that I'm super cheap? Eh, everyone loves a meal deal, right?).
The small space creates a bustling, noisy vibe, a bit like Nonna's kitchen. It sets the scene for the perfect group dinner, although perhaps hold off a super romantic proposal dinner unless you want to shout "WILL YOU…" etc.
The waiters add to the friendly vibe, as they chat about the food and share their favourite dishes and making deciding on your meal basically impossible.
To make life easier, we ordered the share plate, which has a bit of everything. The enormous platter barely fit on the table, heaving with tender, garlicky calamari, crumbed artichoke hearts stuffed with fior di latte, crispy whitebait, creamy goats cheese with rustic sourdough and Italian sausage.
One plate happily fed all six of us without totally ruining our appetites for mains (and desserts, obvs) although a table less than four would want a couple of rugby players for comfortable consumption.
The Sicilian-influenced menu is mainly built around home-style pastas and simple meat dishes. I had to order the Linguini con Granchio to compare it with the spanner crab pasta I cook all the time at home…kidding, when they say home-style it's not really at any of our homes is it, friends? The dish was served without flourish or fancy garnish—it was all about the rich tomato, caper and chilli sauce, and the sweetness of perfectly cooked crab. Dead set winner.
The Spaghetti con Broccoli e Acciuge (brocc and anchovies = mates) is a surprise flavour bomb, and the hefty serve of traditional lasagne melts in your mouth. Coeliacs, you're in luck too—the owners have thoughtfully chucked on gluten-free pasta of the day (Sedani, a mix of quinoa, corn and rice flour, was on when we dropped by).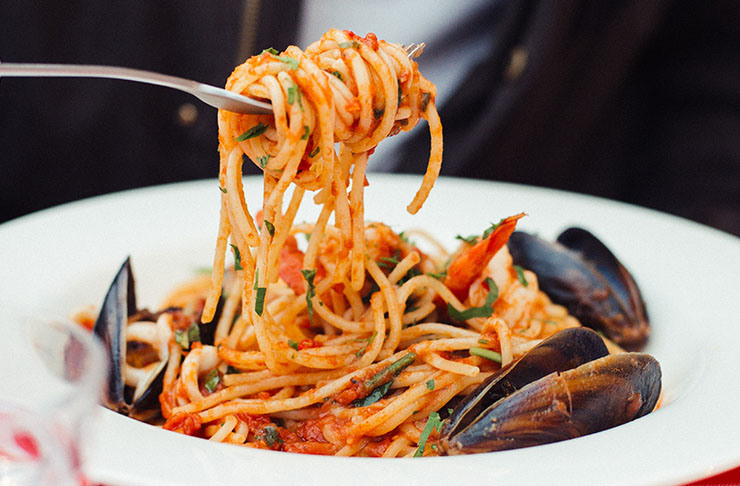 The lads in the group couldn't go past La Cotoletta (beef schnitty) served with linguini or rocket salad (no rocket leaf was harmed during our visit, it must be said). The tender beef fillet encased in a tasty, Grana Padano crumb was a hit.
We left room for dessert (by that, I mean we undid the top button of our jeans) and requested tiramisu to make Nonna proud, but sadly, just as the menu had warned us, the daily delights created by Piccolo means often they run out. We settled on the lemon-lime crème brulee, impressed by the smooth custard's lime-y kick, and all six of us partook in a little spoon karate to capture as much of the caramel crust as possible.
We'll be back for the tiramisu, perhaps dessert first next time like my own Nonna would've done.
Heads up, it's BYO and book in advance. Despite being a sweet, little corner trattoria in the awkward location overlooking a roundabout (who doesn't love a good orchestra of honks to accompany a meal), Piccolo has taken the locals by storm.
Image credit: Tasha Faye