Get to it peeps, we're throwing a bunch of epic Sydney exhibitions your way so all you really need to do is… go. We know, it's a hard life you live but someone's gotta do it.
These babies are on RN, which means you'll be lapping it up amongst a sea of rainbow balls, gigantic building blocks, a visual installation all about quantum physics and actual props from the box-office classic Titanic. Yeah, minus the horrific traffic, it's not so bad being a Sydneysider at the mo.
Grab your mates and practice your candid AF poses. Here are all the insta-worthy exhibitions to see right now.
'Atomic: Full of Love, Full of Wonder' By Nike Savvas
A room full of thousands of rainbow balls? We think yes. This mesmerising installation by Nike Savvas is made of just that. Thousands of vibrating rainbow balls. The suspended balls sway from a light wind created by large fans around the exhibit to mimic the fundamental units of all things. Atoms. And trust us, it feels as mesmerising as staring into an actual fire.
What: 'Atomic: full of love, full of wonder' by Nike Savvas
When: Saturday 14 July until Sunday 21 October 2018
Where: Art Gallery of NSW
Archibald Prize
While you're at the AGNSW, you should deffs check out the annual Archibald Prize exhibit. The exhibit features over 50 portrait paintings by Australasian residents of people prominent in art, letters, science or politics. Aaaand if you visit before the August 12th, you'll actually get to vote on your fave piece!
What: The Archibald Prize
When: Saturday 12 May t0 Sunday 9 September 2018
Where: Art Gallery of NSW
'Micro | Macro' By Ryoji Ikeda
This immersive audio-visual installation merges art and quantum physics and if that kinda makes your head whirl, relax, you're gonna love it. Made up of two parts (read: a 10m wall projection and a theatrical display which covers a whopping 172.8 square metre space) Micro | Macro uses the Planck scale (which measures atoms) to contrast the human scale with the unobservable. The immense installation will literally make you question your place in the cosmos.
What: 'Micro | Macro' by Ryoji Ikeda
When: Thursday 5 July to Sunday 29 July 2018
Where: Carriageworks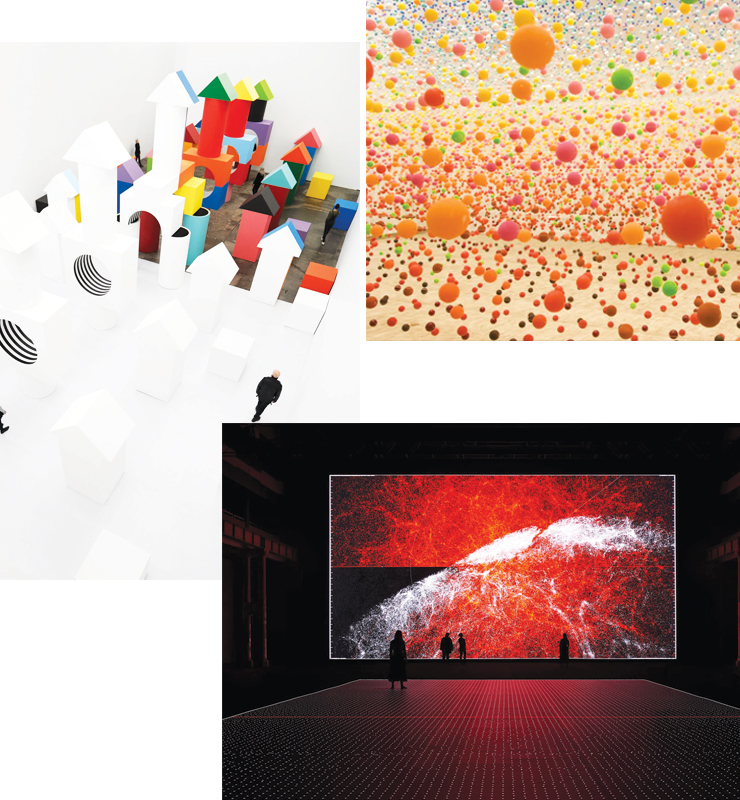 'Like Child's Play' By Daniel Buren
The toys we once towered over as children, now dwarf us in Daniel Buren's latest exhibit. This installation features hundreds of oversized toy wooden blocks, arches, triangles and pediments arranged like a cityscape and yep, it'll take you back to your heyday of playing for endless hours and never, ever getting tired.
What: Like Child's Play (Comme Un Jeu D'Enfant) by Daniel Buren
When: Saturday 7 July to Sunday 12 August 2018
Where: Carriageworks
'Weight Of Insomnia' By Liu Xiaodong
Want to watch a robot paint? Then head to White Rabbit. Liu Xiaodong's latest work the 'Weight Of Insomnia' features a painting robot meticulously recreating a landscape image from a live webcam. Working throughout the night and day the work acts as a commentary on Chinese society where freedom, ambition and optimism coexist with anxiety, isolation and surveillance. We know, hella cool, which is why you need to get there stat.
What: 'Weight of Insomnia' by Liu Xiaodong
When: now until Sunday 5 August
Where: White Rabbit
James Cameron: Challenging The Deep
James Cameron (you know, the director of Avatar and Titanic) has an epic hobby which will put your Insta-game to shame. He's an avid deep sea explorer among many other great things and you'll be glad to know there's an awesome exhibit on down at Darling Harbour which pretty much showcases all of the great things he's done. You'll find an actual copy of his own personal Titanic script with original markups, costumes and docos all about how he pioneered underwater recording, lighting, communication and diving technologies, #overachiever.
What: James Cameron: Challenging the deep
When: Tuesday 29 May 2018 to Wednesday 30 January 2019
Where: Australian National Maritime Museum
Xun Sun
Taking over level one of MCA is Xun Sun with his first Australian solo exhibition. The exhibit will feature a number of Xun Sun's animated works, a 40-metre-long painting on bark paper and woodcuts and a 10-metre-long painting created a view of the public in response to his time in Sydney. You won't want to miss this emerging artist.
What: Sun Xun
When: Monday 9 July to Sunday 14 October 2018
Where: Museum of Contemporary Art
PS. Here are all the best reusable bags up your trolly dash-fash.
Image credit: Supplied