Let's be honest people. The term 'freebie' makes us light up like the Harbour Bridge on New Years' Eve and we love nothing more than being able to head out on the town without breaking bank. Whether you're tight on cash ('coz your freshly back from Europe) or went a bit too hard last weekend, this article is right up your dollar-saving alley.
And can confirm this month is jaaamm packed with epic happenings that won't cost you a thing. Here are all the best free things to do in Sydney this August!
NORTHIES CHILLI FEST
Lovers of all things spicy, this one's for you. Northies in Cronulla is holding a month-long festival dedicated to alll things chilli. Through the month of August Northies is launching its wicked-hot specials and chilli infused drinks. Eats include angry wings, a scorching chilli burger and a chilli roulette pizza. Each dish is complemented with the 'Death Wagon', read: a cart stacked with 30 of the worlds hottest sauces (someone pass the milk). Not hot enough? Drinks include chilli-infused vodkas, blue chilli margaritas and traditional cocktails topped with Chilli Fairy Floss. To top off its spicy festivities there will be chilli eating comp on each Sunday of the month. For more info or to register for a chilli eating comp head here.

When: Wednesday 1 August to Sunday 26 August
Where: Northies Cronulla Hotel
Refugee Camp In My Neighbourhood
Join in and celebrate the efforts and resilience of refugees and asylum seekers. A mini-festival of food and culture, Refugee Camp In My Neighbourhood offers two-hour interactive tours led by guides from refugee and asylum seeker backgrounds. The simulated journey explores the journeys that refugees and asylum seekers take to find a safe place to call home. For more info head here.
When: Saturday 4 August, 10.00am to 4.00pm
Where: Auburn Centre for Community
Winter Party At Manly Wharf Hotel
Snow has been forecast in Manly this month. For one night only Manly Wharf Hotel is transforming into a winter wonderland (cue snow machine). Don your daggiest Christmas sweater and sip on warm spiced rum cocktails. FYI there are prizes for the best (read: worst) dressed.
When: Saturday 4 August, 6pm
Where: Manly Wharf Hotel
'Like Child's Play' By Daniel Buren
Get in quick, Daniel Buren's latest exhibit 'Like Child's play' ends soon. Relive your childhood with this installations hundreds of colourful, oversized toy wooden blocks, arches, triangles and pediments arranged to look like a cityscape. For more deets, head here.
When: Saturday 7 July to Sunday 12 August 2018
Where: Carriageworks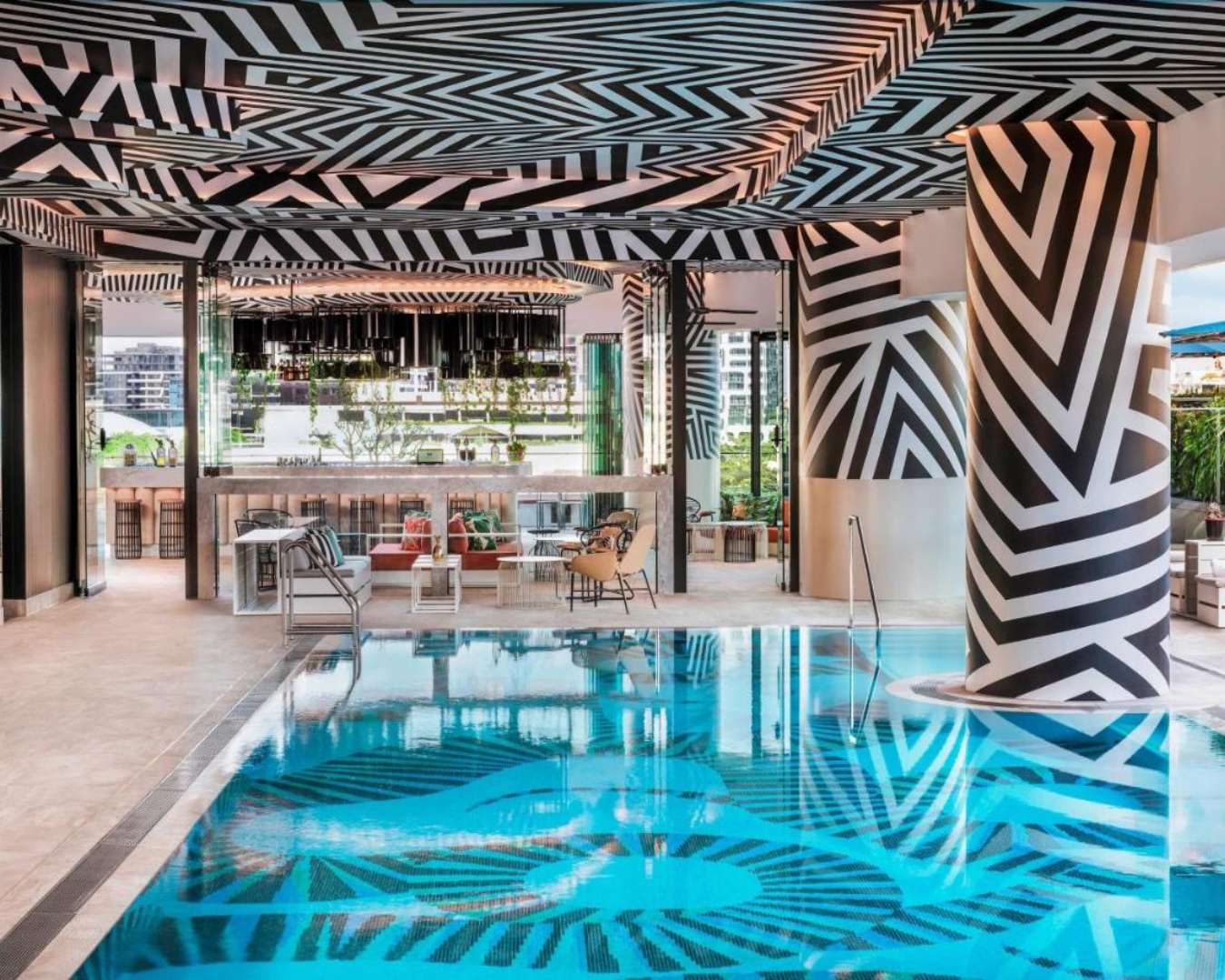 Host A Mission Australia Sleepout This Homelessness Week
To help raise awareness for the homelessness issue (more than 116 000 people are homeless on any given night in Australia) Mission Australia wants YOU to host your own sleepout. So get your gang together and sleep out under the stars, in a school (with their permission of course) or on your living room floor. Head here for more deets and to register your team.

When: Monday 6 August to Sunday 12 August
Where: Various locations
Mudgee Food And Wine Festival At Balmoral Beach
A festival dedicated to alll things food and wine. Need we say more? Spanning the entire beach foreshore this food and wine festival brings authentic taste from Mudgee to Sydney. Mellow out to the tunes of live acts feeling the sand beneath your toes. Sample fresh produce and drink drops from the likes of Robert Oatley Vineyards and Slowfox Wines. There will also be a petting zoo of our barnyard friends. Jump right here for more.
When: Sunday 12 August, 11am – 5pm
Where: Balmoral Beach
Pollination At The Calyx
Guys, if you're a sucker for anything Insta-worthy, you'll want to head over to The Royal Botanic Gardens because FYI there's a massive wall packed with all the lush greens, orchids, daisies, gardenias and lilies ever. These colourful beauties are in full bloom too so you'll probably want to stick around a while and take in the 50-metre installation.
When: Every day until Wednesday 15 August, 10am-4pm
Where: The Royal Botanic Gardens
German Christmas Winter Market
For two nights the German International School is transforming into a European winter wonderland. Complete with Christmas puppets and fake snow. Sip on a glass of Glühwein (German mulled wine) while you peruse the stalls of jewellery, homewares and festive ornaments. Be sure to check out the giant snow globe before roasting marshmallows by the fire. Keen? Of course you are. For the low-down, head here.
When: Friday 17 August, 5 - 9pm & Saturday 18 August 4 - 9pm
Where: German International School
PigFest
Lovers of all things ham, it's time to get some pork on your fork. Public House Petersham is holding a one day feast dedicated to our delicious porky friend. The day features a delectable one-off menu, including BBQ glazed pork ribs, maple bacon lollipops and maple bacon doughnuts for dessert. Wayward Brewing Co and Batch Brewery are on beer duty bringing bacon infused beers just for the festival. With an epic feast like this, we won't blame you for trying to hog it all.
When: Sunday 19th August, 11am - 6pm
Where: Public House Petersham carpark
QVB 120 Year Celebration
Heads up, the QVB is turning 120 and to celebrate this momentous occasion the QVB is throwing a birthday bash. Festivities will include complimentary cocktails like "The 1898' and 'The Queen Vic' (curated especially for the occasion), wine and champers, workshops, live music and retail specials. During the night punters will be able to view the QVB Memory Lock. A 5-metre tall key installation by James Dive and Scoundrel Projects. For more on the festivities, head here.
When: Thursday 19 August, 4 - 9pm
Where: Queen Victoria Building
Eat Your Heart Out Liverpool
Taking over, Railway Street, Eat Your Heart Out is a festival celebrating the best of Liverpool. Public art, carnival games and food trucks including Pimp my Chimney, Feast of the East and Dirty Bird will line the street. Alongside the food, there will stalls of handmade goods from the likes of Paperlight and Bath Bums Boutique. Festivities will also include open mic poetry slams, live music and performances from local and international acts. For more deets head here.
When: Saturday 25 August, 2-9pm
Where: Railway Street, Liverpool
Here are all the events happening this August in regional NSW.
Image credit: Unsplash