In Australia, we're renowned for our stunning coastlines and diverse wildlife. But the survival of our environmental ecosystem amid widespread pollution has a looming threat—it's us. Fortunately, while we may be the problem, we're also the solution.
When Byron Bay couple Natalie and Dan took a seven-month sabbatical around Australia, heading anticlockwise from Brisbane, they were shocked by the sheer amount of pollution across our beaches. Without hesitation, they set out to clean up our coastline, particularly the Cape York Peninsula, but it was a hefty job, to say the least. Despite their traction, they quickly realised many more hands were needed and thus Clean Coast Collective was born⁠—a not-for-profit organisation fighting the war on plastic waste, crowdfunded with the help of ING Dreamstarter.
Here, we talk with Clean Coast Collective co-founder, Natalie, about her plastic-free mission, how others can get involved and why progress is more important than perfectionism.
You guys are big on volunteering, what is your 'Trash Tribe' all about?
The idea is we take a group of people who are from all parts of Australia with different backgrounds and different industries up to Cape York each year. We try and take people who aren't already deeply passionate about plastic pollution because we want to break out of that 'eco bubble'. We've taken artists to designers, economists to marine scientists with the hope they'll come on this trip and have a transformational experience, come back and share [the message] within their communities right across Australia, rather than just staying inside the movement.
How can people get involved?
We have a really strong online community and whenever we run an expedition, we'll put it out to our social community and our mailing list. We get flooded with way more applications than we can take unfortunately but part of the application process is to pitch to us an idea around how that individual would like to share the experience once they return home. We've had some really cool projects come out of the trip, like film screenings and art exhibitions and people initiating new policies within their workplace. So that's how the project continues beyond the cleanup, as the cleanup is only treating the symptom of the issue.
What happens with the excessive amount of trash you pick up from our beaches?
Our partners Tangaroa Blue run the Australian Marine Degree Initiative, which is the national rubbish database. All the beach and waterway cleanup groups around Australia report their data so we can have a full national picture of the extent of the issue and then that data is used for government policy development.
Once we pick up the rubbish from the beach we take it back to the sorting station at camp and we tip out every single bag we've collected from the beach, divide it into types of materials, like hard plastic, soft plastic, wood and rope, and record each item down—it's quite a painstaking process. I think that first year we counted 90,000 individual pieces of rubbish. And then through that process, we divide them into recyclables and non-recyclables. Then the non-recyclables, like ropes, nets, thongs or children's toys go off to artists to use in installations.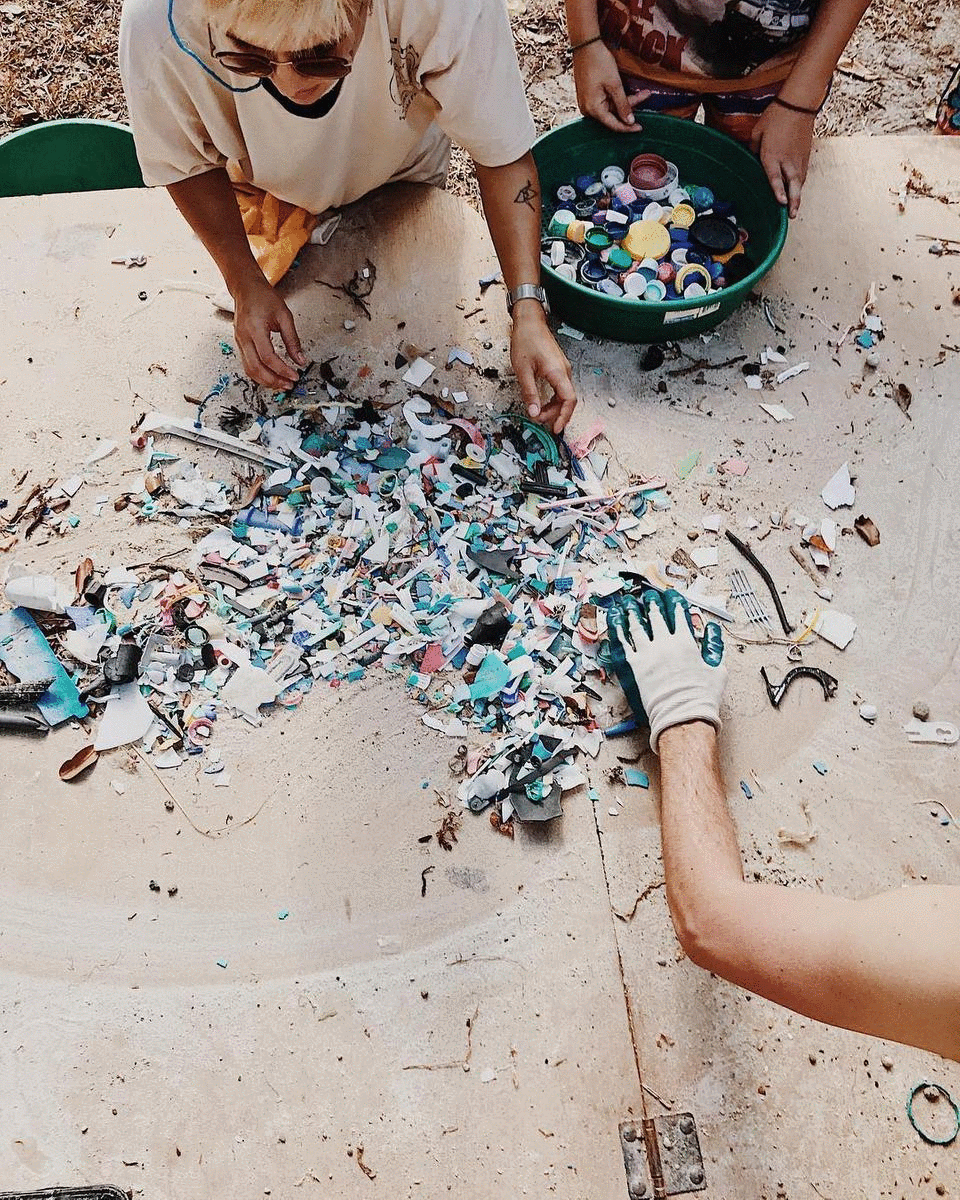 We're currently witnessing countries like Canada and India ambitiously planning to ban single-use plastic items by 2021 and 2022, do you think there is a national solution for Australia?
I'm constantly caught between this idea of whether the solution is from the top down regulation or whether it's from grassroots and consumer behaviour change. I think sometimes the environmental movement gets a bit single-minded. One of the people who came on our 2017 expeditions is a disability advocate and we spent a lot of time chatting about the plastic straw ban because a lot of people rely on plastic straws to drink and consume if they've had an injury that reduces their ability to chew or swallow. So from that, we realised we can't just look at the environmental issue, you have to also consider social and community issues as well. It's complex. If you are in a position where you can make a choice to not use those things, then I think people need to start doing that instead of waiting for governments to make a change.
The University of Newcastle estimate we consume around five grams of microplastics each week, which is the equivalent of a credit card. Do you think this could act as a wake-up call for people?
Yeah, that's pretty scary science. I feel like we've become so disconnected from our impact. In our day-to-day, our rubbish is whisked away from us and we don't see our accumulation of waste or the impact of it, so I think those type of facts are a bit of a wake-up. I also think people tend to block out confronting imagery and messages because it can be overwhelming. We're just so bombarded with all the devastation of the world that when it gets a bit too much we just shut down. At Clean Coast Collective, we've always tried to take a positive approach by sharing what people are doing to help.
In what ways do you try and live a sustainable lifestyle?
We're lucky in Byron Bay because we have multiple package-free stores and supermarkets with bulk food options, so we try and use that as much as we can, but we're not perfect. There are definitely times when the only option is to go to Woolworths but I think we've just started that habit and it's become quite natural for us. Sometimes you have to make compromises and choose one thing over another. If I'm out and about and there is a vegetarian meal in plastic or meat in paper maybe I'll go for the meat over the vegetarian whereas other people might prefer vegetarianism overall.
For us, we've really been on this journey to determine our values and how we want to live our lives and I encourage other people to figure out what issues they want to put their energy into because it's going to be different for everyone. It's all about progress over perfection.
Images source: Clean Coast Collective.