Two little words. Festive season. It's enough to fill the health-conscious with dread.
So many parties and casual catch-ups filled with not-so-good-for-you canapés, and more than a few champagnes. Before you know it, you've well and truly blown your calorie intake by the time Christmas day rolls around.
We don't want to be the downers at the party, but when it comes to being healthy, our beloved Sunshine State has some work to do. Harsh fact: Only 12 per cent of Queenslanders are a healthy weight with healthy lifestyles!
Short of becoming a socially nervous wreck, or a hermit who cries at the mere mention of a party pie, it can be a tricky game avoiding a waistline, and health, blowout.
But because we're realists here at The Urban List we know it's impossible to completely avoid temptation so we got the low down on FOMO and guilt-free, festive season partying, from the clever folks at Queensland Health, who you can think of as your silly season support crew.
Read on for 10 tips on how to avoid festive season blowouts this Christmas!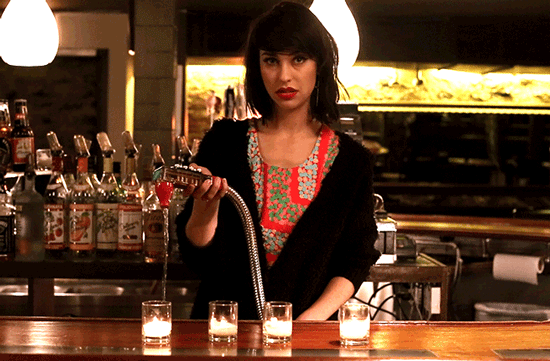 #1 Alternate with water.
If you are anything like us, a chilled glass of Champagne is like a signal that Christmas is just around the corner, and the only real festive drink of choice (der, it has bubbles in it). But alcoholic drinks (and soft drink, obvs) are full of sugar, meaning just one or two can send you down the path of over-indulgence, quicker than you can say Moet et Chandon. Hot tip: alternate water for kilojoule laden alcoholic and sugary drinks, and both your head and waistline will thank you.
#2 Stop. Move Away From The Food Table
It doesn't take a health scientist know that the closer you are to the food, the easier it is to mindlessly munch on whatever is within arm's reach. Putting space between you and the unhealthy morsels may just curb that habit.
#3 Pinch those portions.
It's easy to keep eating when you're full with finger food, and sometimes it feels like one is never enough. Instead of cramming your plate full of every single canapé on offer, choose the smaller plate, try the nibbles one at a time (rather than by the fistful), and take just half a glass. You'll be surprised with how full you get, and how such small changes can make a difference.
#4 Stop the nervous eating.
Sometimes—despite your effervescent nature and social butterfly status—party scenes can cause a case of the nerves, which can, on the odd occasion, lead to nervous eating. Instead of feeding your face (and the nerves), why not hit the d' floor, or strike up a conversation with a new face? There are plenty of ways to distract yourself at a party and not all of them involve noshing your way through the nibbles.
#5 Don't arrive hungry.
A hunger the size of Godzilla will do little for avoiding temptation, so before heading to the part-ay, snack on something healthy to line your stomach. That plate of spring rolls won't even get a double take. Take that, fatty foods!
#6 Move that butt.
Exercise is an effective way to lose weight and maintain your health, so if you've over-indulged in Christmas treats, just up your exercise regime to compensate. Simple, right?
#7 Find yourself a healthy buddy.
There's power in numbers, so grab a like-minded friend, and resist together! Whether you're chatting, swanning around the party, or cuttin' a move on the dance floor, you'll be too busy to think about food. And your buddy can motivate you to walk away from treat-laden table, too!
#8 Prepare to say no to the enablers.
You know there's always a bad influence that cares little for your health and fitness goals, ready to shove another chocolate slice your way! Be prepared with a list of responses in case you're likely to bend to the pressure. 'I couldn't possibly fit in another rum ball, Nanna!' should do the trick.
#9 The fruit swap.
Is your sweet tooth out of control? You'd be surprised how satisfying a piece of fruit is for satiating sugar cravings. Try summery favourites like watermelon, grapes, mango, and pineapple.
#10 Be strong. Say 'no thanks'!
At the end of the day, you're the one responsible for your health and fitness so don't bend to the peer pressure. Politely, but firmly, say no thanks to the well-meaning advances of your friends and family, and think about how good you'll feel when you start seeing your goals come to life!
Want more tips on how to keep your health and fitness in check this Christmas? Queensland Health has your back, with their handy festive guide full of tips and tricks to survive the silly season.
TUL Note: Today's List Love post is proudly sponsored by Queensland Health and endorsed by The Urban List. Our sponsored posts will never be a secret - the List Love seal will be stamped on any sponsored material you see on the site. Thank you for supporting the sponsors who make The Urban List possible.