Mums of Brisbane, we hear you. We love our great city but let's just say it has some unique quirks when it comes to #mumlife. Obvs there are a few gems that get us through, and one that has us singing its praises is the new Genius childcare service at Westfield Chermside. Not your usual daycare, Genius is the first of its kind to pop up in shopping centres. Open from 6am to 10pm daily, it's run by actual geniuses. Yep, from now on, leaders in the field that are oh-so committed to education and learning will be caring for your kinder while you grab some precious me-time (AKA shop in peace).
The best part about Genius is that there's a range of caring options, such as hourly, daily, casual or even permanent care to fit what you're looking for. There's all the necessities like bottles, formula, and even nutritionist-created meals (how good?!) plus an online portal to keep track of your bub's individual needs. Mums, we strongly suggest you make a booking, STAT.
If you need some convincing, remember that the mothering struggle is very, very real. Here are 15 things only Brisbane mums will understand.
1. Being pregnant in Brisbane sucks. Cankles when it's 35 degrees? Unpleasant to say the least.
2. There's a distinct lack of swimmable beaches for such a hot place. Your only option is Streets Beach with literally every other kid in Brisbane. How's the serenity?
3. But we have mint parks and a bevvy of great walking trails that are perfect for entertaining the young people.
4. A plethora of child-friendly cafes, though? Not exactly. So when you do find one close by, you hold on and you hold on tight (shout out to Scuzi Caffe, Cafe 63 and Stellarossa!)
5. The dreaded traffic bottleneck at Waterworks Road / Wyndham Rd (or really just slogging through any traffic at 3pm).
6. Three words: Rocks Riverside Park. Do yourself a favour and get there now.
7. The thought of going to the shopping centre with your kids is truly daunting. Temper tantrums, skirt pulling, sticky hands everywhere (yeah, we're sweating too). Thank sweet heavens that Westfield Chermside's Genius child-minding is here to save your sanity. Drop the kidlets off and enjoy some well deserved time to yourself.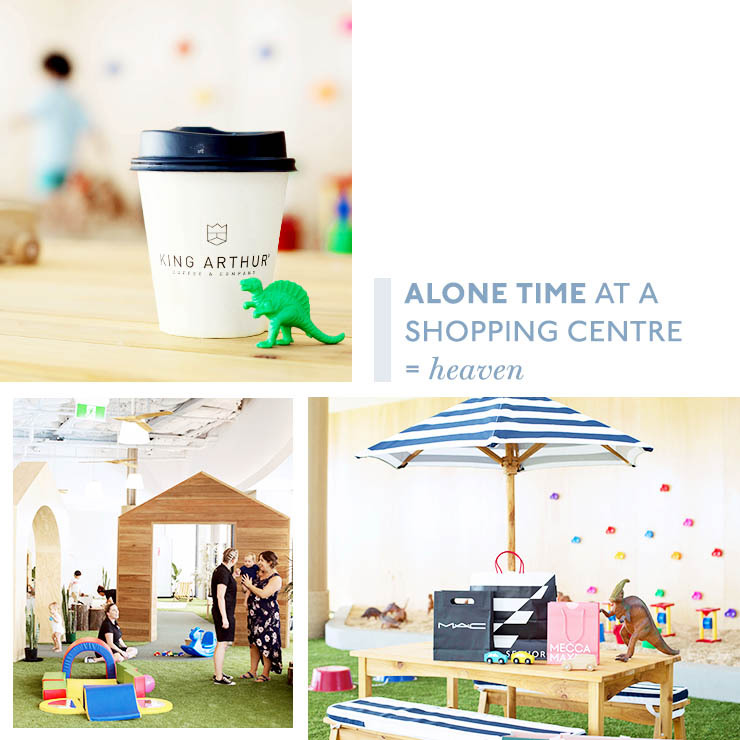 8. Ah, the Ekka. The moment it wraps up, it's another 12 months of nagging, ride planning and show bag selection. Look, just take them to Playtime instead to stop the constant dialogue.
9. We hear your mournful sigh about missing Aperol Spritzes with the gals on a Saturday night at Riverbar–but isn't it the best (free) feeling waking up fresh as a daisy on a Sunday morning (even if it is at 6am to the sounds of squealing children)?
10. As amazing as an afternoon storm is, don't they just always happen at the most inopportune time, as in, right in the middle of the kid's afternoon nap?
11. The curse of trying to entertain the monsters, sorry children, during school holidays. A road trip to the coast with sweaty kids in the back? Hmm, tempting…
12. Date night is not a possibility. Sometimes you just want to see a movie that isn't animated, amiright? Genius Childcare will keep the kiddies entertained whilst you indulge in a movie that isn't rated G #mumwin.
13. There's only so many times a year you can feel genuine excitement about going to any of the Gold Coast theme parks.
14. Ice blocks for breakfast. 'Nuff said. (Or lunch. Or dinner).
15. When you finally put the kids to bed and settle in to check your social media, all reality TV shows are spoiled because you're one hour behind the rest of the country. When does Daylight Savings end again?!
Editor's note: This article is proudly sponsored by Westfield Chermside and endorsed by The Urban List. Thank you for supporting the sponsors who make The Urban List possible. Click here for more information on our editorial policy.
Image credit: Westfield Chermside