Let's hear it for the boys—The Bagel Boys! Their crispy, chewy, seedy, schmeary delights have found a permanent home in Brisbane's CBD at what is perhaps the most belly-satisfying and 9-to-5-acceptable bar in town. Sure, you might not be able to drown your sorrows in a frosted glass, but you can rummage through vats of bagel varieties to your heart's content (or until 6pm).
The Bagel Boys have been a mainstay at Brisbane markets for a couple of years now and still manage to make a few pop-up appearances each week, even after opening their new digs. They are also still stocking their doughy delights at a handful of delis and cafes from coast to coast (Gold to Sunshine, that is), including some of Brisbane's best cafes, Sourced Grocer, Scout, and Brew.
The bricks-and-mortar Bagel Bar on Adelaide Street (located dangerously close to the Noosa Chocolate Company, just for reference) has already earned a devoted lunchtime queue, but don't let that dissuade you—they run a pretty smooth operation. Slice, toast, schmear, stuff, wrap, devour. You're only responsible for the final step, by the way.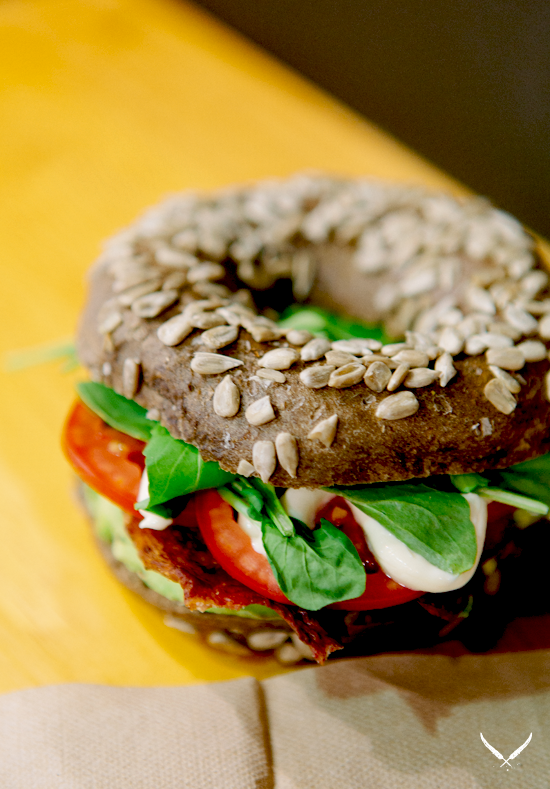 Boiled and baked fresh daily, the bagel blackboard lists original favourites (plain, sesame, soy linseed), breakfast classics (blueberry, cinnamon), and some adventurous alternatives (garlic, jalapeno, sunflower rye). Go full New Yorker with an 'everything' bagel, topped with a cream cheese schmear and a coffee for just seven George Washingtons.
You may choose a simple schmear of cream cheese in classic NYC style, or a cream cheese blend swirled with honey, chives, hazelnut, or jam. Spread a little love with avocado, Vegemite, or Nutella, or fill 'er up with a whole bunch of good stuff.
According to the bagel boss himself, the BRAT (bacon, rocket, avo, tomato) and the smoked salmon classic (with capers, cream cheese, rocket, and lemon) have been rolling out the door. Mix and match your bagel of choice with further fillings like Feta 'n' Beet, Pastrami 'n' Swiss, Smoked Chicken, Rueben, Turkey and Brie, or Tandoori.
The Boys mix, roll, boil and bake their bagels by hand using a traditional recipe that was painstakingly perfected over four weeks. How do you tell when you've scored a bagel hole-in-one? Inspect for colour and shine (it should have a golden glow), measure for size (you should be able to consume without unhinging your jaw), and check the crunch-to-chew ratio. Bagelly brilliance achieved!
The Bagel Boy's new Bagel Bar is open Monday to Saturday, 6:30am to 6:00pm. If you find yourself with an empty void only a bagel can fill and aren't in the vicinity of Adelaide Street, the Bagel Boys peddle their kettle-boiled breads at the Jan Power's, Eagle Farm, Rocklea, Mitchelton and Manly markets. Our October market calendar is looking pretty good right about now, amiright?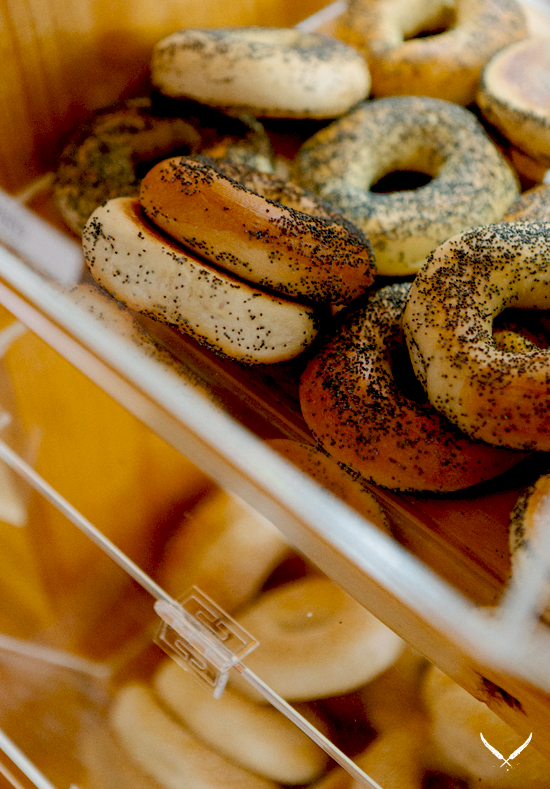 Click here for more the best cafes in Brisbane!
Travel writer by day, freelance foodie by night and full time cake enthusiast. When Ashton isn't at one with the keyboard, you'll likely find her saluting the sun in a yoga class, absorbed in a 90s sitcom marathon, or practising the timeless art of Instagramming around Brisbane. Twitter: @AshtonRigg. Want more from Ashton? Read more here!
Image credits: Daniel Maddock