Today I baked my face. It didn't involve an oven and the end result wasn't cupcakes nor cookies, but rather a flawless photo-shoot ready complexion.
Just as you were on the verge of mastering contouring and were starting to wrap your head around the 'French' way to contour, AKA strobing—yep, there's yet another makeup movement trending—now it's all about the bake. There are no gold stars for guessing which slightly famous celeb is already on board with the trend; we're looking at you, Kimmy K.
I'll be completely honest with you; this whole baking movement intimidates me a little. Seemingly, it involves a helluva-lot of makeup and perhaps it's just me, but even the trend's name itself goes hand in hand with cake face (AKA every girl's worst nightmare). So before I braved the bake for myself, I consulted the makeup maestro, none other than Mr. Napoleon Perdis himself who assures me this isn't a new trend and there's nothing to be afraid of, as you can 'customise' the technique as required. "Makeup artists have been using [the baking] technique for decades, but the online beauty world have reinvented the look as it works so well in photographs. It's trending on social media at the moment, but it's not a recent discovery." he explains.
So, baking… what is this technique and what's all the hype about?! Napoleon says it's a technique that "allows you to apply product onto the skin; then give it time to cook or marinade into the skin; it involves applying concealer to the face, specifically under the eyes; letting it mould into the skin, then layering a thick dusting of translucent or fine pigmented face powder over the top and letting that 'bake' for 5 to 10 minutes. The finished effect highlights the skin and conceals dark circles under the eyes".
Armed with the power of expert knowledge, I start my baking journey…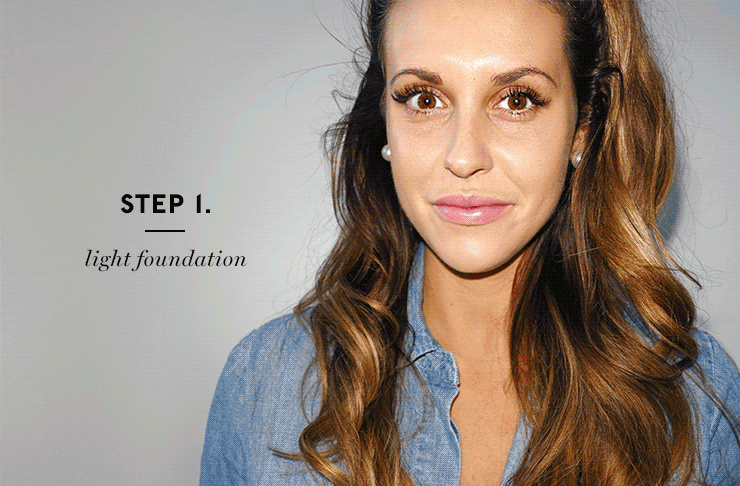 Firstly, I perfect my baking-base
I apply a hydrating moisturiser followed by a makeup primer to ensure the plethora of powder doesn't sink into my every flaw. I'm using Hourglass No. 28 Primer Serum, it's enriched with 28 nourishing and skin-loving ingredients to help my multiple layers of makeup glide on and (hopefully!) last all day.
I perfect my base by applying YSL's latest revolutionary foundation, Fusion Ink. It is feather light yet promises to last 24 hours. Given that my aim is to avoid the cake-face look, I'm opting for this lightweight foundation to simply blur any blemishes and give me a flawless canvas to bake on—it ticks all the boxes!
Time to conceal, conceal, conceal (and then probably conceal some more)
Next up, I start concealing. I first apply a layer of hydrating concealer under my eyes, on my chin, between my brows and down the bridge of my nose. A hydrating, oil-free concealer is what you should look for to ensure it doesn't crease.
Try: Laura Mercier High Coverage Concealer or By Terry Terrybly Densiliss Concealer, a concealer formulated exclusively for under the eyes, leaving that delicate under eye area hydrated and smooth but never dull or cakey.
At this point, I'm feeling ready to sweep on some blush and call it a day. But, it's time for the second layer of concealer! With this step, it's important to blend it in to your skin, opt for a creamy concealer and as Napoleon says, leave it to 'marinade' into the skin.
Try: Napoleon Perdis The One Concealer and blend it into your skin, especially under your eyes with a sponge, I'm using the original (and the best!) Beauty Blender—available at Sephora.
If you're thinking 'this is a tonne of makeup'… Yeah, you're kind of right. But let's not forget, this is a technique that has been favoured by drag queens for years! Under my eyes is feeling a little cakey at this point… Have you seen those photos of poor holidaymakers that look glowing sans the tragic sunglass-tan? I empathise with them right now.
I'm ready to bake—set your concealer with a loose powder
I apply a generous amount of loose translucent setting powder over the areas that I've 'highlighted' with concealer with a through a 'dabbing' motion with a Beauty Blender and I leave it, resisting the urge to dust the excess powder away for 10 minutes… You can leave your powder to 'bake' from anywhere between 5 to 30 minutes, depending on how much time you have up your sleeve.
Try: NARS Light Reflecting Loose Setting Powder or Laura Mercier Loose Setting Powder. Both are an incredibly fine and silky powder that have a lightweight cashmere feel; given that they are both light reflecting, you'll look flawless in any camera flash.
If this is sounding a bit much for you, Napoleon Perdis notes that "heavy loads of powder are unnecessary—you can simply let your concealer marinade into your skin, especially under the eye area—this will [still] result in beautiful coverage but the finished look will be fresher".
The baked reveal…
Once I've baked my concealer and powder, I simply blend and dust the excess powder into my skin with a luxe powder brush. And boom, I'm baked!
Try: Napoleon Perdis Finishing Powder Brush. I finish my makeup look with a very subtle contour using the Anastasia Contour Palette [available at Sephora] and a powder blush; then quickly fill in my brows.
The final result
Immediately after, my skin is looking pretty flawless, but I am obviously wearing quite a bit of makeup! There's not a blemish can I spot on my face and my eye-area is fresh and radiant, but there's no denying, it's a heavy matte makeup look… No one is questioning if I #wokeuplikethis.
Napoleon suggests a hydrating facial mist to refresh and soften the texture of the makeup. So I spritz Chantecaille's Pure Rosewater over my face before I run out the door…
My baked complexion lasts all morning; it's not until it gets to around 2pm when my skin starts feeling a little dry and my makeup a bit cakey. My generous lashings of powder have managed to find their way into the fine little lines under my eyes... Nothing a spritz of facial mist can't fix!
To bake, not to bake, when to bake?
I was convinced baking wasn't for me, but after giving it a try for a day, I'm not completely adverse to it! I still do think it's a bit too much for daytime and should be reserved exclusively for evenings or for special events, especially where they'll be lots of flash photography going on! Because, #flawless. But hey, if you are all about an immaculate finish all day everyday—we say go for it!
Our tips and tricks to perfect your baking
Never, ever forget to use a makeup primer, as Napoleon Perdis says "not to prime is a crime!"
Keep foundation to a minimum; opt for a lightweight base, as you'll achieve enough coverage with your concealer.
Invest in two products to make achieving this look fail proof, a great quality concealer (or two!) and loose setting powder.
Tools of the trade such as a Beauty Blender to blend your concealer make achieving an immaculate finish that much easier.
If you're worried that this look will appear too matte or powdery, a hydrating facial mist should become your new BFF.
Image credit: Bree Nowland