How good is ragu? Seriously. It's like the king of the pasta sauce jungle.
It's rich, robust and ever so rounded. And often it comes with parpardelle ribbons, which you could very well call the queen of the pasta shapes jungle. Just like Kate Middleton, they're so fine, and yet oddly directive.
Yep, Ragu is #king. It's the dish you call on when you're really feeling a great need for something indulgent coming along. Sure, you're out for an Italian dinner and could opt for a lighter option, but grilled fish, with a few deconstructed veg aren't going to cut it here. Even if you are eating with a side of fat fries.
You want that full-blown carb-centirc pasta dish. You want meat. You want it topped potentially with lashings of cheese, and you want it in a bowl that is of a size not too dissimilar to Mary Poppin's bag—never ending and bottomless.
Here's our pick of the best Brisbane Italian restaurants, serving up Brisbane's best ragu. Unbuckle your jeans Brisbane, and tuck a serviette-bib into your collar, 'cause this is going to get messy.
BAR ALTO
This is the bomb-diggity of the lot. This ragu's got cult status. And it's earned it, owing to its simple and elegant composition and the spent hours bubbling away in Bar Alto's oven. The flavour is sharpened via the addition of green olives and parsley (find the recipe here!). The textural ribbons of perfectly cooked handmade parpardelle provide the perfect accompaniment, and so too lashings of grana padano cheese. Oh, and a glass of red.
BECCOFINO
For those who love duck, this one is for you. The great thing about Beccofino's duck and tomato ragu? It's not super saucy. It's thick—and because it's thick there are just many, many pieces of meat interspersed between the pasta—and they top (should you wish) it with one copious pile of the most marvellous cheese.
IL POSTO
This is a sauce of contention (pun totally intended) because they do duck ragu too, but Il Posto's also holds the earthy promise of porcini mushrooms, and there's a little thyme. It's kind of like the ragu you'd make in your little cabin after hunting ducks and foraging for mushrooms all day in a forest. #huntersandgatherers
IL LOCALE
Double whammy! They do two, both lamb and rabbit. But let's focus on the rabbit; there's some saffron to be had, thereby making Il Locale's the most regal ragu on this list. And, as you'd expect from an eatery run by the Tognini family, it's really on the money. Actually. It is the money. Rabbit can be a tough and bony bastard of a protein to deal with, so kudos to them and their team for delving in.
1889 ENOTECCA
Now you're talking. Enoteca have kept theirs traditional and beautifully basic via a tomato based braise of pork and beef, and like all of their handmade pastas (side note their cacio e pepe is 'next level'), the ribbons of parpardelle are a true delight.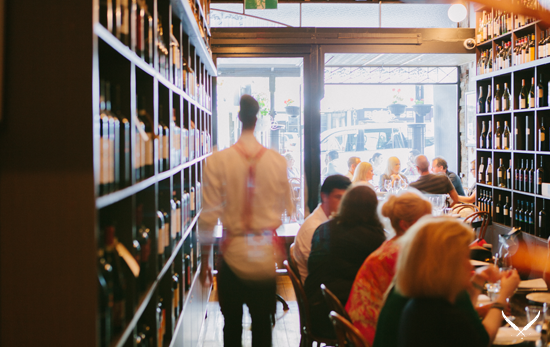 PIZZERIA 1889
The only thing better than a plate of lamb shanks, is when said lamb shanks are cooked down to make a ragu, like they are at Pizzeria 1889. And it's a really lovely dish as it is (and this might sound odd), but the hybrid of a slow roast lamb, and bowl of pasta, plus some rosemary in there too, is, well, it's just good.
AJ (or Amanda) James is a roaming writer. Based in Brisbane (when she's not on a plane or walking down a sometimes-unsavoury foreign street in search of a good authentic feed), she contributes to a number of publications on matters of food and travel. She recently launched Pepper Passport, "'a publication for the avid cook, discerning and curious traveller, lover and sharer of good things, both at home and while away'.
Image credit: Simply Delicious, Daniel Maddock