So you've stuffed your face with more macarons than you can handle, dived head first into the cronut trend with unbridled enthusiasm, and pretty much have been showering in salted caramel for the past six months. We're guessing you're just about ready for something new, right? Well ladies and gents, we think we've found it!
Introducing the Biskie (yes, that's the actual name). This yummy handmade creation taking the UK by storm and popping up in places like Harrods and Selfridges is an indulgent blend of cookie, biscuit and cake, layered with buttercream and made even more special with super tasty jams, caramels and other ridiculously yummy delights sandwiched between.
So is it a cake? A cookie? A biscuit? Nope, it's a Biskie, which perfectly contains the best parts of all three (insert applause here). Take a bite into your moreish Biskie and you'll be pleasantly greeted with a sumptuous amalgamation of soft and chewy just like a cookie, and moist and creamy just like a cake – making this little sweet treat possibly one of the best hybrid inventions of all time!
The brains behind the Biskie are two food-obsessed sisters, Annabel and Emily Lui, who run Cutter & Squidge bakery in London. The girls are self-taught bakers with a family background in food. They pride themselves on making everything from scratch and steer clear of margarine, artificial colourings, flavourings or preservatives. They even make their own sprinkles! The girls aren't fans of overly fatty foods so they keep their calorie-laden contents to a minimum, but don't worry, they definitely don't skimp on the flavour – you'll get that in droves.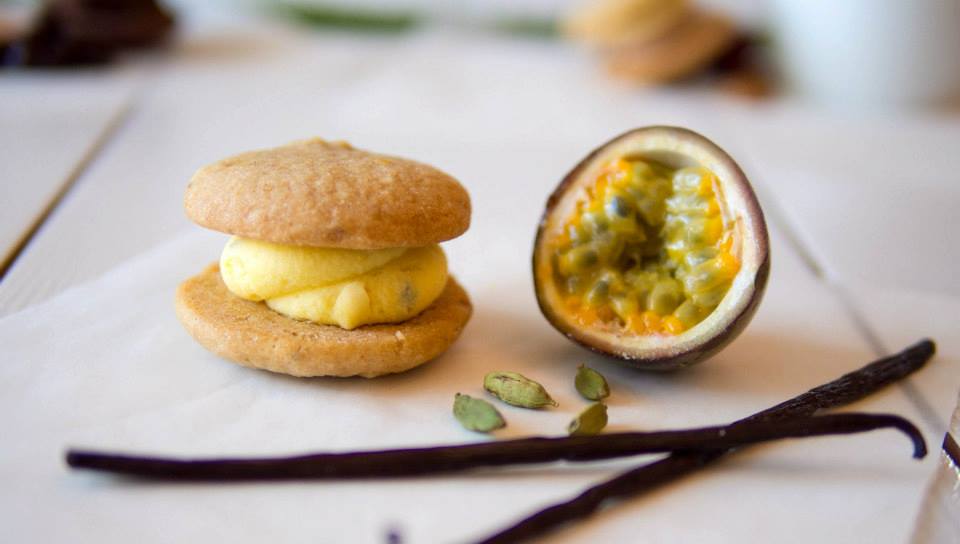 With 16 amazing flavours to choose from and more in the works as we speak, it's hard to know where to start. On a recent trip to London, I made a little stop at Harrods where after much deliberation, heavy panting and so many oohs and ahhs (I was told I was making a scene), I eventually decided on The Billionaire Biskie, topped with gold leaf. Yes, 24ct GOLD Belgian chocolate. No Biggie, I JUST GOT TO EAT GOLD LEAF. Plus, it contains not one or two, but THREE layers of chocolate shortbread cookie smeared with generous dollops of buttercream and laced with sea-salted caramel (okay so salted caramel is still a thing). Three words: Ah – May – Zing!
Other popular flavours include Red Velvet Trousers, Pistachio Roseberry, Pina Colada and the OMG It's Green Biskie, which is made with premium grade Matcha green tea and Belgian white chocolate and raspberry – a must try! Choc peanut lovers will go crazy for the Marathon Winner, while banana enthusiasts will just love the Banana Love featuring vanilla bean, banana caramel and the delicious buerre noisette.
While there aren't any reports of the Biskie in Oz just yet (boo hiss!), we're predicting (and hoping) that it will only be a matter of time before we see a knock-off. A cakie? A biscake? A cooscuit? In the meantime get drooling over these pics.
What do you think, Listers? Could the Biskie be the new big thing?

Image credits: Cutter and Squidge Facebook.