Valentine's is a tricky "holiday" to navigate. On the one hand, it's lame and created by evil corporate bigwigs trying to manipulate us and prey on our insecurities. But, on the other hand… it's fun to get presents, so sue us.
Unfortunately, the traditional V Day gift options are notoriously lame. Wilted roses that cost an arm and leg? No thanks, keep your money. But if you're going to get bae a gift, why not get them something they'll actually want?
To help you on this noble quest, we've rounded up seven excellent, unique, and absolutely not sucky gift ideas that you'll be proud to hand over on the 14th (or any day, for that matter).
Whisky, Only Better...
Whisky's so hot right now. The popularity of the once niche spirit continues to rise among millennials, and we're totally here for it. The problem occurs when it comes to choosing whisky when you know absolutely nothing about it. Enter Whisky Loot. Founded by some good Aussie blokes in Sydney in 2016, and launched to the market last year, Whisky Loot is a subscription whisky box, delivering a different selection of whisky to your door every month. Every box offers three boutique whisky tasting bottles, each expertly curated to give you a unique selection that they won't find anywhere else.
All the whiskies are sourced from hard-to-find, small-batch distilleries from all over the world, so you know you're getting the goods, plus they come with tasting notes so you can actually learn more about what you're drinking and work out what you like best. The packaging alone is worth the subscription, and your first order will set up back just $49, including free shipping, so if you're wondering what to get your spirit-loving guy or gal, look no further.
A Keepsake They'll Actually Keep
If you're not familiar with The Good Thing, you've been missing out. Gorgeous and hilarious cross stitch artworks, made by lovingly by hand by Brissy gal, Jess, The Good Thing pieces are perfect for the person who will appreciate all the pop-culture/whimsy/feels. Seeing as Valentine's Day is only XX days away (God, you're slack!) you're probably too late for one of the Good Things' custom designs (although check these out in future whenever you want a one-of-a-kind gift) but there is a pretty consistent love theme in Jess's designs and our sources tell us she is even having a Valentine's sale right now so get to it. Also, do yourself a favour and follow The Good Things on Instagram, it's a blast.
Because Cheese Is Always A Good Idea
Tassie's Bruny Island is synonymous with cheese and if you haven't tried it yet, believe the hype. But the real draw is that they also offer a cheese club. A CHEESE club, people. So, that means that you can have a selection of cheeses delivered to your door. And then that keeps happening. Every. Bloody. Month. If you've got a cheese-loving partner, we've just helped you nail Valentine's, and if you don't maybe just be your own valentine and sign yourself up.
Express Your Love Through Potted Plants
Everybody loves a succulent; they're cute, unique, and almost impossible to kill (important). They also make the perfect alternative to the standard flowers on Valentine's Day, especially when you can get them delivered to your beloved in gorgeous pots at a price that will make you happy. The Succy Bunch (excellent name alert) will sort you out with all your cactus (cacti?) needs, so hit them up for a gift for your plant-loving beau.
Print Your Feelings
You can't go wrong with something to pretty up your walls, and we are in love with this print from Rachel Castle. The ultimate love message with all profits going to MINUS 18, Australia's largest youth-led organisation for LGBTIQ youths, you can't go wrong with this one. Hand-printed in Australia on a tea towel designed to be framed, you can pick this beauty up for just $89, but get in quick, there's only 150 pieces made, total.
For Grown Up Feels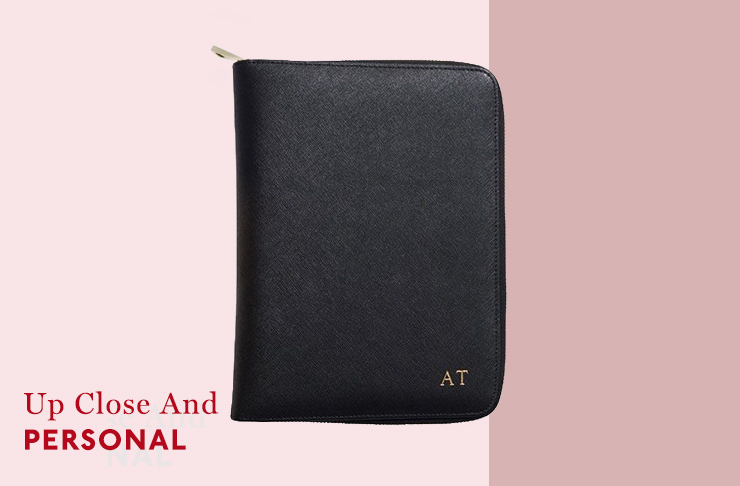 Nothing says I love you like taking the time to personalise a gift, which is why this slick, monogrammed ipad case from the Daily Edited is a great choice for a cute but practical V Day gift without the frou frou. Personalise online or pop into a store and have your valentine's initials added on the spot and you're sorted.
For Your Bestie
We all know the classic White Stripes song, We're Going to Be Friends, and now it's a book! Sure, it's technically for kids, but if the words don't give you all the lovey dovey feels than we don't know what will. And who says Valentine's Day is just for partners anyway? Gift this to a pal and see if it doesn't get the heart thumping. Available from all good bookstores, but here's one of our fave locals.
Off the big V-Day completely? Get out of town for a few days for under $500.