We don't know about you, but the idea of a professional chef in our own kitchen conjures all kinds of wonderful images of luxury and prestige. The team of ultra talented, Michelin-star French chefs at Chef Up! can give you just that, and you'll learn the tips and tricks of a professional chef every step of the way.
LAST WEEK OUR TUL TEAM TOOK PART IN A CHEF UP! COOKING CLASS, where our respective competitive natures were really put to the test. Who had the best knife skills, who could roll a perfect chicken breast with the most finesse, and who could whisk the longest without losing all feeling in their arm? All would be revealed.

COURSE ONE... a snapper carpaccio with sesame oil, soy sauce, lemon and ginger, seemed complicated at first; but as soon as we got stuck into the ingredients (which were pre-prepared and ready to go, score!), we realised it really wasn't all that complicated; although we definitely needed help. We quickly mixed the marinade, and then, using probably the sharpest knife I've ever held, we sliced the snapper as thin as possible, mixed it in the marinade and popped it in the fridge while we took a cheeky wine break. Just so it looked pretty, we sliced up some radish, pickled it and crafted it into 'roses'. Masterchef eat your heart out! Oh, and then we ate it… Every last bite.
THE SECOND COURSE, chicken roule with quinoa salad, wasn't as complicated as it looked. While I have been making plain old grilled chicken and salad for years, I was pleasantly surprised to learn how easily I could mix it up and still have a healthy and yummy dinner. The process was relatively simple: create a fresh, zesty salad dressing, marinate the chicken in lemon, dill and buttermilk, roll it up in some cling film and cook in simmering water for 10 minutes. While it's cooking, we mixed up a fresh, crunchy quinoa salad with celery, caper berries and raisins. When it's done, you unwrap the juicy chicken and slice it up on top of the quinoa salad, add some of your dressing and proceed to dig in. And dig in we did! I've (kind of) never been one to toot my own horn, but consider it tooted. Disclaimer: I may or may not have (read: definitely) had a lot of help from the hunk-a-spunk French chefs.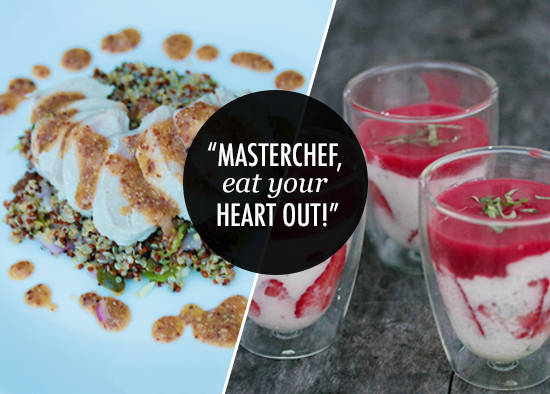 DESSERT... Well, we had to work for it. Making the light mousse with lime and strawberry became a battle of the guns as we whisked egg whites and sugar before adding Greek yoghurt and layering it in a glass with strawberries, lime juice and fresh basil. No spoon was small enough to get every last bit out of that glass, so our fingers had to do the job. Don't judge us, you would have done the same.
The team at Chef Up! teach you to prepare delicious, fresh and healthy meals, and, of course, there's a wine or two involved. If they taught us one thing, it's that cooking doesn't need to be scary; these guys make it a fun and definitely entertaining experience and leave right before you start your dinner party. Already nailed the simple dishes? These guys offer classes for all levels. If it's the office you're looking to impress, Chef Up! offer specialised corporate cooking classes in your office, or even somewhere crazy like Sydney Aquarium or Sydney Zoo. Don't feel like cooking? No worries. Chef Up! offer catering services that will have you enjoying a tasty treat in no time; perfect for the Christmas season!
WANT TO KNOW MORE?
For info on Chef Up!'s delicious, healthy cooking classes, click here.
For corporate cooking classes, have a look here.
After some catering? Here is everything you need to know.
Now, just because we love to spoil you, how would you like to WIN a Chef Up! cooking class for you and 3 of your friends? The chefs will arrive at your home or office with all ingredients and equipment, deliver a class and teach you all about your food. The chefs will clear out when the menu is complete and ready to be served – too easy! Get clickin' so you can be faaaancy cookin'! Bon appetit!
TUL Note: Today's List Love post is proudly sponsored by Chef Up! and endorsed by The Urban List. Our sponsored posts will never be a secret — the List Love seal will be stamped on any sponsored material you see on the site. Thank you for supporting the sponsors who make The Urban List possible.
T&Cs: Competition opens 07.10.2014. Competition closes 23.10.2014 at 11.59pm. The winner will be selected by the promoter, and contacted within 5 working days of the competition closing. Prize is only available to be redeemed within 20km of the Sydney CBD.
I mage Credit: Anita Wilhelm