It's the kind of occupation most kids dream about, and most adults don't dare to hope for, but artisan Chocolatier is a title that sits comfortable on Couverture & Co founder, Jessica Brookes' shoulders. Despite the Brisbane humidity (chocolate's worst enemey), Jess has built a business based on quality and passion, and we're big fans.
Jess gave us a peek behind the scenes at her Red Hill chocolate store, where we took a moment to appreciate a food group we usually devour without pause. The countdown to Easter starts now!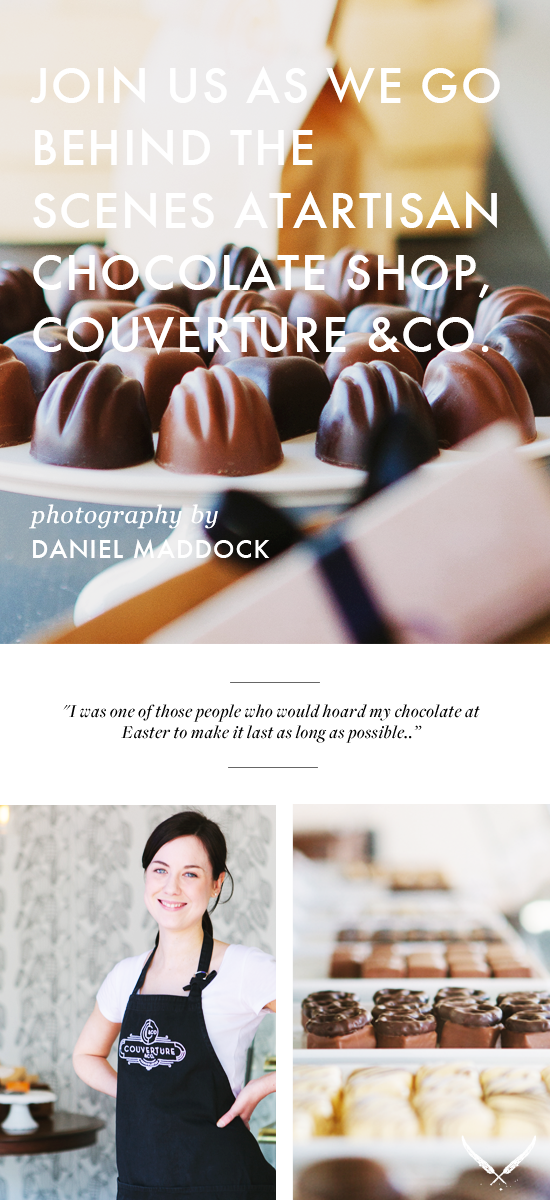 TUL: So, I saw on Facebook that you recently celebrated your one year anniversary, but didn't realise until your mum reminded you.
I knew it was coming up but time got the better of me, then flowers arrived from my mum that said "Happy first birthday…" and I looked at the calendar and realised yes it was one year to the day that we opened.
It's just gone so quickly, it feels like it's only been a few months.
TUL: Your journey to get here hasn't been typical — you trained as a journalist and then moved over to Oman straight after graduating?
Yes, I was over there for two years and it was a lot of fun. I came home, did a bit of freelance work and then had trouble getting a job here. So that's when I sat down and had a think about what I wanted to do.
TUL: Was becoming a chocolatier something you'd had in the back of your mind?
I've always loved being in a kitchen, some of my earliest memories are of making things in the kitchen with my parents. Cooking has always been a big part of my life, so I think it was the next natural thing for me to do. And I went straight to chocolate; it's always been my biggest weakness. I was one of those people who would hoard my chocolate at Easter to make it last as long as possible.
So I approached Bittersweet for some work experience initially and then that led to a job. I worked there for a couple of years before they closed.
Melissa, who owned Bittersweet taught me everything from scratch. I was so lucky and fortunate to be given a chance to learn the ropes from Melissa. There has been a bit of a role reversal with Melissa now coming in once a week to help in the kitchen. It's great to have someone to throw around ideas with and someone who has that experience.
TUL: So how long did it take between Bittersweet closing and realising that you wanted to go out on your own?
It was about a year. It took me a long time to find a space big enough for a kitchen and a shop, in the right area, and within budget. So a lot of the time was spent searching for a place, but in that time I was developing the brand and working on recipes.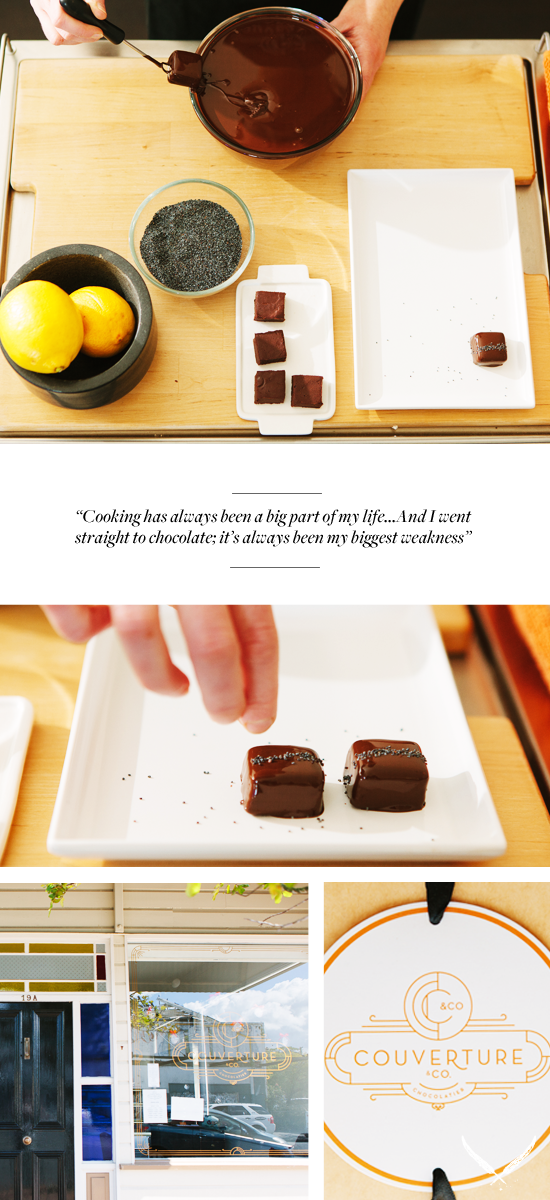 TUL: So how do you see Couverture & Co being different to Bittersweet?
We have a very similar sort of style, but I've put my spin on things, in terms of flavour and look. We still have a few ex-Bittersweet customers coming in requesting old Bittersweet flavours, but I'm trying to do something a little bit different. I'm keen to put my own stamp on it.
TUL: How would you describe your typical customer?
There is no typical customer, we have all sorts! There are regulars who visit on a weekly basis to collect special orders and others who just happen to stroll by. That's what I really like about having the shop and the kitchen — I still get that contact with customers and feedback about flavours or new ideas.
TUL: How many of you are in the kitchen?
It's usually just me! Melissa comes in one day a week and my mum also comes in a couple of times a week to manage the front of house so that I can do things in the kitchen, It's a bit of a juggling act!
Then at Christmas and Easter my friends and family get on board and help out. Getting paid in chocolate helps.
TUL: What are the challenges of running a chocolate shop in the Queensland climate?
There have been quite a few fails, especially when I first set up the shop mostly due to the older air-conditioning unit, which thank goodness has since been replaced. Humidity is a chocolatier's worst enemy, so it can make it very difficult to achieve much in the kitchen on hot, humid Brisbane day. !There have been a few times where I've given up and thrown in the towel for the day, but I guess you have that with anything.
TUL: So everything here is hand crafted?
Yes I hand temper, hand cut, and hand dip each chocolate and pipe everything by hand. So it's quite a, time consuming process.
TUL: What's your typical week look like?
The shop is closed on Mondays and I sometimes take the day off. Otherwise it's a good day to be in the kitchen and do a lot of things without interruption. The rest of the week depends on how many orders there are, or what stock we are running low on. No week is the same.
But things that cannot be stopped and started, like making the ganache, I'll do early morning before opening or in the evening, so it can set overnight ready to be dipped the next day.
TUL: Do you have plans at some point to step away from the kitchen side of things?
I want to stay hands on and really be involved in every part. If I lose that energy, I'd consider stepping back. I feel like I've just found my feet and I'm getting into a rhythm now.
TUL: Where do you get inspiration for your products?
My own experiences, customers, what others are doing in the industry and lots of reading. All areas, really.
It's not necessarily just chocolatiers. It's great to see what chefs and cooks are making and to take inspiration from that.. I had a customer who came in on the weekend and told me about a shop they frequent in Amsterdam who has a tamarind chocolate. Customers tell me what they have seen and tasted and liked, which is really great.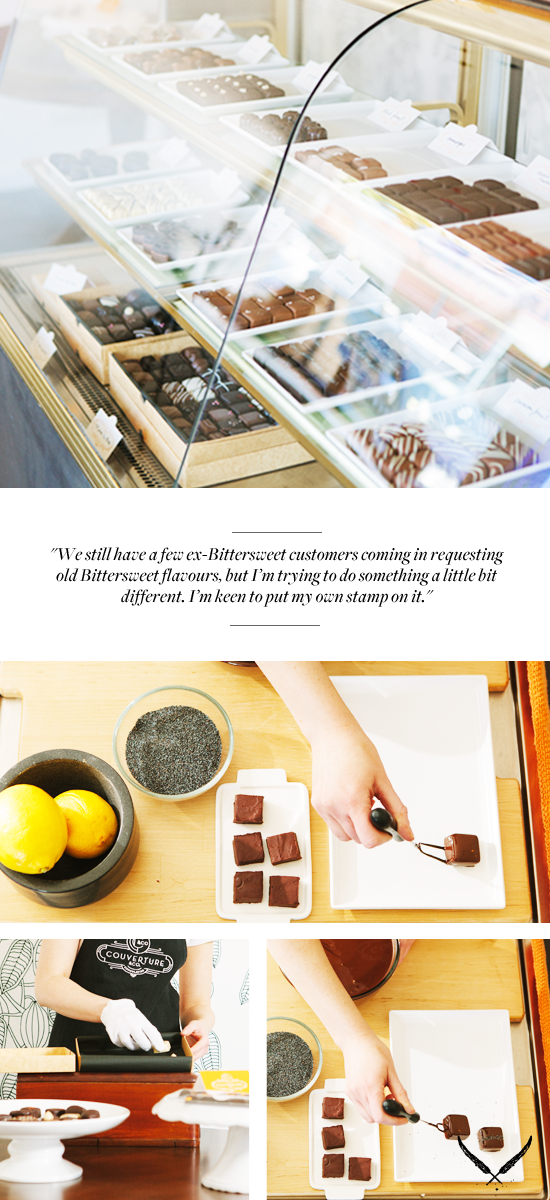 TUL: Do you have a favourite product or is that like naming a favourite child?
It changes all the time. At the moment it's the porter chocolate we made for Father's Day.
It's dark chocolate ganache with porter mixed through, dipped in milk chocolate and topped with a chocolate dipped pretzel. The porter is from Newstead Brewing Company and I've been playing around with it over the past week. It's a fine balance because you need to use a lot of the porter to be able to taste it as the chocolate is so strong, but if you add too much porter the ganache won't set.
But ask me in two weeks and it will be something different.
TUL: Any plans for new products?
I'm looking at using some single origin chocolate down the track. There have been a few enquiries about it , but it's a little more expensive so it's whether customers are willing to pay that extra bit. You're really focussing on the chocolate itself rather than the fillings, the different notes and flavours of the chocolate.
TUL: And what are your plans for the future?
I'd like to do a lot more experimenting in the kitchen and develop some more out-there flavours. It's just a matter of finding time. If I add a new flavour to the range then I've got to take something out. And then I have customers asking for the old one and I feeling guilty if I don't have it for them!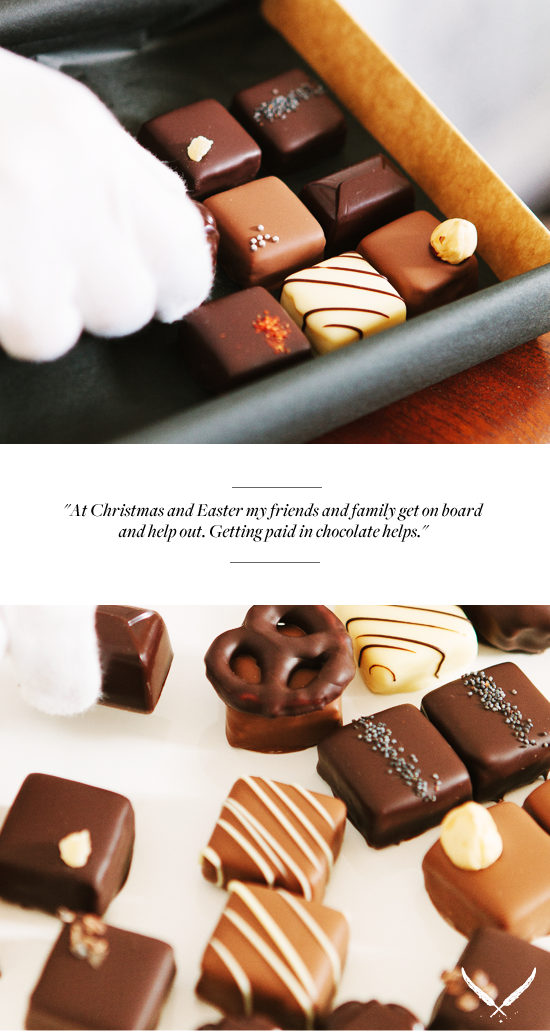 Image credits: Daniel Maddock
TUL Note: Penny is a freelance food writer and obsessive cook, who has returned to Brisbane after ten years living in the UK and Melbourne. She is currently taking her passion for sweet treats one step further and learning the skills to become a pastry chef from her culinary idols, documenting her experiences through her blog Project Pastry.