I don't know about you, but I love coffee and I love booze. Unsurprisingly I'm not exactly the first person to be a supporter of these two and about 30 years ago someone else cottoned onto the coffee + booze magic and combined them, creating the espresso martini. And we've been up all night ever since. Really, I think espresso martinis are the only reason 'keep cups' were invented, so you can fill them up, trot off to a mid-morning meeting, and still legitimately claim it as coffee while shouting great new ideas at your boss (note: vodka water fountain is not an appropriate suggestion).
The espresso martini is the perfect go-to cocktail for after-work drinks as it wakes you up, eases the stress of the working week and looks classy in its fancy little glass, and, lucky us, Brisbane bars do them well. As we start to slip into the silly season, I suspect you're going to be relying on old Mr E. Martini more and more to get you through a lot of work outings and pre-Christmas catch-ups. Here's where to find some of the best espresso martinis in Brisbane.
Brew
The perfect post-work retreat, Brew turns into a cosy afternoon haven in Lower Burnett Lane. The cocktail menu is dreamy and reads like my new favourite bedtime story, but don't get distracted because the espresso martini is divine. Settle into an armchair on the astro-turf and unwind with martini in hand.
Southside Tea Room
The super quirky Southside Tea Room in Morningside is almost too cool for school with its awesome decor, an eclectic mix of stuff that somehow works together to look effortlessly hip. Owner John proudly explains the make-up of the 'Piccolo Martini', iced 192020 espresso shaken with 666 butter vodka and khalua, served in a piccolo cup with popping rock candy served on the side. Where's my keep cup?!
Bucci
Italian's know their way around espresso, no question. So you can bet your hat their espresso martinis are nothing to be sneezed at. Bucci's espresso martinis (made with a top secret recipe) are so good you'd be forgiven for never making it to the food. Conveniently, the Bucci bar is open for drinking any old time, no dining in required, so grab your crew and a few of these black beauties!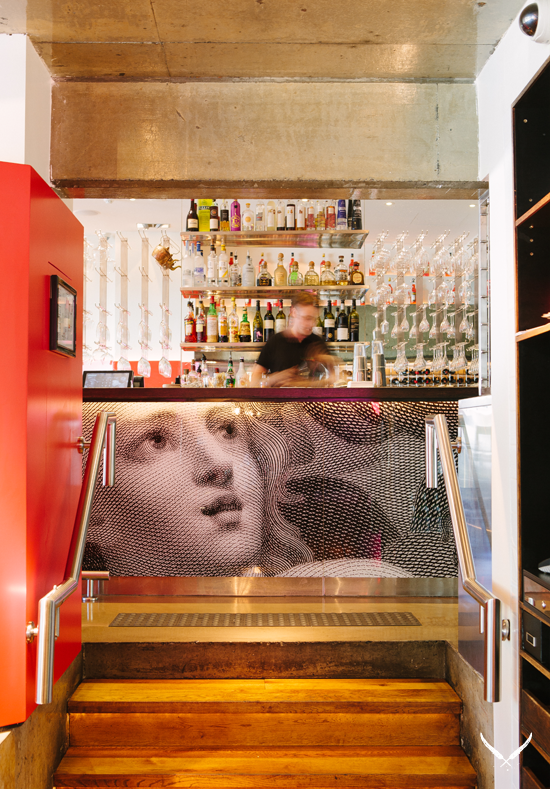 Dutch Courage Officers' Mess
If you're out late and have hit a wall, espresso martinis are the obvious choice. For a bar that's buzzing as hard after midnight as you're going to be after a few of these, look no further than Fortitude Valley newbie, Dutch Courage Officers' Mess, who do a killer Pear and Almond spin on the classic. Pick me up in hand, you'll be back on the party horse in no time.
Hoo Ha Bar
The team at Hoo Ha Bar in South Brisbane have fun putting their own spin on the classics, including the espresso martini. Their take is 'The Buddy', Wild Turkey Bourbon Whisky, coffee liqueur, chocolate bitters, Indian 5 Spice Syrup, hot water and fresh espresso served with a sugar cube. I die.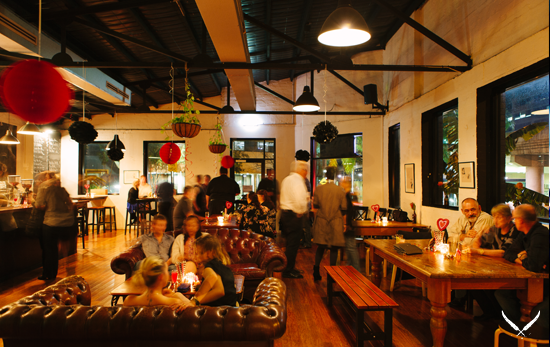 Laruche Bar
Don't be thrown off if the espresso martini isn't listed on the menu as it's deemed a classic and is readily available and comes highly recommended. Laruche pride themselves on bespoke cocktails so if you're in the mood for a twist on the classic espresso martini, ask your friendly bartender to spice things up for you.
Stoke Bar
The elegance of an espresso martini is made even better with a great view. Visit the super fancy digs of StokeHouse and settle into a comfy spot at Stoke Bar to watch the sun set over our pretty river city. There are two espresso martinis to choose from, appropriately listed under 'liquid dessert', the classic and the 'Mexicano'.
Cru Bar + Cellar
Because one option isn't enough, Cru Bar + Cellar have four types of espresso martini to choose from! The more conservative cappuccino and fresh mint are contrasted with their two crazy older brothers, one containing Belvedere and Hennessy VS with Khalua, the other Belveder and Hennessy VS with Patron XO. Call your mother, tell her you won't be home in time for Sunday dinner.
The Jetty
Capping off a cocktail menu of refreshing spring elixirs is the classic espresso martini. The Jetty is perfect for people watching and soaking in the crisp spring evening air with a tasty martini in hand.
Tonic Espresso + Bar
Comfortably tucked down an inconspicuous street, adorned with funky street-art, Tonic Bar is a cafe by day, martini and gin bar by night. The bar list is no-nonsense and straight to the point, with the crowning jewel and signature cocktail being none other than the espresso martini.
Elixir Rooftop Bar
Set above bustling Ann Street, Elixir is a rooftop sanctuary and the perfect place to get your mitts on a great espresso martini. The bartenders give the power to the people and it's your choice of Belvedere, Patron Silver, Writer's Tears Whisky or Mt Gay Eclipse with Patron XO, Coffee liqueur, a shot of fresh coffee and a touch of sweetener.
Lychee Lounge
A West End favourite from way back, Lychee Lounge has been serving next-level cocktails for fifteen years. The quirky interior provides the perfect backdrop for an afternoon of martini madness, kicked off with one of the Lychee Lounge Favs, the Espessotini. Absolut Vodka, Khalua, vanilla and espresso.
The Twig & Berry
Cold drip coffee has been popping up everywhere lately, so it's exciting to see it show up at The Twig & Berry and be integrated into their espresso martini. This cool Newstead bar is hidden underground along, Commercial Road and is an inviting space for the post-work wind-down.
Escobar
The Pablo Espresso Martini has been named for Escobar's sister cafe down the road. Escobar is a great spot on New Farm's well-loved Merthyr Road to watch skilful, friendly bartenders work their magic and totally unwind in the laid-back bar atmosphere.
Jaime's Espresso Bar
Coffee shop by day, pumping little bar by night, Jaime's Espresso Bar is a hole-in-the-wall establishment on the corner of James and Robertson, and one of the best bars in Brisbane for a casual drink with pals. Any bar that confidently boasts its espresso martini as the house special, means business, and Jaime's is no exception. Pull up a pew on Friday, Saturday or Sunday afternoon and sip away the hours with live DJs.
Click here for more of the best bars in Brisbane!
image credit: Asterik Newport, Daniel Maddock