Since its inception, peanut butter has made its mark among the majority of us.
Gone are the days of the staple diet of Skippy's peanut butter sangas in the school lunch box, PB smeared on celery sticks at Tupperware parties (why ruin a good thing, anyways?), to the marital crunchy versus smooth debate in the shopping aisle.
These days, we are spoilt for choice on ways we can enjoy Mother Nature's goodness. While gym junkies and activewear-ers alike slurp on their protein smoothies, and hipsters dig into their activated-almond-new-age smoothie bowls, the rest of us are pretty stoked to get through life, one peanut butter ball at a time. We've done the hard yards for you and compiled a list of the Gold Coast's best peanut butter everything.
Peanut Butter Brownie Cookies | Canvas Espresso
With these bad boys flying out the door like, well, like homemade peanut butter brownie cookies, you'd better get yo'self down to this arty Lavarack Avenue hotspot, quick smart. This little nook opens at the crack of dawn and it's no wonder locals line up for their morning grind and never ending variety of freshly-baked goods. These super indulgent, crisp-on-the-outside, chewy-in-the-middle choco PB treats are incredibly addictive; you'll dead set be picking up the crumbs off the floor #threesecondrule. Big enough to share with a mate (yeah, not happening), this combo of salty peanut butter and gooey chocolate is pretty much the perfect marriage. Hot tip: You can even text through your order to Canvas Espresso to secure yourself one of these tidbits. You're welcome!
PBJ Smoothie Bowl | Cardamon Pod
This delicacy may sit at the bottom of the brekky menu at this Southport plant-based café, but that's because they are building up to the clincher… Ladies and gents, may we introduce to you, the #instafamous PBJ Smoothie Bowl (short for peanut butter and jelly if you were born post Y2K). This recently opened vegetarian cafe—lil' sis to the popular Broadbeach venue—has set up shop at Brickworks, conveniently located just that little bit closer for northern Coasties to share in the wholesome goodness. Cardamom Pod's thick peanut butter smoothie is topped with fresh berry jam, homemade white chocolate, crunchy almond and cranberry granola, and dolled up with a rich, raw peanut butter cup. But wait, there's more: this bounty of goodness is topped off with an abundance of exotic fruits you probably can't pronounce. Thank you, Mother Nature.
French Toast Burger | Goji Granola Bar and Café
Now, we can't all take off to Paris for brekky, so the next best bet is to Clear Island Waters to indulge in the Gold Coast's finest French toast burger. For those playing at home, this means a fresh brioche bun dipped in egg, filled with warm caramelised banana, peanut butter or Nutella (or both!), creamy vanilla ice cream, fresh local strawberries, and sweet maple syryp. Drooool! Hold your leashes people, we aren't done yet, Goji Granola Bar and Café is not only dog friendly, but, wait for it, they've just this month started dishing up doggie ice cream, including peanut butter and bacon flavours. That's two paws up from us.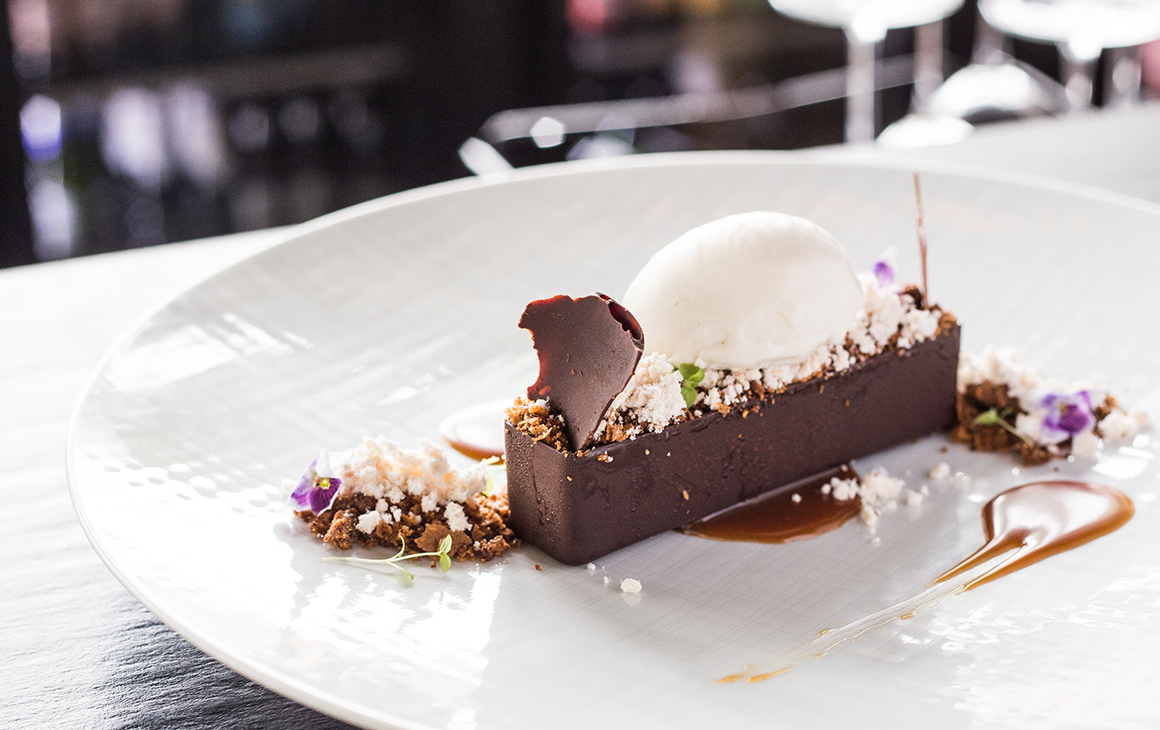 Peanut Butter and Chocolate Dessert | Social Eating House
After many, many servings of gourmet tapas and delicious espresso martinis at this Broady venue, just when you think you are full to the brim, there is of course that cryptic dessert belly that appears from nowhere the second you hear those magic words, "Dessert menu, anyone?". It's a non-negotiable really. Almost too damn pretty too eat, Social Eating House's seriously rich milk chocolate and creamy peanut butter marquise will knock your socks off after one spoonful. With a hint of salted caramel, and a crunchy biscuit base, it's no wonder this baby is dubbed her royal majesty of Mars Bars. Eat at your own risk and be prepared for your taste buds to go cray cray. Seconds?
Milk Chocolate and Choc Peanut Fudge Gelato | Messina Gelato
When word got out last year that Sydney's famous Gelato Messina was opening in Coolangatta, it broke the internet. Well, not really, but finding a parking spot on the Cooli Esplanade got a little more hectic. The fanfare is, of course, thanks to the sweet delicious justice being scooped up by Messina's smiley staff, and one tub of the good stuff has particularly caught our attention. Hail, the milk chocolate and choc peanut fudge gelato. Sorry, what? Creamy, velvety milk chocolate gelato with chunks slabs of choc peanut butter fudge? One large take-home bucket, thanks. #nomixinsrequired
Peanut Butter on Toast | Feather and Docks
With all the fancy things going on with nut butters these days, sometimes you just want your PB straight up, neat, without all the bells and whistles, amiright? While straight outta the jar with a tablespoon sounds like utter nonsense (guilty, your honour), how about old faithful peanut butter on toast. Sure, anyone can whip up this staple brekky at home, but why would you when the crew at Palm Beach hotspot, Feather and Docks will dish up the good stuff and smother it on almost anything toast-able: crusty sourdough, glowing bagels, or a warm, crisp croissant. Any takers? Teamed up with a hot brewski and you've got yo'self a winter warmer right there. Serving suggestion: ask for some honey drizzled on top then hold onto your chair, folks.
Peanut Butter Martini | Sparrow Eating House
Nestled in Nobbys Beach, Sparrow Eating House serves up a tasty selection of tapas meals, designed to be shared among friends. But let's stop right there, there is one item in particular which is missing a "do not share" disclaimer. Introducing, the peanut butter martini; no average martini, as it basically doubles up as a dessert. Shhh, the ingredients are top secret, all we can spill is that it's PB-based (obvs). Just don't let the presentation fool you, there's a lot that goes into the preparation of this bad boy, with the ingredients balanced precisely to the millilitre. Sparrow Eating House owner, Andrew Whiting describes his masterpiece as "indulgently luxe" and we couldn't have said it better ourselves. Easy to drink and even easier to lose count. Drink responsibly, peeps!

Peanut Butter Cheezecake | Blendlove
The girls at Blendlove have been tantalising our taste buds for a couple of years now, from their small stall at Marina Mirage's markets to their very own café at Southport. This Bundall Road raw food café always has bums on seats, which tells us one thing: they make a damn fine raw treat and everyone wants a piece (or two). Up there on our list of PB finds is their Peanut Butter Cheezecake. Yep, stop right there. Peanut butter and jelly pecan almond crust, raspberry chia jam, peanut butter "cheezecake" filling, topped with raspberry icing, crushed peanuts and freeze-dried pomegranate seeds. A close second is the peanut butter choc chunk and choc almond crust, with chunky peanut chocolate, a creamy peanut butter cheezecake layer, topped with swirled vegan chocolate and crushed peanuts. Good luck choosing.
Peanut Butter Chocolate Thickshake | Elk Espresso
Forget the superfood-kale-alkaline fancy post-gym protein smoothie nonsense, sometimes we just want a good ol' fashioned thickshake, yes? We can tell you now, not many can whip it up better than Elk Espresso. Their glorious peanut butter chocolate thickshake is full of the good stuff—nature's true-blue protein, peanut butter. Alright, tell us the deets? Thick, gooey peanut butter laced with chocolate, pimped out with a rich, crunchy chocolate cookie, topped off with whipped cream, to deliver a perfect trifecta. It's no wonder this mother lode has us basically flying over the counter for one!
Cacao and Coconut Peanut Butter Acai Protein Bowl | Down 2 Earth Organics
The name of this dreamboat dish is so long you can hardly get your mouth around it, much like the sheer size of the insanely creamy brekky/brunch/lunch confection itself. The acai bowl ballyhoo is far from gone, with gym junkies and hipsters alike raving about Down 2 Earth Organic's smoothie bowls. This Palm Beach wholefoods store and café doesn't skimp on the granola either, doubling up on both top and bottom to create the perfect ratio of cream and crunch. You lil' ripper! With over 15 varieties of smoothies and smoothie bowls on deck, the cacao and coconut peanut butter acai protein bowl sits pretty darn high on our agenda. Do yourself a favour.
Photo Credit: Hayley Williamson and Edmond Tsang for Metropolist; and Blendlove