Here at Metropolist, we've got a pretty plum gig bringing you the best of the best when it comes to new foodie offerings on the Gold Coast.
There's been no shortage of rad stuff to talk about, yet, on occasion, a truly exceptional new venue comes along that we can sense is about to make some serious waves in the local scene.
Sworn to secrecy, over the last few months we've closely followed the progress of this latest development, and have been busting with excitement to share the news with you all. Remember how we told you late 2016 would shine a light on the once-underdog suburb of Palm Beach? Well, the first jewel in the 4221's emerging nightlife landscape is about to drop this Thursday and she's a freakin' beauty.
Meet: 8th Ave. Terrace—brought to you by the talented crew behind much-loved brunching joint, Espresso Moto. Um guys, excitement levels are sky-rocketing!
It's been a labour of love for co-owners Shannon, Jordan, Krista, and Nikki, and we've caught glimpses of the blood, sweat, and tears that've been injected into making this after-dark restaurant dream come to life. Just like their hugely successful cafe, Espresso Moto, the tight-knit team of besties have pooled their many skills to build one helluva impressive new eatery for the southern Gold Coast.
Shannon and Jordan, who combined have 30 years F&B experience, have touched every last inch of the massive fit-out. Together with their partners Nikki, who's had a major hand in the interior design, and Krista (more affectionately known as "Bubbles"), a studying sommelier who's painstakingly created 8th Ave. Terrace's killer wine list.
But just wait 'til you see the new space.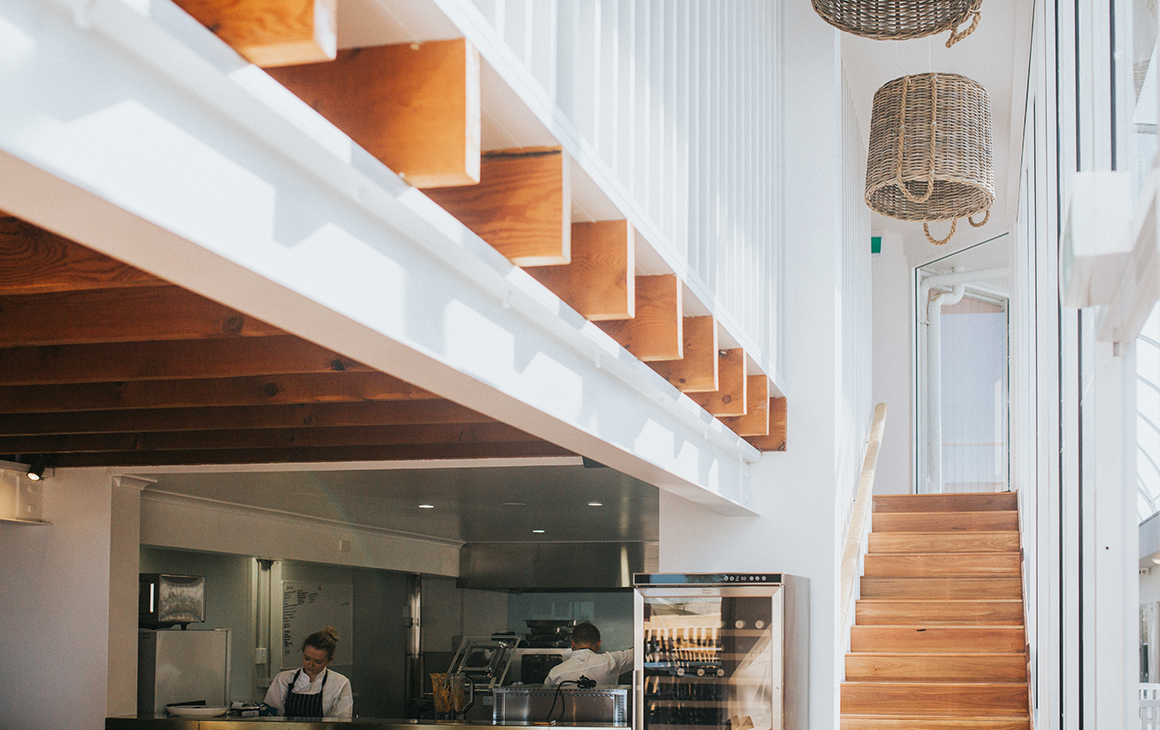 Having completely transformed what were once two floors of depressing office cubicles, they've re-engineered parts of the building to form a seductive open-air rooftop terrace with retractable awning—um, squeal! Upstairs, from its third-level posi, the warm and inviting formal dining room affords stellar views over the Palm Beach rooftops and across the glittering Pacific Ocean.
We're totally lusting over 8th Ave. Terrace's minimalist Hamptons coastal styling too. Where plenty of white is balanced nicely with splashes of smoky blue ocean tones and bottle greens in the soft furnishings. There's a gorgeous bring-the-outside-in feel, with a towering wall of sun-drenched windows on one side, and an overall open-plan design the sees the entire venue awash in salty sea breezes. With brass bench tops in both bar areas, hanging wicker basket pendant lights, nautical adornments, and NSW spotted gum timber flooring throughout—they've successfully delivered a chicness never before seen in a Palm Beach eatery, setting the bar for what's a bloody exciting future for the 4221.
Effectively creating two entirely different dining experiences, downstairs you can get away with thongs and boardies as you socialise over draft craft beers and share plates, seated at high-top tables and stools. While, upstairs, guests will be treated to an intimate dinner setting with seamless and unpretentious service.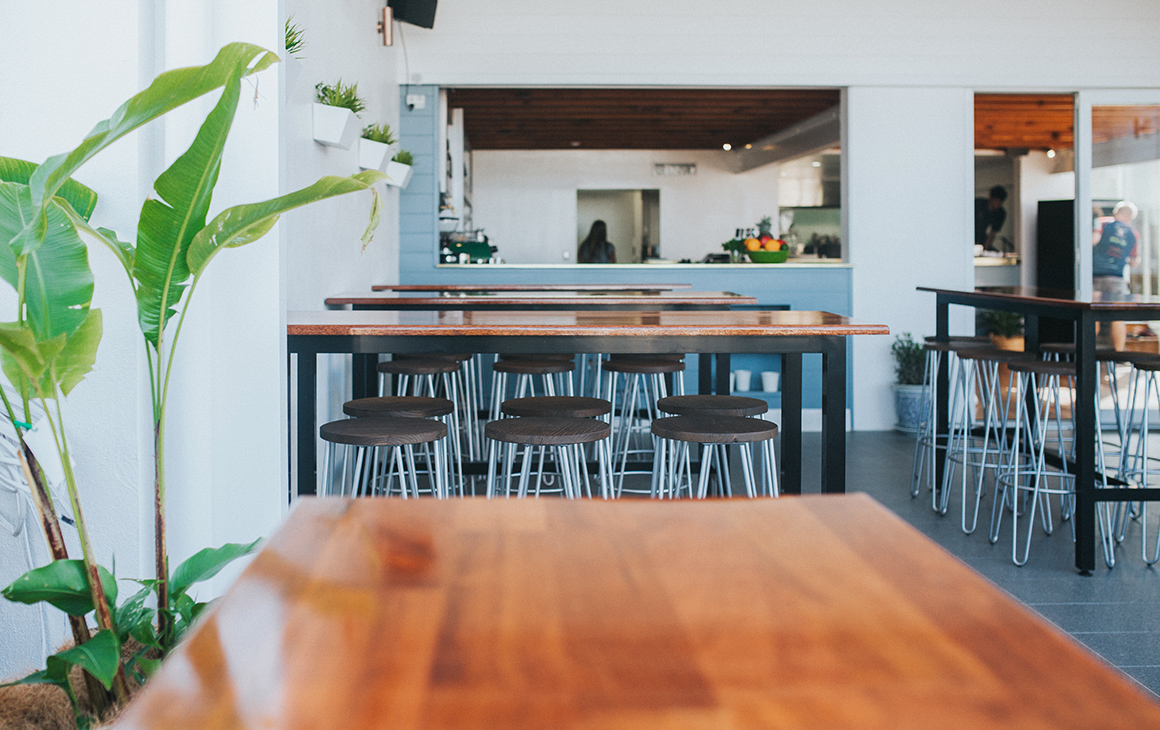 Basically, you could return multiple times and have a unique experience from one visit to the next. That said, if you're visiting this month, you'll need to get acquainted with the terrace bar area first, with plans to open the upstairs dining room in the next few weeks.
But what about the food, we hear you ask?
While we could leave heart eyes all over the menu, we can totally vouch for the delicate Korean tuna tartare tossed in spicy kimchi, and the nek-level sesame beer-battered Spanish Mackerel served with fried kipflers and house-made tartare. Another cheeky dish we devoured was the duck breast served cool on salad of lentils, snow pea tendrils, and pomegranate. Or the knock-out signature dish perfect for two: a whole lamb rack and cap, slow-rendered and accompanied with a sweet potato and pancetta mouse, coriander and mint pesto, and a red current jus. Mind = blown!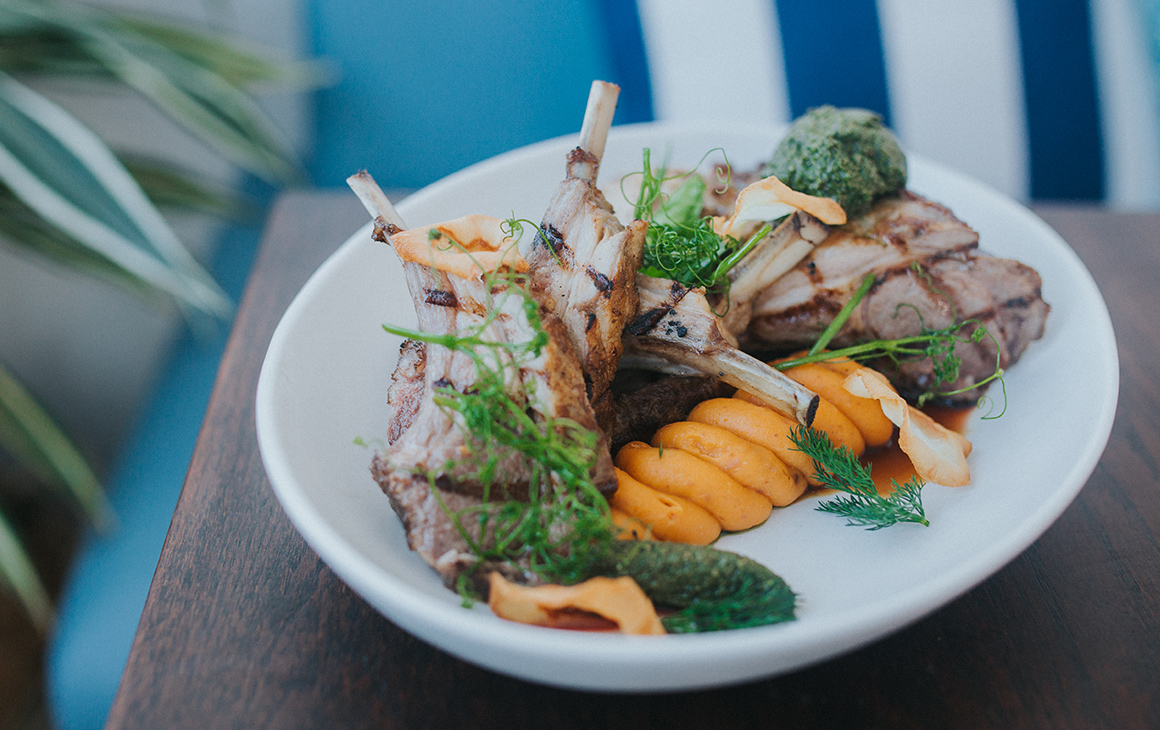 Shannon also tells us they're eager to push you guys outside your comfort zone, with Krista's carefully-curated wine list smattered with small batch varietals sourced from regions such as Argentina, France, Spain, California, and closer to home. If you're boring like us and often fall back on a trusty sav blanc from NZ's Marlborough region, 8th Ave. Terrace's knowledgeable staff will be on hand to educate and guide you through the wine menu to ensure you find something completely different that you'll love. We're salivating over the likes of the David Franz Red Rose from the Barossa or the Pinto Pinot Noir from Patagonia…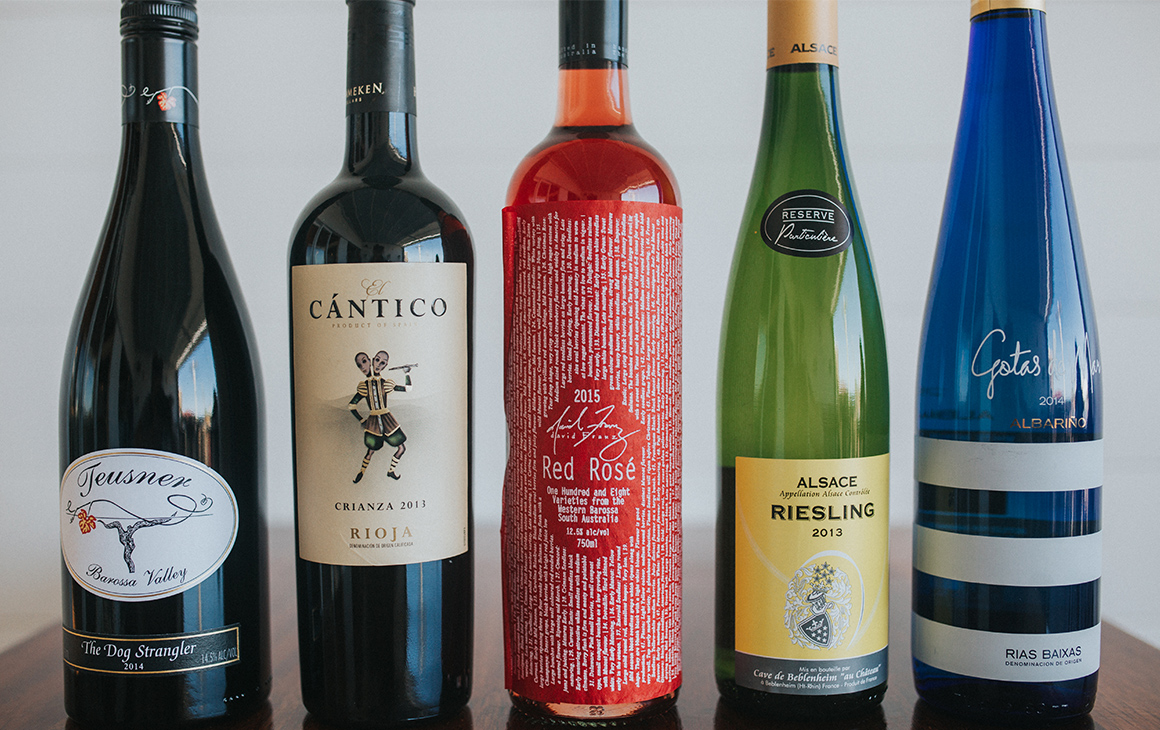 If there's one thing you can absolutely count on from these guys, who have hospitality running through their blood, it's a 110 per cent commitment to epic service. Their secret is engaging dedicated staff who've chosen hospitality as a career path, not a passing gig while they put themselves through uni. In a nutshell, these young and vivacious owners are passionate, not only about exceptional food, drinks, and service, but about putting Palm Beach squarely on the Gold Coast foodie map. And for that, they have our upmost support.
Being southern dwellers ourselves, we're beyond stoked to see Palmy come of age. Don't get us wrong, we'll still make regular treks to Broady, Nobby, and Burleigh, but dang it feels good to know sunshine drinks are now only but a cruiser bike ride away! If you're looking for us, we'll be on the alfresco deck catching the last of the afternoon light, sipping a Proscecco Rosata, and eating a dozen or two natural oysters.
For now, 8th Ave. Terrace will be open Wednesday to Sunday from 4pm 'til late, with weekend brunches to follow soon. Seats are certain to be a hot commodity over the coming weeks, so jump onto the website to reserve your piece of Palm Beach's coolest new addition.
There's plenty more seriously exciting Palmy news where that came from folks, so stay tuned!
Where: Level One, 8th Avenue Plaza, 1176 Gold Coast Highway, Palm Beach
To book: www.8thaveterrace.com.au (from Wednesday, October 12)
Photo Credit: Hayley Williamson for Metropolist