Move over sushi trains, Mexican, and American nosh.
If you require further convincing Asian cuisine is the hottest food trend to sweep the Gold Coast in 2016, well, surely this is all the proof you need.
Hideaway Kitchen & Bar is making final preparations to open this Thursday evening, June 30. Boasting a kitchen team with representatives from Japan, Thailand, China, the Philippines, Vietnam, and a token Aussie, it's fair to say this joint is legit!
It's also a completely new direction for owner Scott Imlach and his business partner Simone Tunbridge, who brought us Gold Coast's first craft beer bar, Bine and, prior to that, Nobbys Arc, Barchino, and, in the early days, Freshly Stacked. Scott jets off to Asia multiple times each year and fell in love with the energetically chaotic hawker-style street markets, which have served as inspiration for his latest venture.
We're not gonna lie, we got a wee bit excited upon learning Hideaway's new chef hails from a global dining institution, Nobu. Jon Hizola is bringing his culinary prowess to Hideaway having crafted a wicked Asian street food menu that's 100 per cent shareable. Jon explains the concept is not Asian fusion, instead it's a spread of traditional dishes drawn from across South East Asia, with contemporary flavours created utilising the freshest locally-sourced ingredients. Expect Malaysian curries, Indonesia satays, Cantonese influences from Hong Kong, and Chinese dumplings and dim sums, to name a few.
Sneaking in for an early visit, we grabbed the chopsticks and dug straight in to try the charred octopus with house-made yuzu soya and finger-licking sticky ribs slathered with sweet and spicy sauce. Followed by more substantial share plates of rare chunks of rib on the bone and Korean-inspired construct-it-yourself lettuce cups stuffed with bossam-style pork belly, gochujang (fermented chilli sauce), and an apple and cabbage kimchi.
"Jon loves chilli," we're told and, given the kimchi is of the nasal-clearing variety, if spice ain't your thing, well, it sucks to be you! Nah, just kidding, but you're probably going to want to order a side of cement milk or just ask your server for some guidance to the milder options.
We went a little weak at the knees as Jon humbly gushed over his beloved raw bar too, including his personal fave and one dish he's carried with him over the years—the kingfish yellowtail sashimi with citrus, chilli, and herbs. Otherwise you could just head straight for the freshly-shucked oysters with a choice of garnishings or, what we've got our eyes on for next time, the Thai-style ceviche soaked in coconut cream and seasoned with ginger and fresh herbs. Drool.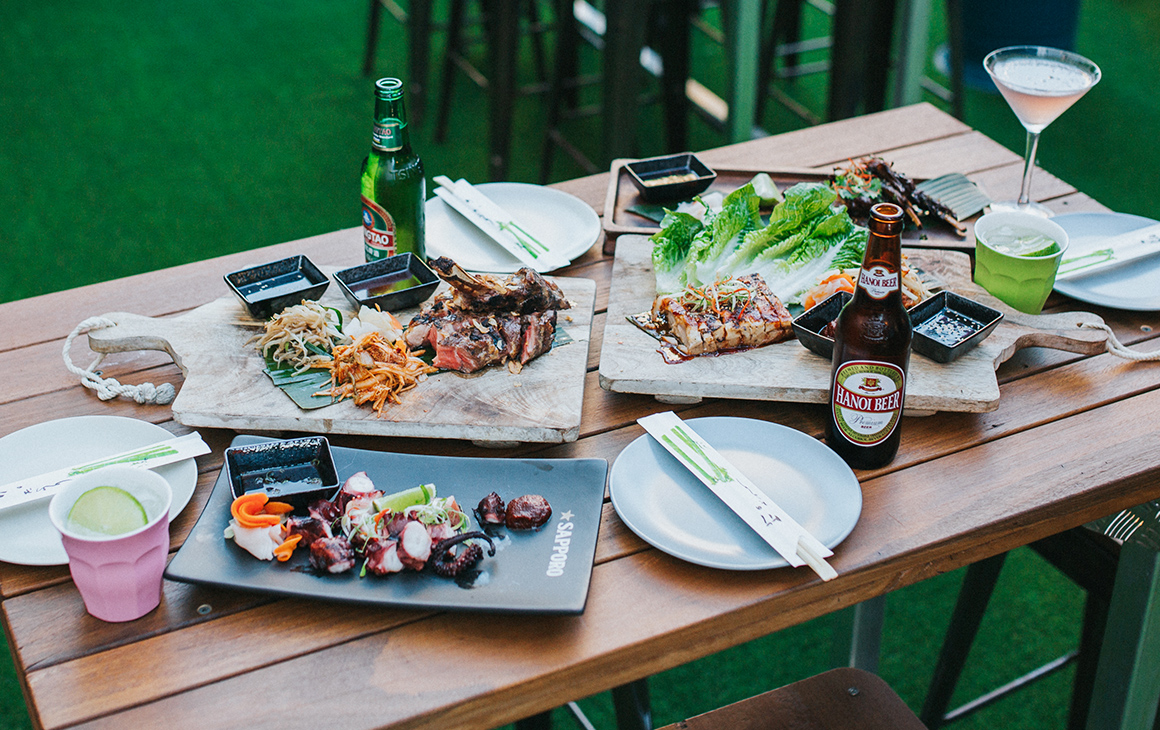 Other dishes that caught our attention included the sugar cane prawns in panko batter, anything off the dumplings and dim sum list (we'll take one of each, please!), the duck breast pancakes, and a crispy tempura whole fish (eyeballs and all) that brought back fond memories of our recent visit to Vietnam. Just want Pad Thai? You know they've got that too.
Honestly, there's so much choice on this Pan-Asian menu it's slightly overwhelming, but the team just wants you to come back. And often. Price points on the dishes lend themselves to regular visits rather than those special-occasion-only kinda treats.
Trying to decide on your next group outing or part-ay venue? Hideaway has got you covered with big booths inside, large tables outside, and banquet options ranging from $35, $50, or the whole shebang for $65 per head (banquets mandatory for groups of 10 or more).
Given owner Scott's deep-rooted beer appreciation, there's a healthy representation of Asian bottled-imports such as Singha, Bia Hoi, Asahi, Kingfisher, Tiger, and Tsing Tao, as well as Sapporo, plus local faves Balter and Stone & Wood on tap. Add to that a selection of sake, and an Asian-inspired take on classic cocktails with fun names like Kama Sutra, Nectar D'Orient, and a Tom Tom Margarita.
Aside from the vast menu, the fit out is all kinds of fun too. With neon signs; walls splashed with graffiti street art of koi fish, laughing buddas, and geishas galore; hanging bikes; swing chairs in the bar; and an inviting back patio adorned with festoon lights, astro turf, bamboo, and 48 colourful umbrellas suspended overhead.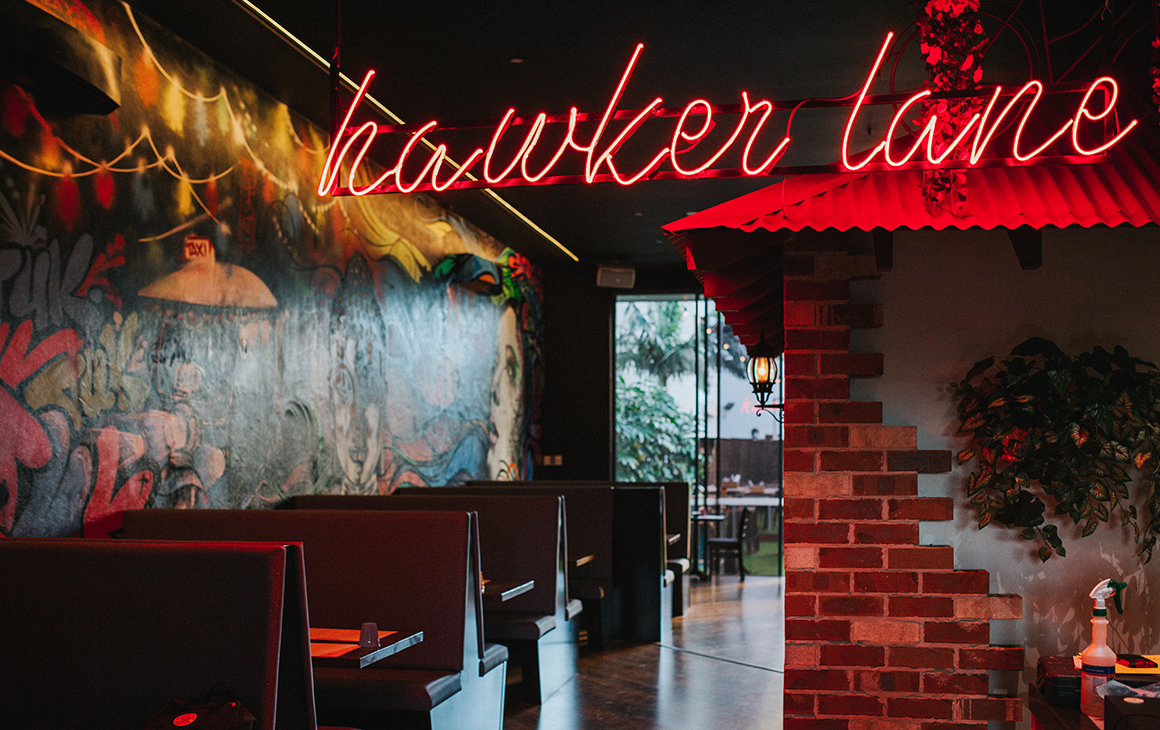 Rather than making patrons jitter through their dinner, Hideaway will be starting out with inside seating only across the first few weeks of operation. Once temps warm up and the sprawling alfresco dining area is added to the mix, capacity will swell to a whopping 220 peeps. We can't wait to see this eatery totally heaving in the weeks and months ahead, brimming with the buzz of energetic conversation, music, and fragrant aromas.
Hideaway may not be hidden per say, in fact it fronts Broadbeach's main drag, but a new gunmetal grey paint job has it somewhat camouflaged against the neighbouring hotels. So we see Hideaway as more of a destination restaurant, given it's certainly not the kinda possie locals or visitors to the GC are going to stumble across by accident.
While the location selection might not be clear straight away, the venue's scope itself is a rare find on the Coast so it's a smart choice for owners given the staggering expansions, both underway and on the drawing board, for Jupiters. Not to mention the renewed energy in the precinct of Broadbeach as it prepares to become a primary hospitality hub for the fast-approaching Comm Games. But for now they want US, and we're all invited to shimmy on down and get our Asian on!
Hideaway Kitchen & Bar will be open from 5pm six nights a week (closed Tuesdays), with plans to eventually open for lunch on Saturdays and Sundays.
Where: 2657 Gold Coast Highway, Broadbeach (next to Savannah Hotel)
Photo Credit: Hayley Williamson for Metropolist