Say it isn't so. It's possible to dress up, indulge in fanciful eats, sip on cocktail after cocktail, and delve deep into conversation to a soundtrack of eclectic beats, then wake up in the morning feeling peachy fresh and guilt-free?
While we can't promise the no hangover part, we can assure you everything that'll pass your lips at Broadbeach Waters moody new after-dark venue, NXT Door has been so meticulously selected for its superfood and health beneficial properties, that we wouldn't be surprised if you wake up looking five years younger. Maybe not, but we can dream, right?
NXT Door, which is ironically next door to Grocer & Grind, is a project the team has had bubbling away in the background ever since opening their popular wholefoods brunching cafe three years ago. It took more than two years for the neighbouring location to come available so, when it did, they snapped it up and have been feverously finessing their menu, one-of-a-kind cocktail offerings, and bar fit-out ever since.
There's no-one more excited about this project than manager Max Gorvel. Through his smooth French accent, his enthusiasm for what they've created is utterly infectious. And while he's no doubt been running on adrenalin these past few weeks, he and the rest of the team should be proud of the health-conscious gem they've brought to the suburban streets of Broadbeach Waters.
Industrial and intimate, NXT Door is seriously sexy. They've achieved a super refined look by splashing a black base throughout, and layering with natural textures, metals, and accents of copper and bronze. We love the exposed globes with gritty pulleys, and dimly glowing downlights above the bar that are resourcefully up-cycled washing machine drums. Add to that a polished cement bar top, a sinkable leather chesterfield—we've totally got dibs on this one, BTW—and a handful of impressive custom-made high top tables (don't ask where they got them from, we tried). Finished with creeper vines and a painstakingly collated soundtrack of Indie artists and DJ beats, what you definitely won't feel is that you're hanging out on a Saturday night in the back 'burbs of Broadbeach. That's fo' sure!
It seems the dark and mysterious base was a smart choice too, 'cause the star of the show here is undoubtedly the cold-pressed concept cocktails and superfood dishes made with vibrant, locally-sourced produce. NXT Door has a compact but sharp menu of street-style superfood, that's like nothing before seen on the Coast. We were treated to their signature duo of salmon rolls wrapped in gluten-free coconut flour crepes—a dish that G&G regulars have been begging to return for years—alongside whole tacos with pulled pork, halloumi, or vegan options layered on warm gluten-free tortillas.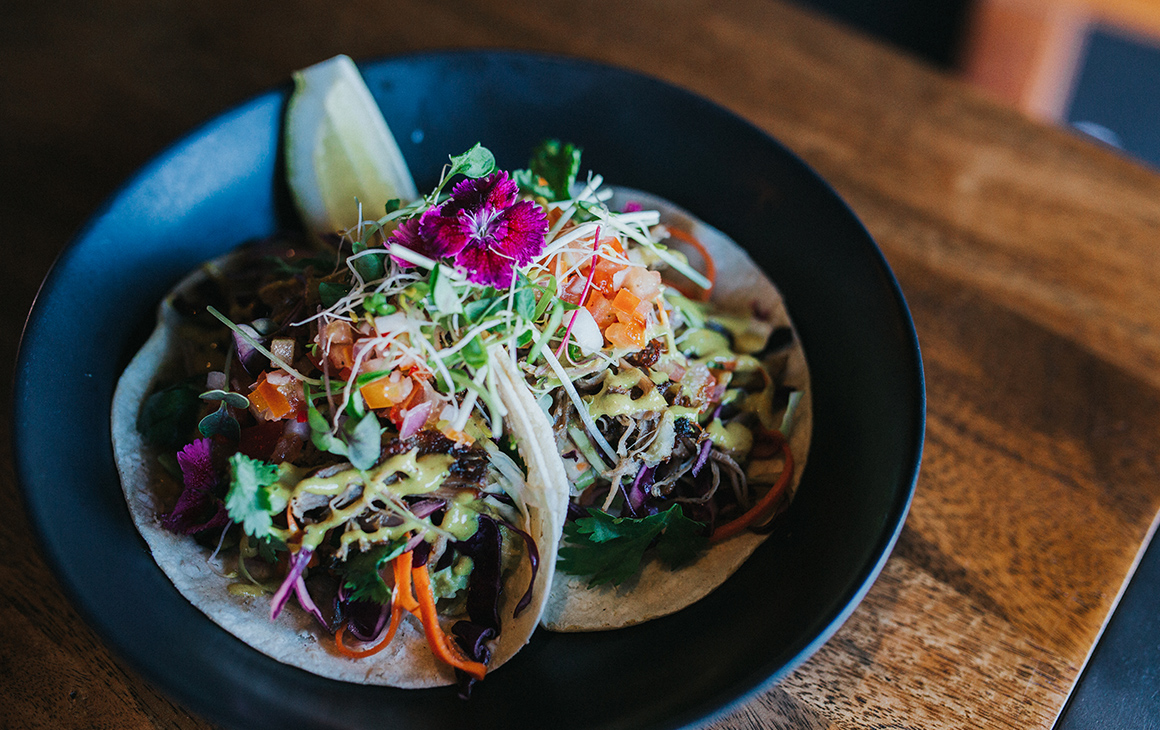 If you're anything like us, you've visited G&G and been torn between the incredible salad offerings and eggs bennies or loaded crepes. Breakfast usually wins out at 10am, which is why we were excited to see NXT Door's healthy superfood salad offerings—you can't go past the Paleo Protein Salad—now available for dinner.
These guys deserve a round of applause, with so much love poured into creating and perfecting recipes for each dish, right down to the simple yet surprisingly light house-made coconut bread—as a starter it's served with oil, coconut turmeric, and smoked paprika, and a matcha dukka. Mmmm.
While Max has been holding the superfood cocktail offerings close to his chest, with key ingredients like green tea syrup, coconut water, coconut oil, turmeric, activated chia seeds, and cold-press juices they've effectively transferred the kitchen to their drinks list. A simple but thoughtful selection of sustainably produced organic and bio-dynamic wines and local craft beers, combined with a sultry vibe and flawless service will ensure you've really got no reason to venture elsewhere on a night out.
Opening tonight, NXT Door welcomes you from 3pm 'til 10pm, Thursdays to Mondays (that's closed Tuesday and Wednesday, if you can't calculate). Just leave your Lulus or Lorna Jane activewear at home, ka-peesh?
Where: 2/1 Sunshine Boulevard, Broadbeach Waters
Photo Credit: Hayley Williamson for Metropolist