Burleigh is the unofficial heart of the Gold Coast. Agreed?
It's the energetic hub that's helping shake perceptions of our beachside city from high rises and theme parks, to a hip and happening destination worthy of attention. Today's Coast is carving its own identity, one that's anchored by lifestyle, creativity, and beach-y good times, and there's a tangible feeling of progress and positivity in the air ensuring all those who choose to live here are damn proud to call the GC home.
So, where are we going with all this?
Our beloved Burleigh has gained another feather in its cap that solidifies why we love it so much. From the same crew who helped to put the precinct squarely on the map, Justin Lane has thrown their upmost faith in the 4220 by opening a brand new venue, just steps away from its first born. Peeps, we hope you're ready to welcome Harry's Steak Bistro!
This effortlessly cool new eatery has extra special meaning for owner Adam Haralampou. It's a concept he's been sitting on for some years, in honour of his late pappous (Greek for grandfather) Haralambos Haralampou or, Harry for short. In 1939, Harry immigrated to Oz from the tiny town of Monolithos on the Greek island of Rhodes. He arrived not speaking a word of English and with five kids on tow, starting a new life working as a farmer in Biloela, growing cotton used to weave uniforms for soldiers.
Though it was his grandfather's great affection for meat—at family gatherings he was the man in charge of the beef: sourcing, slicing, marinating, and grilling—which inspired Adam's latest culinary project. On the wall, there's an adorable mural of Harry riding a bicycle, ensuring he's never far from mind. It's sweet to see Adam gush about his pa, and it's this same love that's poured into creating a venue that would make his pappous proud.
Metropolist was kindly invited for an early feast pre-opening, and we've got one word for you—swoon!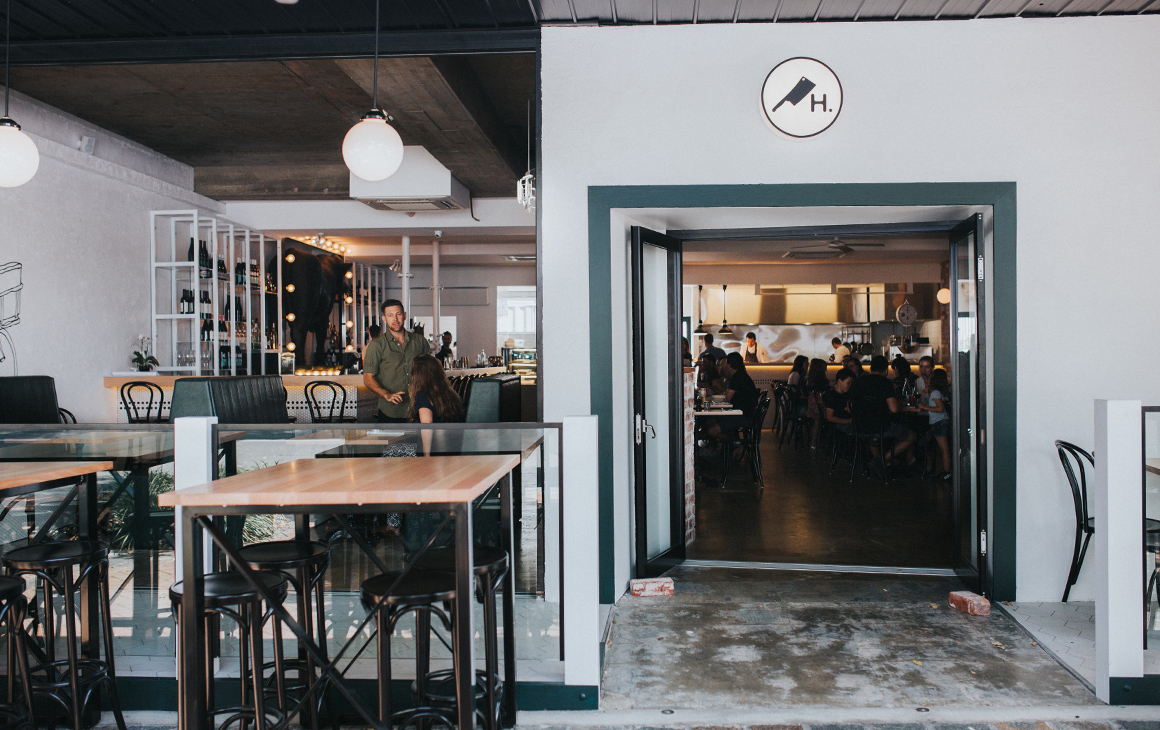 First of all, we were a little gobsmacked this space even existed, tucked away at the less-visited end of the block. Double the footprint we'd anticipated and with room for 150 diners and drinkers throughout the restaurant, bar, and alfresco high-top tables lining the sidewalk. We can't wait to see the venue in its element, buzzing with a fun-loving weekend crowd.
Walls are lined with recycled red-clay bricks recovered from an old Melbourne train station, adding to the warm and inviting feel. There's a Parisian influence in the black bistro chairs and forest-green banquettes and booths. It's minimalist, but that helps draw your attention to the life-sized bull hanging out behind the bar or the meat cleavers and butcher's knives doubling as beer tap handles. Adam knows lighting can make or break the ambiance, so they've got that firmly dialled too.
All that aside, the absolute star of the show here is the beef. In what's the Gold Coast's most concise dinner menu, four signature steak cuts take centre stage. Prices range from $29 for the 270-gram grass-fed organic Scotch fillet to $59 for the primo 300-gram Jack's Creek Wagyu rump cap. All steaks come topped with a herbed butter and sides of salted shoestring frites, a salad, and crusty bread.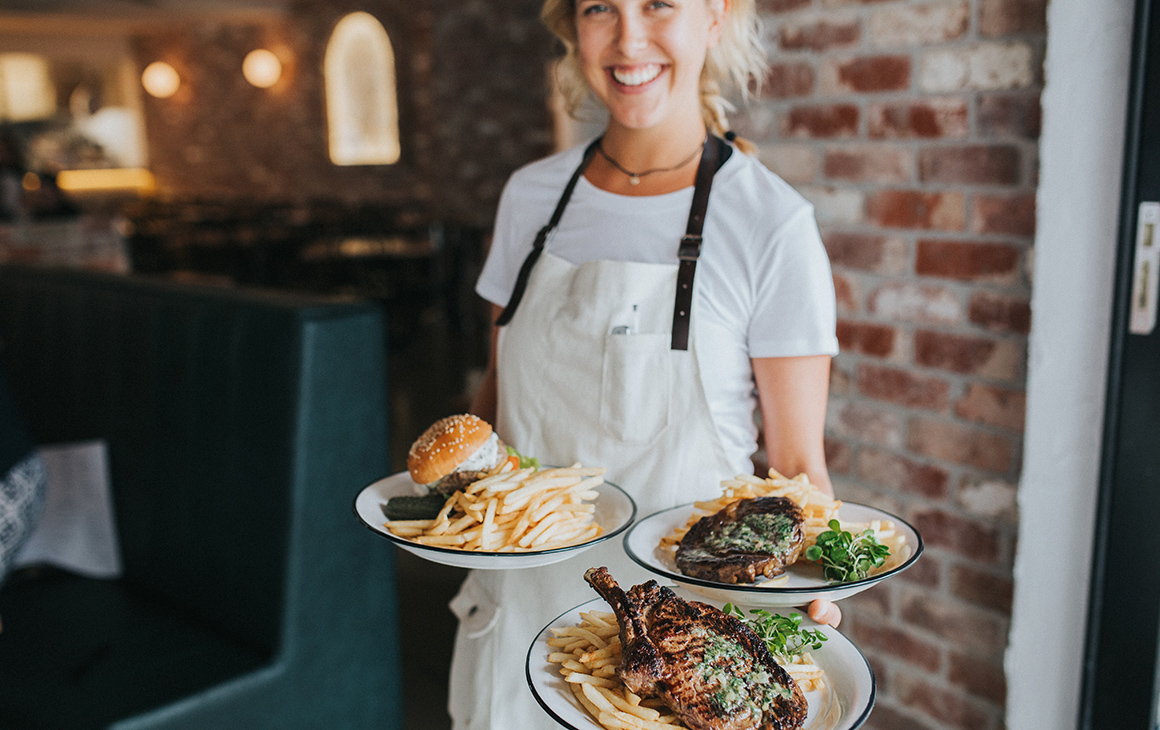 There's also one hearty cheeseburger, a fish dish, and sole veggie option (for vegos brave enough to step inside), currently an eggplant chargrilled and stuffed with ratatouille.
Plus, if you've got any room left after devouring your epic steak, the frites are freakin' bottomless! Srsly! But we highly recommend you make better use of your stomach real estate with shareable sides like Harry's famous onion rings. Or, what we somehow managed to let side into the cracks of our bulging bellies, a classic soft serve sundae with hot chocolate and macadamia nuts. Probs best ordered with extra spoons and handed around the table. Drool.
Served in the casual bar area and to tables lining the pavement outside, options are extended to bar snacks, think: melt-in-your-mouth beef tartare, Sriracha hot wings, oysters, char-grilled Mooloolaba prawns, cured meats, cheeses, one variety of steak, and a more-ish steak sandwich baguette with pickled onion and bottomless frites. Are you sold yet?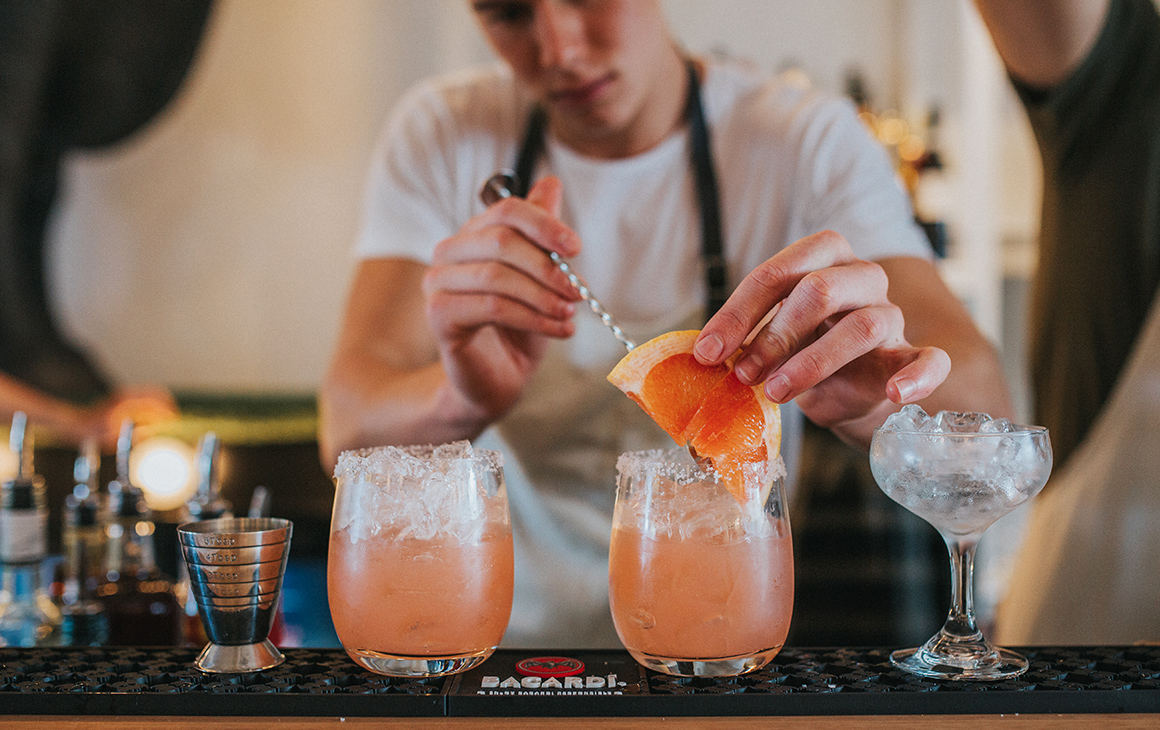 In true Justin Lane form, Harry's cocktails are totes worthy of forking out the extra dosh for. We tried and loved the Long Faced Dove with tequila, Campari, red grapefruit, lime, and ginger beer, or the East Side (Gin) Fizz. Beers are all on tap, with some main-stream names sprinkled among your fave craft beers. Plus, a focus on wines sourced from small growers who are dedicated to organic, bio-dynamic, and sustainable methods.
Right now, Burleigh is absolutely busting with goodness, new and old, and we love that Harry's locale is extending focus to the quieter end of the strip, one that affords a sweet outlook to the majestic Moreton Bay fig trees across the road. They're onto a winner, that's for sure!
Okay, we've told you too much already, but there's no substitute for making up your own mind for yourself. Harry's Steak Bistro will be open from 5pm for dinner Wednesday to Friday, and from noon for lunch and dinner on weekends. Bump it to the top of your to-dine list and get amongst the #beefboozeandbanter. You won't be disappointed. Promise.
Where: 1744 Gold Coast Highway, Burleigh Heads
Photo Credit: Hayley Williamson for Metropolist