It's true what they say: good things come in threes. Or is it bad things? Regardless, this is without doubt a very VERY good thing.
'Cause the Gold Coast has just been blessed with its THIRD brewery in as many months. Yep, that's right folks, locally-grown craft beer brand Black Hops Brewing has fiiiiinally opened its brand new home base. Hurrah!
When bearded mates Eddie Oldfield, Dan Norris, and seasoned brewer Michael (Govs) McGovern first teamed up for a bit of fun in late 2014, their first cooperative brew, the Eggnog Stout was a surprisingly tasty success. Black Hops was ultimately born and the progress has been swift yet meticulous.
In the two short years since inception, their Gold Coast-inspired brews have been pouring in craft beer bars up and down the coast in the likes of Ze Pickle, Lester and Earl, Cambus Wallace, Bine, Not Tonight, and Surfers Sandbar. They've been headhunted by US gaming giant Activision of Black Ops: Call of Duty III to produce a promotional brew that was swigged at launch events around the country. And, in the last two weeks, were voted in the Great Australasian Beer SpecTAPular (GABS) People's Choice Top 10 with their quirky entry—the Assault Trifle. Finally, the time has arrived to realise the biggest piece in the puzzle of this beer-soaked dream.
As is often experienced in the hospo industry, the crew hit a number of bang-head-against-wall-type bumps in the road and are opening later than originally predicted. But they made it! As of Saturday, June 18, their cellar door is welcoming hops lovers inside and, most importantly, the gear has been fired up to commence cooking and fermenting liquid gold in a room full of sparkling stainless steel hardware.
Forget what you've seen at 10-year-old Burleigh Brewing's mega new home or the cavernously sexy beer-swilling warehouse of pro surfer-owned Balter. This is a friendly neighbourhood-style watering hole and a grassroots project that proves the age-old adage: anything is possible if you put your mind to it.
Setting up a home base on the fringe of Burleigh and Miami, and a 200-metre sandy-footed stroll from the beach—Black Hops HQ is positioned to complement the buzz in an already popular area; the brewery sharing the same block with Burleigh Social, Paddock Bakery, and Grace Loves Lace.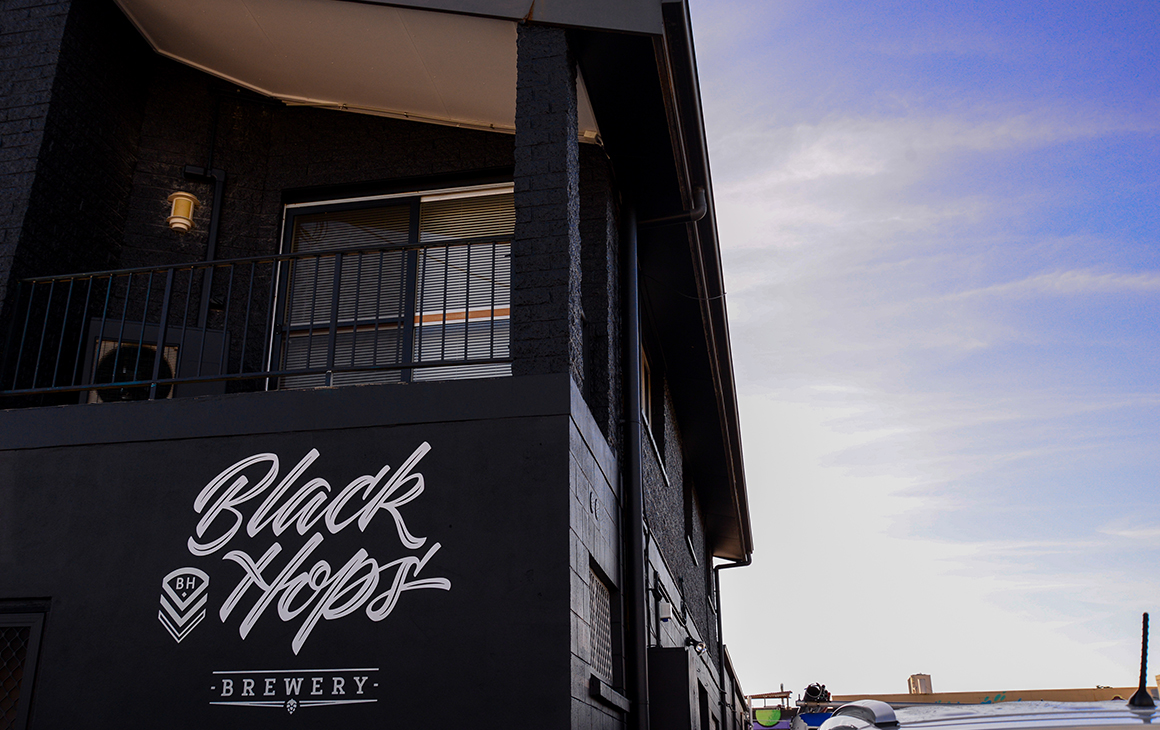 Spend some quality time with these three jovial legends and you'll agree that, as a start up, Black Hops epitomises the extra ordinary determination of Gold Coast's next generation. A new breed of entrepreneurs who are carving their own path and changing the face of our much-loved surf city before our very eyes.
These mates cum business partners have brought a dream to fruition under their own steam and grit. With the helping hand of finance from the first ever crowd-funded brewery campaign via Pozible (reaching their $10K target in just ONE day), together with the backing of a small handful of astute investors, and one very supportive landlord. Along the way, via blog posts and a 10-part Podcast series, they've shared the good, the bad, and the ugly experiences of their journey to building a beer brand and brewery. Which is particularly interesting for anyone considering taking the plunge themselves.
So what does all this mean for us?
As Black Hops kicks into high gear as a fully operational brewery, we should soon see their tasty drops being poured more extensively in bars and restaurants across the Coast. Yet the coolest part is, y'all invited to stop by the brewery's Burleigh-based tasting room any day between 12pm and 4pm (closed Sundays) for direct-from-the-source brews by the glass or tasting paddle. Plus, their Pozible-funded bottling machine means bottles will soon be on sale for takeaway; or growlers if you so prefer. How freakin' lucky are we, peeps?
With just two kegs remaining from the original batch, the Assault Trifle was no doubt the hottest commodity pouring at Black Hops' raw and intimate cellar door upon opening this past weekend. Created specifically for GABS, this crowd-favourite pale ale is a curious blend of cream sherry, Aeroplane jelly, toasted coconut, vanilla, fresh tropical fruits, spices, and, no shit, actual sponge cake for added authenticity. Who'da thunk it, hey?
If you drag your feet and miss out on the Assault Trifle, the guys can't wait to tempt you with other weird and whacky (though totally quaffable) creations from their experimental pilot system. Including some special collab beers with other savvy local restaurateurs who are also game-changers in their chosen fields. These exclusive test brews will pour alongside their tried and true staples—Bitter Fun Pale Ale, Beach House Ale, 30 Cal Lager, and, for the first time in almost two years, their signature Eggnog Stout on which the dream was originally founded.
Well, what are you waiting for? Get down to Black Hops HQ, buy a beer or three, and cheers the boys: Govs, Dan, and Eddie. God knows they bloody deserve it.
When: Cellar door open 10am to 6pm Monday to Friday, and 12pm to 4pm Saturday (closed Sundays)
Where: 15 Gardenia Grove, Burleigh Heads
Photo Credit: Brooke Darling for Metropolist