They're tipped to lead the foodie trends of 2017, alongside South American eats and charcoal. So what is it about poke bowls that have the rest of the world going gaga?
A poke bowl (pronounced poh-keh) is a Hawaiian twist on a traditionally Japanese dish of raw fish. Cut into cubes, this fresher-than-fresh seafood delicacy is tossed in an Asian-inspired marinade (usually soya sauce) and piled on top of brown rice or quinoa, then accompanied by all manner of crunchy veggies from shredded greens, carrot, edamame, and coriander to seaweed, mango, and sesame seeds. Basically it's one of the most guilt-free dishes you'll wrap your mouth around this year; high in protein and good fats. Step aside acai bowls, 'cause this newbie is the epitome of summer in a bowl if you ask us!
A handful of savvy local venues are already dishing up these fresh bowls of heaven, so we're doing our due diligence and pointing you in the direction of four places where you can devour a poke bowl on the Gold Coast.
Sandbar
If you've not yet taken the plunge and driven yourself into Surfers Paradise to try this sassy new beachside venue, we've got one reason that'll pull you in hook, line, and sinker. Sandbar recently underwent a cracking makeover to both the venue and menu, which included the addition of not one, but THREE varietals of poke bowls beckoning from the lunch menu. Your choice of tuna, salmon, or kingfish is tossed in fanciful marinades. We tried and loved the Maui Poke Bowl of sashimi kingfish marinated in passionfruit, green chilli, and lime with a smoked paprika mayo, then served on a bed of red rice and adorned with edamame, avocado, sliced cucumber, radish, and red cabbage. First melting mouthful and you'll wholeheartedly agree this is one of the best poke bowls on the Gold Coast.
Where: 52 The Esplanade, Surfers Paradise
Caffeine Kings
Ten points to Caffeine Kings for being the first to bring the Gold Coast up to speed with the rest of the foodie world, by introducing poke bowls to our hearts and bellies back in spring 2016. For an unassuming urban cafe on the highway, this spot punches above its weight in the brunching department. A few months back, Caffeine King's menu was given a massive overhaul by a talented chef plucked straight from Byron's acclaimed The Farm. Regularly thinking outside the box and researching emerging trends, she was quick to realise the potential of poke bowls in our summer climate. There are two tummy-satisfying options on the menu, the breakfast poke (with mushrooms, kale, poached eggs, and Japanese hollandaise—minus the fish) that is soon to become a permanent fixture. Or the classic lunch version, raw local salmon (or smoked trout) on a bed of warm brown rice, cucumber, pickled radish, edamame, bean sprouts, and crispy shallots, with the salmon tossed in your choice of flavour-packed sauces. Tofu or mushrooms can be substituted for the vegos, 'cause they're thoughtful like that.
Where: 1920 Gold Coast Highway, Miami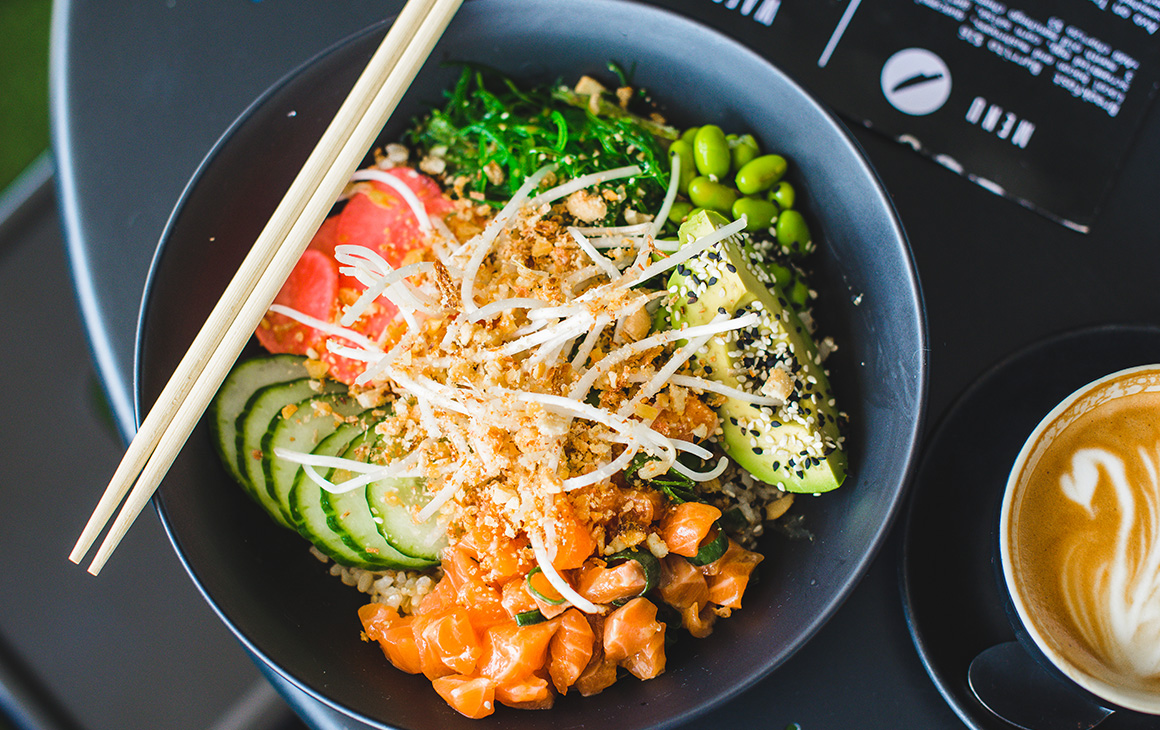 Aloha Bar And Dining
Whenever we visit, we're constantly amazed by the drool-worthy Asian slash Hawaiian-inspired dishes that emerge from Aloha Bar and Dining's tiny kitchen. We first raved about Aloha's spicy poke starter, now we're quietly losing it over their poke bowls! Take your pick of salmon or Mooloolaba yellowfin tuna—go Sriracha aioli spicy or not spicy (totes go spicy!)—otherwise there's eggplant and tofu for the vegos. Your poke is then paired with avocado, wakame seaweed, shredded carrots and greens, and served on a bed of warm coconut rice. Mmmm. Given Aloha is probably the closest you'll come to Hawaii without leaving the GC, we think it's the ideal spot to pop your poke bowl cherry. Pair it with a coconut ceviche and some of the most innovative cocktails and funky vessels on the Coast, and you'll be thanking us later.
Where: 18 Main Place, Broadbeach
The Kitchen at The Collective
Hands up who's made it down to The Collective yet? So much fun, eh? While this one barely scrapes in as a "bowl" per say, The Collective's Hawaiian tuna poke is a damn generous serving of tuna sashimi lovingly tossed in chunky avocado, soya, shallots, peppered with sesame, and totally shareable at just $16 per dish. Couple it with a 'Tis Rhubarb champagne and gin cocktail on the rooftop as the sun dips, and you'll have to pinch yourself as you remember you're in Palm Beach.
Where: The Collective, 1128 Gold Coast Highway, Palm Beach
Photo Credit: Hayley Williamson and Brooke Darling for Metropolist