Did you know the Gold Coast is the sixth largest city in the country?
Yep, with a population of more than half a million peeps, we're larger than three of the nation's capital cities (Canberra, Darwin, and Hobart). Yet despite the grandeur and expanse of our coastal home, sometimes you get the feeling you've done it all, seen it all, and there's nothing much else you didn't already know about. Well, think again.
To get you exploring your own backyard, we've tracked down six awesome things to do on the Gold Coast that you might not know existed. You're welcome!
Get buzzed with a free coffee cupping session
Usually reserved for industry folk, Paradox Coffee Roasters recently begun welcoming the public to join their weekly coffee cupping sessions, for free. Nada. Coffee cupping is the internationally recognised and standardised process of roasting, brewing, smelling, and tasting beans to ensure the intended flavours are consistent when tested anywhere from the origin source to the final destination. Held on Wednesdays between 5pm and 6:30pm in the intimate coffee den at the rear of the café, these casual sessions let you sit in with Paradox's expert roasters, Matt and James, while they sample new beans through aromas and slurping (yep, you can learn the giggle-worthy technique of the pros)—an integral part of the process when selecting potential imports for the Paradox retail and wholesale brand. While Wednesday's free sessions are casual and off-the-cuff, if you want to learn all the juicy details such as origins and profiles, private sessions can be booked for $50 per head (minimum four people). Now, when you're drinking coffee all day, these boys will tell you the trick is to spit, not swallow. But where's the fun in that?
Join a multi-venue brewery tour
Ask anyone, and they'll agree the local craft beer scene is oh so hot right now. Gold Coast has been blessed with three boutique beer breweries this year alone but, the sad truth is, many of you are yet to visit them all. (Okay, maybe we'll let you off the hook considering the newest, Black Hops, opened just a few days ago). Given those cheeky brewers often like to make their beers extra boozy, it's usually not feasible to take a brewery crawl either, without some poor sod having to sit one out for the team. Thankfully, our new stature in the beer brewing world has also spawned spin-off operators by the way of guided brewery tour companies. Join an excursion with Crafted Coast or Hop On Brewery Tours and you'll receive your own guide slash designated driver (winning!), get special access to the people who make these breweries tick, stop at some of Coast's best craft beer bars, and, of course, be showered with beer tastings galore. *Hick*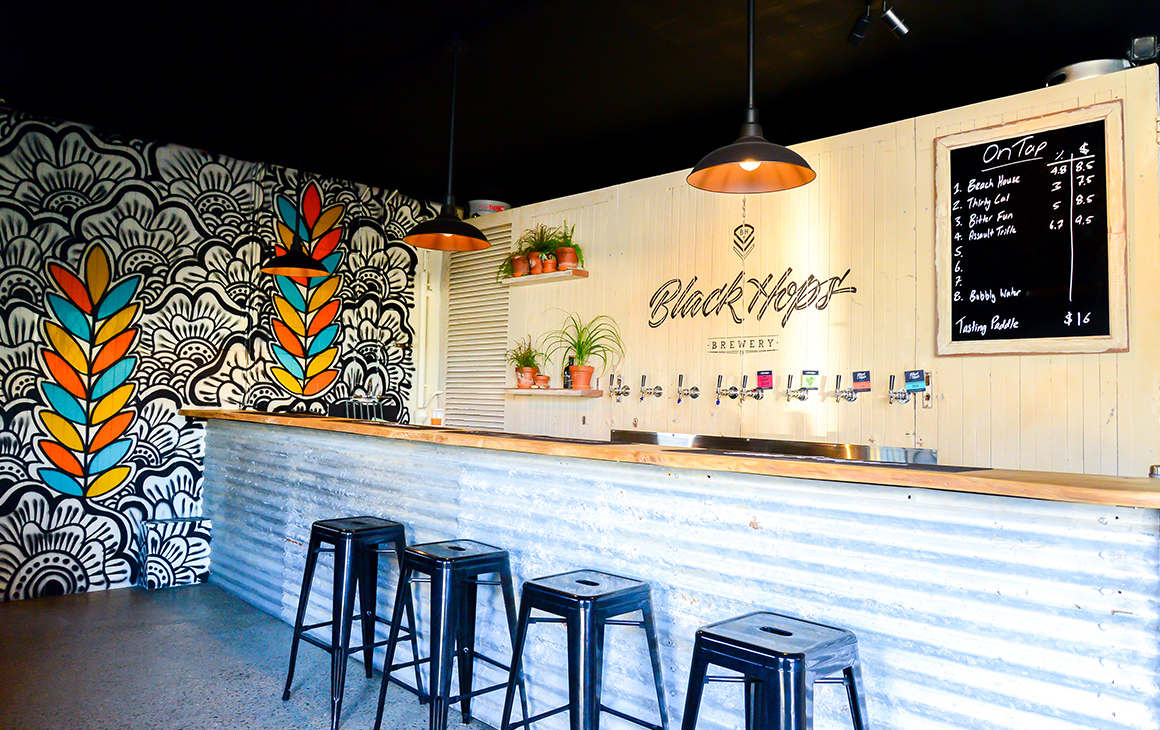 Learn a new skill at an epic craft workshop
Ever wandered around The Village Markets on a sunny Sunday and pondered where all these remarkable local creatives have been hiding? Sure, for a fortunate few, talent runs in their blood but, for the rest of us, there's still hope thanks to the generous gals at The Craft Parlour. Learning a crafty new skill is not only soothing and invigorating, but you'll learn tricks that'll have you adding an extra personal touch to your home, wardrobe, or becoming the queen bee of do-it-yourself gift giving. Hell, one day you might even find yourself running your very own market stall or online store. Dream big, we say! The Craft Parlour operates out of an adorably leafy Queenslander cottage turned studio workshop next door to Hendrixx and The Small Stall in Palm Beach. Take your pick from half-day, full-day, and multi-day courses covering macramé (pendants, wall art, and hanging pot plants), Shibori tie dye, hand lettering, basket weaving, kimono sewing, crocheting, naked cake decorating, screen printing, ceramics, candle making, styling for social media shoots, and kid-specific workshops… they even host craft parties for groups. Check out the website ladies (and fellas!), 'cause this ain't no ordinary arts and crafts; it's about as cool as it gets on the GC.
Fly at indoor skydiving
There's no denying the Gold Coast is home to an insane myriad of outdoor and all-weather activities attracting visitors in droves—mega theme parks, futuristic mazes, inflatable playgrounds, indoor trampolining centres, go cart tracks, lazer battles, shooting ranges, haunted houses, cabarets, mini putt putt courses, jet boat rides, and cheese-ball Aqua-duck tours. We didn't get that "famous for fun" cattle-branded on our sunny shores for nothin', did we? Truth is, if you're a local these crazy games are unlikely to be found anywhere on your to-do list these days. But this, folks, is one of those touristy things that we're totally dying to try for ourselves… don't lie and say that you're not intrigued too. A recent addition to Surfers Paradise, iFly Indoor Skydiving allows kids big and small the chance to experience the sensation of flying and freefall without the need for jumping out of a perfectly good plane. Sign us up!
Get your float on
Okay, so we've been singing the praises of this epic little gem in Burleigh Heads for a few months now. But for those who may've missed the love chanting, then you need to know about floating. Just six months old, Freedom Float Centre is already one of the best wellness centres on the Gold Coast with three state-of-the-art pods filled with Epsom salt-infused water that's a similar density to the Red Sea and warmed to body-temperature. Strip to your birthday suit, flick out the lights, lay back, and surrender to a relaxed meditative state that promotes healing and reduces stress. Regardless if you believe in all those things, trust us when we say it's one of those activities you need to experience at least once in your life so you can nod "uh-ha" in agreement when a blissed-up friend starts rambling gushing commendations at your next dinner party.
Be bendy with aerial yoga
Sounds fascinating, no? Perhaps you've seen photos around the interwebs of flexible-looking people hanging from what looks like silky hammocks and practising yoga upside down. Well, you've found anti-gravity yoga and you can try it right here on the Gold Coast. Renowned for its ability to stretch and lengthen without applying stress to joints, give this style of yoga a whirl at Mermaid Beach's Yoga Shed, if you're keen for a core and upper-body workout that's as challenging as it is fun.
So, enough about the things to do on the Gold Coast that you haven't done. What about the ones you have? Here's 30 cafés you should have eaten breakfast at if you live on the Gold Coast.
Photo Credit: Brooke Darling for Metropolist