Let's be honest here.
You'd be lying if you hadn't admired the handiwork of those crafty gals and guys spruiking their wares at The Village Markets or via their perfectly-curated Instagram feeds.
Truth is, though, they all started somewhere.
And even if you don't (yet) have aspirations to unleash a talent from deep within that could see you rubbing shoulders as your own stall holder or Etsy retailer, at the very least, you're probs yearning for some therapeutic "time out" and to re-connect with a creative side that's been in hiding since high school art class.
We've got to admit, we've become far too efficient as the bosses of our keyboards and bulging email accounts. Add to that, unrecoverable chunks of our lives lost to mindless hours scrolling Facebook and Insta, or watching Netflix on auto play. Perhaps you're swapping thumbs every other week given a niggling fear of the onset of RSI…?
This past weekend Metropolist carved out some personal time and embarked on a little adventure we'd been dying to take for MONTHS since discovering this adorable cottage tucked away under the Poinciana trees off Palm Beach's main thoroughfare.
In reality, The Craft Parlour has been a thriving and inclusive hub for budding crafters for almost two years now. Starting out with a space at Miami Marketta then, in December 2015, moving to its bright and homely studio in Palm Beach. This enchanting community space for exploring and sharing new skills is the brainchild of local lady, Rachael Valentine. Rach is one of those free spirits and beautifully nurturing souls who aspires to motivate, empower, and connect like-minded people while igniting fresh passions.
If you don't already know The Craft Parlour, you might be the lucky owner of an authentic Mexican blanket or bohemian threads from Rach's other labour of love, online and market pop-up store, Hattie.
On a rare wet and windy Saturday morning, we joined a dozen other students in an intimate Introduction to Ceramics workshop that promised to impart some simple yet classic techniques of this age-old craft. Led by the talented Leia Sherblom, creator of Grit Ceramics, for the next four hours we happily got our hands dirty playing with clay and were walked through the methods of coiling, pinching, and slab building.
With all materials and tools supplied, around the table we shared ideas, learnings, stories, and laughs, while sipping on steaming cups of herbal tea and chomping into monster scones slathered with jam and whipped cream—freshly baked that morning by Rachael's next-door neighbour! It was a heart-warming and re-energising morning for each and every one of us, for whatever different motivations we had to be there. After a morning of ceramics, we were quickly reminded that, with some expert direction, our hands are capable of so many fruitful things. In a few week's time, once our creations have been dried and fired by Leia, we'll each collect our rustic hand-crafted table setting of ceramic bowl, plate, and spoon. Are we hooked? You betcha!
Rach has worked tirelessly to grow The Craft Parlour into a welcoming and creative community hub, and it shows. She's built an incredible roster of many and varied workshops that can offer both personal and professional gain. There's up to three scheduled classes per week as part of an ever-evolving monthly calendar. Plus, a host of other opportunities from custom-booked hen's soirees and baby showers, to adorable children's birthday parties, and their regular Mumma and Cub crafty workshops.
Rach has collaborated with other crafty kindred souls; workshop teachers who host classes at The Craft Parlour are so generously sharing skills and techniques that they've sometimes taken years to master.
For us? We've totally got our eyes on the macramé plant hanger or macramé bunting workshops next. Hosted by none other than local macramé goddess, Eden Eve Macramé, who was one of The Craft Parlour's original teachers; both businesses having blossomed alongside each other in the past two years. Magical, huh?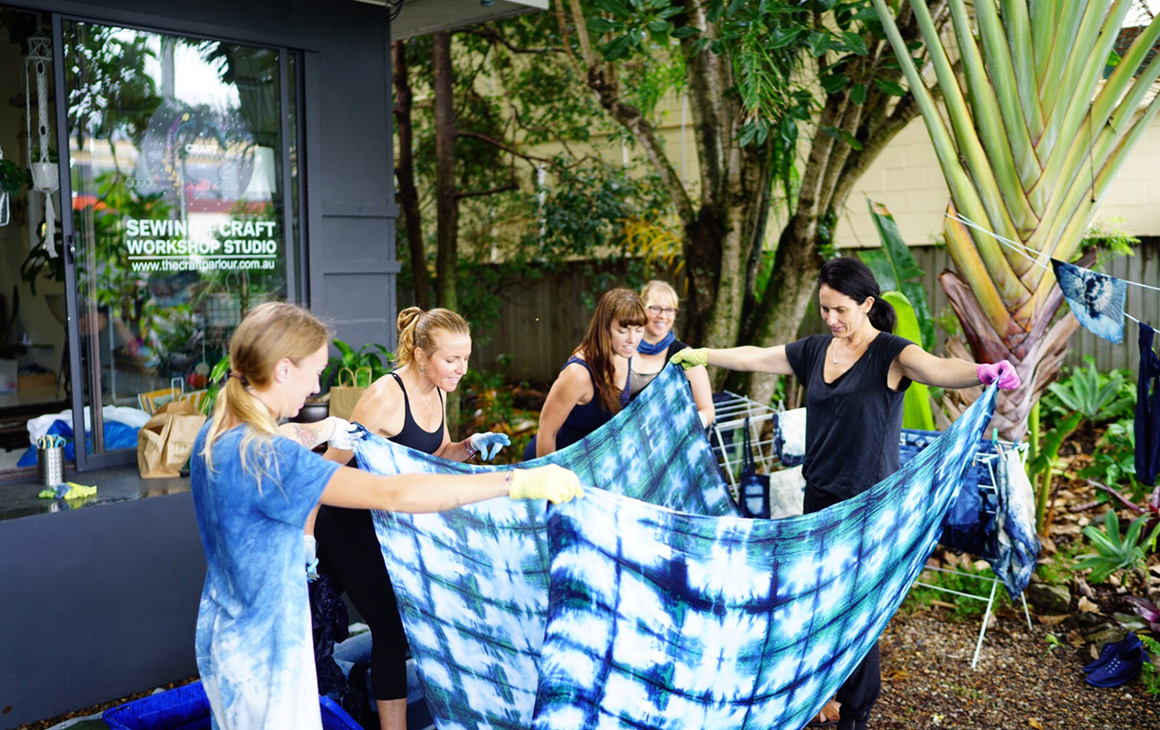 Add to that, a host of other intriguing classes such as learning the art of silver smithing; natural dyeing; hand lettering; screen printing; Shibori (tie-dye); food styling; loom weaving; leather handbag, candle, or soap making; plus, classic skills that should never die with granny—crocheting and knitting.
You can even learn to sew your very own kimono! 'Cause when asked where you bought your gorgeously flowing kimono, there's nothing more satisfying than responding, "I made it myself!"
For those who may have already unearthed their creative passions, but are eager to grow their business or personal brand by getting a leg up in the digital advertising game, there's professionally-targeted sessions such as Facebook for Business or Instagram Styling and Marketing for Business.
Have you long desired to dive into a soul-satisfying new hobby, or perhaps mummyhood is on the horizon? Maybe you've been placed in charge of planning a unique event for your besties, are looking for that perfect gift (gift vouchers are available!) or, simply in desperate need of some thoughtful time with your hands and connecting with other like-minded folk. We totally adore The Craft Parlour and we trust that you will, too.
Stop procrastinating folks, jump onto their Instagram to get inspired, or peruse this month's calendar on The Craft Parlour website and book a workshop!
Where: 1059 Gold Coast Highway, Palm Beach (two doors south of Hendrixx)
Photo Credit: Brooke Darling for Metropolist; plus Eden Eve Macrame and Brooke Holtz/Matt Burt