Ain't it a grand time to be a food lover on the Gold Coast?
Unless you'd been living under a rock (we hope you're comfortable under there!), you should be well aware of the mega foodie news flooding the interwebs and airwaves of late.
For those who've not yet swung by Robina Town Centre's stellar new The Kitchens precinct, we did the due diligence of eating and snapping our way around the halls to bring you a little taster of all the action. You ready?
But first, a word of warning. If you break out in hives at the sight of a lengthy restaurant menu, one where you're forced to decide on just one lonely dish and then proceed to have food envy as all the meals are served, you're going to be on the floor in the foetal position when you see The Kitchens. Srsly, the choices are mind-boggling and it's kinda overwhelming.
We're still picking our jaw up off the floor at first sight of this two storey, industrial-style shrine to food. If there was ever a moment for sensory overload, good chances are you'll feel it here. More curtains are being dropped as we speak, with new vendors opening everyday. Hence why this weekend will be your best opportunity to bring your biggest appetite and roomiest stretchy pants.
So, where do we start?
If you're after something casual, there are fresher than fresh sushi and sashimi offerings from Hero Sushi, those famous milky buns by Betty's Burgers, home-baked sourdoughs at Mr Pigs Bakehouse, or sweet-tooth treats galore at Mark Daniels Patisserie. And at Jimmy Grants' first store to ever venture outside of Melbourne? There was a line up out the door. We are not surprised!
You'll also find rainbow bagels by NYC Bagel Deli (one of only a handful of places in the entire country making 'em), and you lot already went crazy about news of Crafted Coffee Co.'s espresso martini bar, who will also be shaking things up very soon. Naked Treaties epic raw, vegan goodies even made us think momentarily about a diet change, especially if it meant we'd end up looking like gorgeous owner, Jemma Gawned.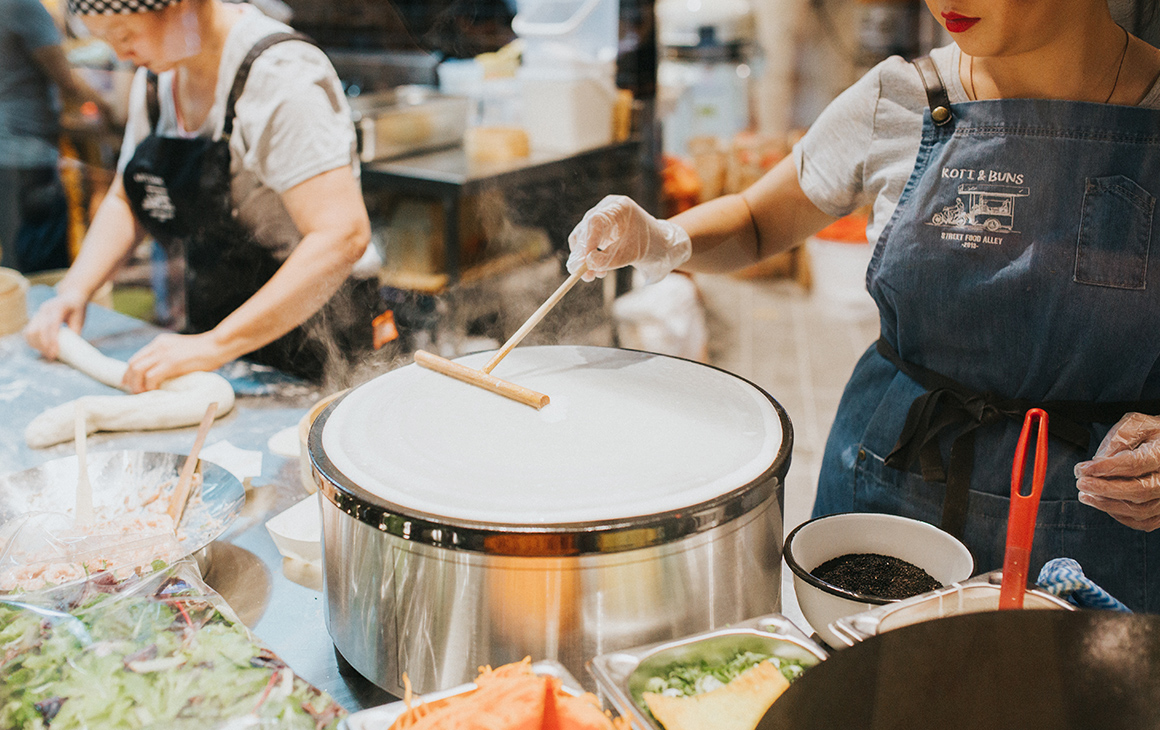 We particularly love many of the vendor's open-plan kitchens, a true theatrics of food where you can squish your nose against windows while staff prepare sushi, Chinese crepes, and fresh rotis. Poke your head around the corner at Roti & Buns, and among all the steam and stacks of bamboo baskets you could almost picture yourself in a back-street kitchen in Hong Kong.
What we were most excited to check out though, were several unique-to-The-Kitchens eateries with top-notch table service, cloths napkins, custom fit-outs, and nek-level menus that'll most certainly change any perception about food you'd find in a shopping complex. At Scandi luxe-styled Honey Eater Kitchen, by acclaimed chef Trent Scarr, we tried and loved the succulent John Dory and oyster paupiette share plate alongside the tender lamb strap served with a dollop of saltbush sheep's yoghurt. Are you drooling yet?
William Wu's The Fish Lab is getting experimental with seafood with a fish parmigiana on the menu; there's even a fish-drying room on site and quality locally-sourced seafood available retail. Elixiba's enchanted forest-like setting is also a stand out, as are their colourful botanical-infused cocktails—one venue we're sure will be embraced as a vego foodies' paradise. Coming Home Co. was yet to reveal itself on our early visit, but we're eager to try its traditional home cooking offerings on our return.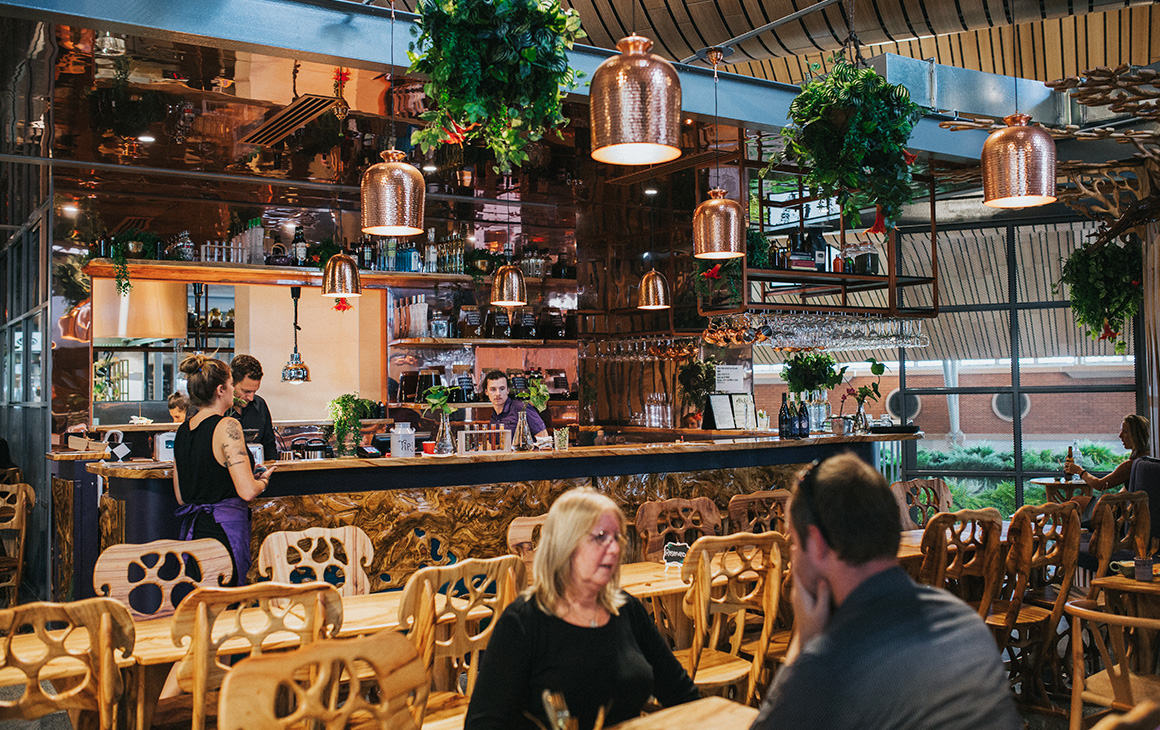 Soon there will be 32 sparkling, permanent vendors to choose from, with an additional 15+ temporary pop-up stalls and purveyors certain to keep the vibe constantly changing, and ensuring you'll never run out of new dishes to try.
We got a taste of the rotating entertainment planned too, from live cooking demos to Icon Cooking School with its regular roster of master classes, to the baby grand piano available to anyone who can bring the skills. (Though please don't try it if your ability is limited to playing Chopsticks, mkay?)
Fresh supplies for channelling your inner-MasterChef at home? Breakfast, brunch, lunch, dinner, dessert, or cocktails? The Kitchens has got all the bases covered. We've already made plans to visit every week for the remainder of the year. 'Cause you can never have too much of a good thing.
Where: Robina Town Centre, Robina Town Centre Drive, Robina
Editor's Note: This article is proudly sponsored by The Kitchens and endorsed by Metropolist. Thank you for supporting the sponsors who make Metropolist possible. Click here for more information on our editorial policy.
Photo Credit: Hayley Williamson for Metropolist