We're crazy about plants. And decorating. And decorating with plants. But we'd be lying if we said we were natural green-thumbs. Living in Melbourne often means that space is limited, so we've done some research (and some serious plant and homewares stalking!) to bring you a super simple guide to indoor gardening. Follow our dummies guide to create a lush space AND keep those plants alive. If you're at all unsure, or if you just want some added planting ideas, the team at Garden Of Eden Nursery , AKA Melbourne's MOST gorgeous plant nursery and homewares store are keen as mustard to help you out.
Herbs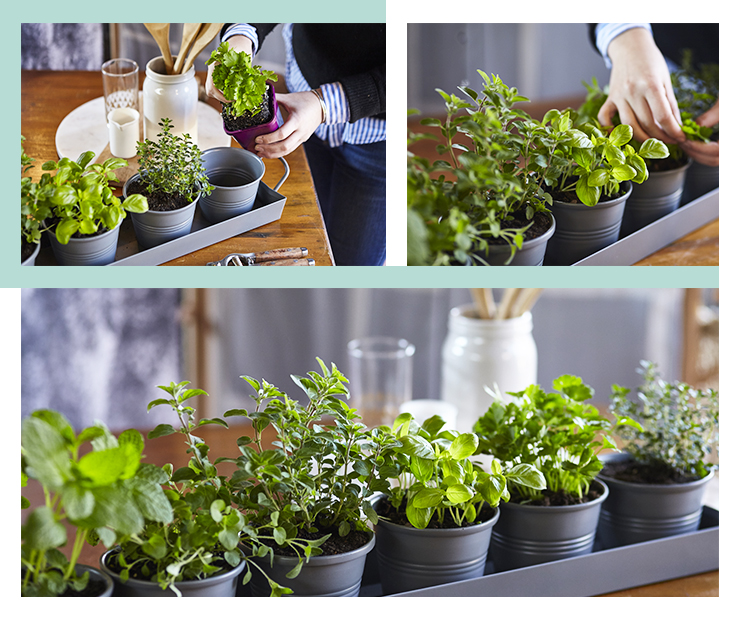 Herbs are where most (clueless) gardeners start. They're functional, delicious and easy peasy to grow. Indoor herbs like to have oodles of natural light, so try and find them a sunny spot on a windowsill. Requiring a bit more water than most other indoor plants, the most efficient (and least messy) way to water your plants is to place them in the sink, give them a good soaking and let them drain off before placing them back in their spot. This five-pot planter is the most perfect option for herbs that we've seen. It comes in a three or five-pot option and you'll find it in the home wares section of Garden of Eden Nursery .
Indoor Baskets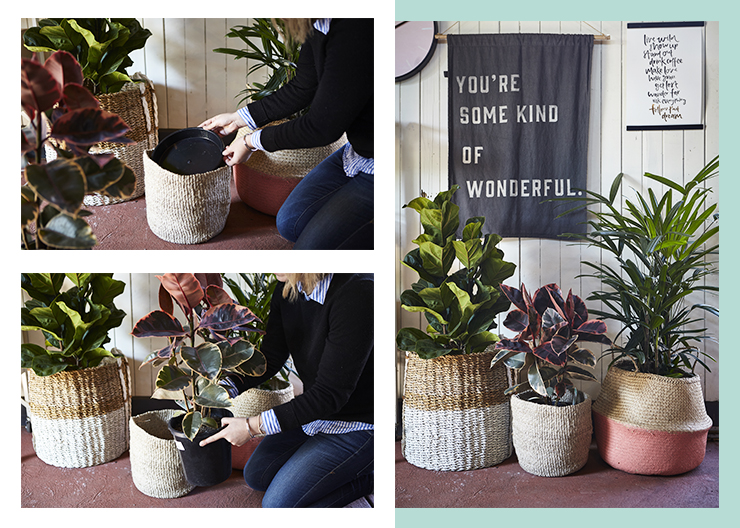 If you're wanting to house larger plants indoors, baskets are the perfect way to snaz them up and make them decorator-friendly. All you need to do is place a large plastic saucer in the bottom of the basket, and then place the plant in on top. There's no need to do any messy re-potting and the saucer will stop the basket becoming water damaged. Win, win!
We've used a Fiddle Leaf Fig, a Variegated Rubber Plant, and a Lady Palm here. All of these plants like well lit, sunny rooms and are exactly what's needed to brighten things up and add a touch of 'tropical.' While all three plants are relatively easy to grow, if your green-thumb has well and truly died, you might like to give the Fiddle Leaf Fig a miss, at least until you're confident with the other two, that is. Garden Of Eden Nursery in Albert Park has the most glorious selection of baskets, and will help you out with the perfect indoor plants to go in them.
Orchids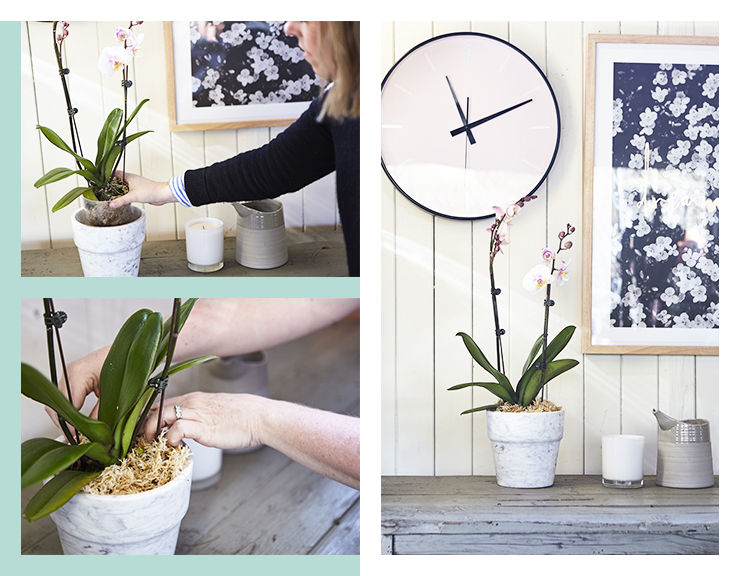 If you're wanting something sleek, beautiful and reasonably low maintenance, this orchid is calling your name. A simple marble pot adds to the look, making it the prefect desk or bedside decoration.
If you keep your orchid in a well-lit room, you'll often be rewarded with repeat flowerings. Be careful to not over water. Hot tip: If your pot has a hole in the bottom, however you don't want to put a saucer under the pot, simply place a small plastic saucer inside the pot and then place the orchid in. This will catch any excess water and will save your benches from being marked. You can place some sphagnum moss on top to hide the plastic pot. We found this Phalaenopsis Orchid and the marble pot at Garden Of Eden Nursery.
Trailing Plants


Because we're a tad obsessed with trailing plants, we put together this potted option. We've used a variegated Hoya here, which is another perfect plant for a well-lit room. This humble plant is super low maintenance—provide plenty of sun and not too much water, particularly in winter, and you'll be able to enjoy it for years to come. If you've got a shelf or ledge that could do with a spruce up, the trailing nature of the hoya is perfect to add some pizzazz.
Succulents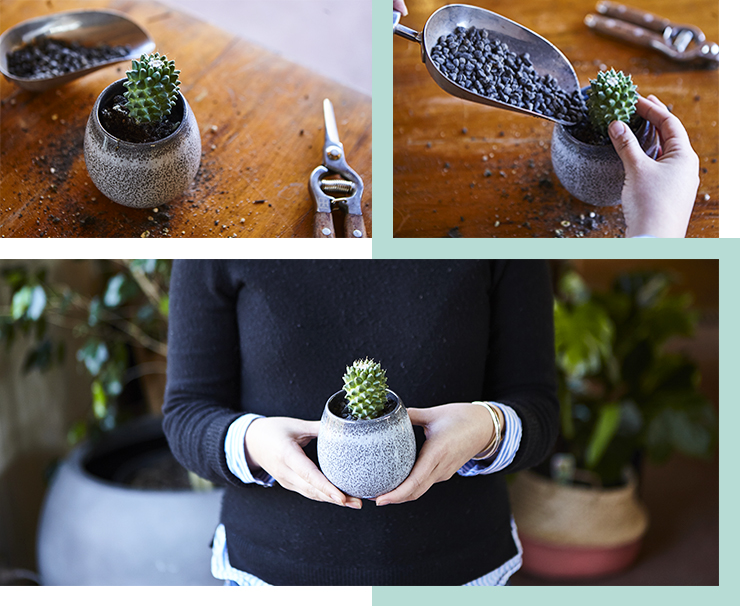 Everyone knows that succulents and cacti are the king of low-maintenace plants, but there are still ways to make them look more appealing and ensure that they are happy in their pots. You can easily use ceramic mugs and vessels if you prepare them properly for planting. If the vessel you you're using doesn't have a hole for drainage, simply place some charcoal in the bottom to help filter any excess water. It's best to then use a good quality succulent or cacti potting mix to provide the right growing conditions for your succulent as they like free draining soil. Make sure you water very sparingly; a mister bottle is a good way to make sure it doesn't get too wet. There's a stack of perfect succelent and ceramic vessel options at Garden Of Eden Nursery (we challange you to leave with just one!)
Hanging Planters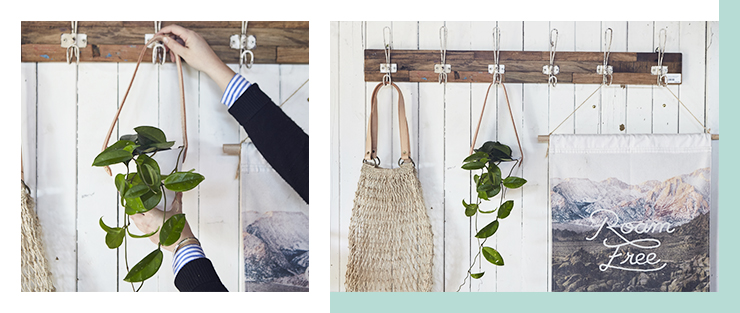 Is there anything lovelier than a hanging plant? We've used a Hoya here, but there are plenty of plants that are perfectly suited to smaller hanging pots. Chain Of hearts, Devil's Ivy or String Of Pearls are all good options aswell as they create beautiful trailing shapes.
If the hanging vessel that you're using doesn't have a hole in the base, water sparingly—a light mist once a week is perfect. If there is a drainage hole in the vessel, take it down for watering and rehang once the excess water has drained away.
Editor's note: This article is sponsored by Garden Of Eden Nursery and proudly endorsed by The Urban List. Thank you for supporting the sponsors who make The Urban List possible. Click here for more information on our editorial policy.
Image credit: Michelle Jarni for The Urban List