Dust of your denim cut offs and prepare to face the horror that is your leg situation, because spring is back, baby! Now that the weather's on the improve, it's time to stop giving your ankle boots the stink eye and re-asses your shoe choices.
This season's breakout footwear trend is the espadrille. A classic warm-weather shoe, espadrilles and spring just go together. Whether you favour a simple slip-on or a chunky wedge heel, espadrilles ooze a Spanish sensuality that makes them ideal for warmer months. Beach wedding? Picnic where you want to look vaguely presentable? Date night? Tick. Tick. Tick.
Here are 8 of the best espadrilles. Pair yours with a tan and a jug of sangria.
1. Solodus, Leather Platform Gladiator Sandals
A real all rounder, you won't be kicking these simple Solodus espadrilles off 'til winter's back.
2. Solodus, Original Dali Black
A simple black slip-on ideal for traipsing the streets of Barcelona or, you know, where ever you live.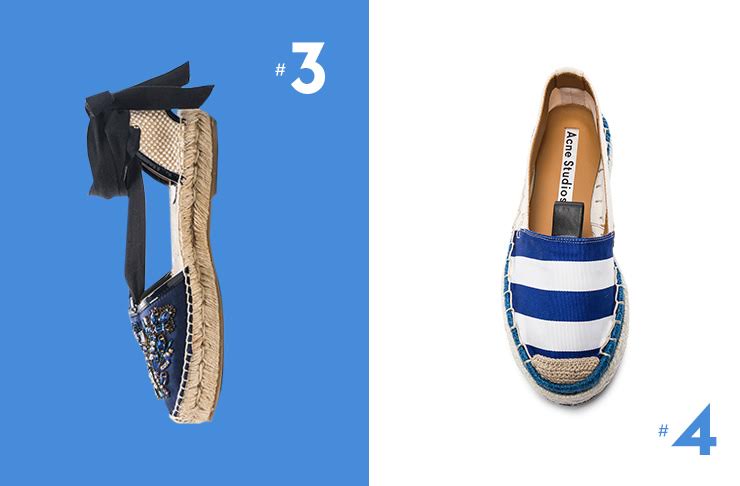 3. Oscar De La Renta, Adriana Crystal Embroidery Espadrilles
Fancied up with crystals and embroidery, these satin Oscar De La Renta slippers are your 'going out' espadrilles. Just don't spill on them.
4. Acne, Canvas Bibiana Stripe Espadrilles
Stripes and straw are a quintessential warm weather combo, and Acne's canvas loafers blend the two perfectly.
5. Aerin, Suede Espadrilles
There's no better way to describe these Aerin espadrilles than 'too fucking adorable'. Ideal for acting out your ballerina fantasies.
6. Castaner, Carina Washed Canvas Espadrilles
Born in Barcelona, these Castaner espadrilles are as legit' as they come and sexy to boot.
7. Manebi, Accra Cheetah Print Calf Hair Espadrilles
Manebi have mastered the casual flat. Decked out in Cheetah spots, hopefully you won't be doing too much racing in these.
8. Manebi, Hamptons Suede Espadrilles.
Hand-made in Spain, like any good espadrille should be, these neutral Manebi cuties, in a flattering cool blush suede, are infinitely wearable and come with a platform sole for a bit of lift, thank you very much.