We get it, just like pineapple on pizza, going full country isn't everyone's cuppa tea. But if there's one thing we can all agree on, it's that we all need an escape from our beloved Melbourne from time to time. And what better time than right now?
But before we get to the real good stuff, we have to tell you something. You might just take up permanent residency at one of these twin cities, because just like our guide, AlburyWodonga is a carefully curated region that's jam-packed with pockets of modern and sophisticated eateries and an arts precinct so artsy it could rival Melbourne's (ooooh, big call).
It's all happening up at AlburyWodonga. Head up north and thank us later.
Eat and Drink
Bistro Selle
An understated restaurant with exceptional dishes, this gastronomy gem is located smack bang in the town's city centre. Given the owners' previous experience in fine dining, they thought it was time to bring something a lil' different to Albury and redefine fine dining on their own terms. By "simplifying it down" and "removing a lot of the fiddle food", Bistro Selle's menu is a contemporary yet modern mix of flavours. Whether you're after a droolworthy plate of pasta or a sneaky six-course meal, their consolidated spread certainly has you covered.
The crispy tripe starter served with curry and boudin noir (blood sausage) will change everything you thought you knew about tripe and you'll be totally convinced you're eating crispy pork crackling. Their lamb shoulder served with swede, barley and preserved lemon is to die for. And to end the night on the sweetest of notes, you've got to finish with the chocolate delice. Served with beetroot, rosewater and crème fraiche, it's unforgettable. Bookings are recommended.
The Bicycle Baker at Bonegilla Migrant Experience
Located in the Bonegilla Migrant Centre's function space is micro-bakery, The Bicycle Baker - and it's a very recent addition to the Bonegilla Migrant Experience.
For those not familiar with the Bonegilla Migrant Reception and Training Centre, it was originally a designated space where thousands of post-war migrants began their Australian journey, operating from 1947 through to 1971. It's now an educational site where the legacies of each of the migrating families are celebrated.
The owners of The Bicycle Baker feel it is more than fitting that they're able to bake up a storm at the Bonegilla Migrant Experience, as their inspiration for baking stems from their very own travels throughout Europe. They aim to recreate traditional sourdough here in Australia, while also expanding their carbo arsenal, baking seasonal loaves. Watch this space as they prepare to introduce bread-baking classes soon.
The Gateway Village Farmers Market
The best way to tackle any farmers market is to, drumroll… eat your way through it. And the best way to experience the pride and joy of local vendors is to hit up the farmers market. Located at the Gateway Village in Wodonga (just before crossing the border into NSW country), you'll find this sweeter-than-honey hive of local vendors who all promote local and sustainably-produced, high-quality fresh produce and products. To satisfy that early morning tummy rumble, we recommend grabbing a yummy baked good from Milawa Bread Artisan Bakes and a cup of coffee from White Owl Coffee. There's oh so much wholesomeness to go 'round, you'll see.
BeanStation
Right now, it's all happening at Junction Square, Wodonga's apex of all that is trendy and tasty. The space is currently undergoing large scale developments and a load of up-cycling across the site's historic buildings. The former Wodonga Railway Station built in 1873 has now been resurrected and is home to groovy eateries like BeanStation.
BeanStation is a buzzing breakfast and brunch spot that's also a great place to sip on wine and local beers. Get comfy as you'll be turning any meal you're having into a drawn out one. It's never easy to go past a thick stack of pancakes first thing in the morning, which is exactly what we recommend if you're stopping by for breakfast—a delicious pumpkin spiced stack, adorned with strawberries, coconut, pistachios, maple and pecan butter and last but not least, Beechworth honey whipped cream.
Ebden & Olive
Humble, minimalist and in vogue are just a couple of ways you can describe South Albury's, Ebden & Olive. Specialising in delicious café fare, charcuterie, take-home meals and, of course, coffee, Ebden & Olive is so delightful you'll definitely want to stay for a meal. For breakfast we recommend the Vietnamese rice noodles with braised wagyu, or the Silver Creek organic sourdough crumpets with scion drunk honey. Warning: There will be salivation.
Nord Bakery
If you Google Nord Bakery, you'll see they're right up there as one of South Albury's most beloved carbohydrate distributors. And we can confirm, the rumours are true. Racks and display windows armed with seasonal loaves, almond croissants, Danish pastries, lemon tarts (the list goes on) is just a regular day at Nord Bakery. And you'll wanna set the alarm because loaves fly off the shelves from the crack of dawn.
Insider's tip: With Ebden & Olive neighbouring with Nord Bakery, in true Aussie style, they work side by side to complement each other seamlessly. To tackle the pair like a local, pop into Nord Bakery for a pastry and swing by Ebden & Olive for a coffee. Park yourself outside in the sun and you're instantly winning at life.
Canvas Eatery
Canvas Eatery is every bit as artistic and stylish as its name alludes. And the décor is only the beginning. Their fit-out is so clean you'll probably mistake it for one of MAMA's (Murray Arts Museum Albury) showrooms next door. Their offering caters for brunch, dinner and dessert, with a wine list to match.
If you're after an experience to satisfy all of your five senses, check out MAMA and drop back into Canvas Eatery, because you should never ignore your tastebuds. If you're in for brunch or lunch, we recommend you try their sweet and tender spiced lamb ribs, or opt for one of their Napoli-style pizzas. Perch yourself on the outdoor deck – you won't regret it. BYO sunnies.
Albury Brewhouse
The Albury Brewhouse is a recent addition to the Albury beverage scene, with the team specialising in on-site brews, right across the road from the Atura Hotel. Punters are inarguably spoilt for choice with their huge range of craft beers on tap, all of which are bottled and brewed on site. A few notable craft brews include the Brewhouse Pilsner, Murray Gold Lager and loaaads more. If you don't believe us, just check out their menu. Our go-to pick? Their infamous ginger beer: Binge The Ginge - a spicy yet sweet little number you'll keep coming back for.
The River Deck
At The River Deck, there's a 100% chance of mind-blowing food with a 100% chance of never wanting to leave. Located right on the banks of the Murray River within Noreuil Park, The River Deck is Albury's most renowned scenic dining experience.
The restaurant strikes the perfect balance between relaxed yet sophisticated dining and is brought to life with its glorious ambience. Whether it's a milkshake or gin and tonic you're after, River Deck has all bases covered. The local's tip to enjoying The River Deck is to grab some nosh and a coffee (or something a little stronger, perhaps) and kick it down by the river. This place is just an Insta post waiting to happen #views.
Andiamo Street Kitchen
Ahhh yes. That breakfast taco hankering we all know way too well. And if you don't, the door is that way. But seriously, Andiamo Street Kitchen has the breakfast market on lock with their satisfying menu of breakfast and lunch options, all cooked up within the four walls of one fully self-contained shipping container, located right in the middle of Junction Square.
Italian, Spanish and Mexican cuisines, as well as a cheeky Japanese dish, form the basis of the street food-style menu - and trust us when we say - it's very hard to go wrong here. Hands down you've got to try their take on French toast. It's made with brioche, topped with whipped mascarpone, a poached pear, and a scoop of handmade gelato from their sibling business next door, Topolino. Finally, it's drowned in maple syrup and finished with a dash of rhubarb puree. If you're after something on the savoury side, definitely go the breakfast piadina; a hand-rolled ricotta and lemon flatbread loaded with mozzarella San Daniele Prosciutto. Bellisima!
The Goods Shed Craft Beer Café
What locals now know as The Goods Shed was originally a transport hub for various 'goods' that were being moved between Melbourne and Sydney. Today the space is home to insanely good quality food and independent Australian craft brews, more than worthy of the phrase, "they've got the goods." And as much as they're all about serving up bubbly goodness left, right and centre, their ambition is to change common perceptions about beer and food, one tasting paddle at a time.
The Amber Ale is definitely one to try if you're ready to have your whole world turned on its head. With a caramel and biscuity aroma, strong toffee and roasted malt flavours, within a couple of sips you'll be totally converted and there'll be no going back.
While scoping out their food menu it's hard not to lose your head, because everything sounds so damn good. Those share plates tho. The house-made duck spring rolls are almost too good to be true and their polenta chips with chilli salt, parmesan mayo and tomato relish go down a treat. Oh, and did we mention their salt and pepper squid? Serious lunch goals.
Miss Amelie
Travelling around Europe is all about finding inspiration… which is exactly what happened for Miss Amelie chef and owner, David Kapay. Fast forward to 2018 and David is proud to have set up shop in the former Wodonga Railway Station (right next door to BeanStation), spinning his inspiration into delicious food reality every day.
Their offering is focused on modern European classics with a contemporary vibe. And if you're not hungry enough to demolish a whole meal or you're looking for a sneaky pre-dinner wine, find a spot at Little Miss. Their relaxed wine bar has an extensive range of bar snacks including both savouries and sweets. If you're stopping by for dinner - get very excited, because whatever you choose, we assure you, it'll be cooked to perfection.
Our go-to picks include the lamb scotch, market fish and the quail ballotine. Bon appetite, baby!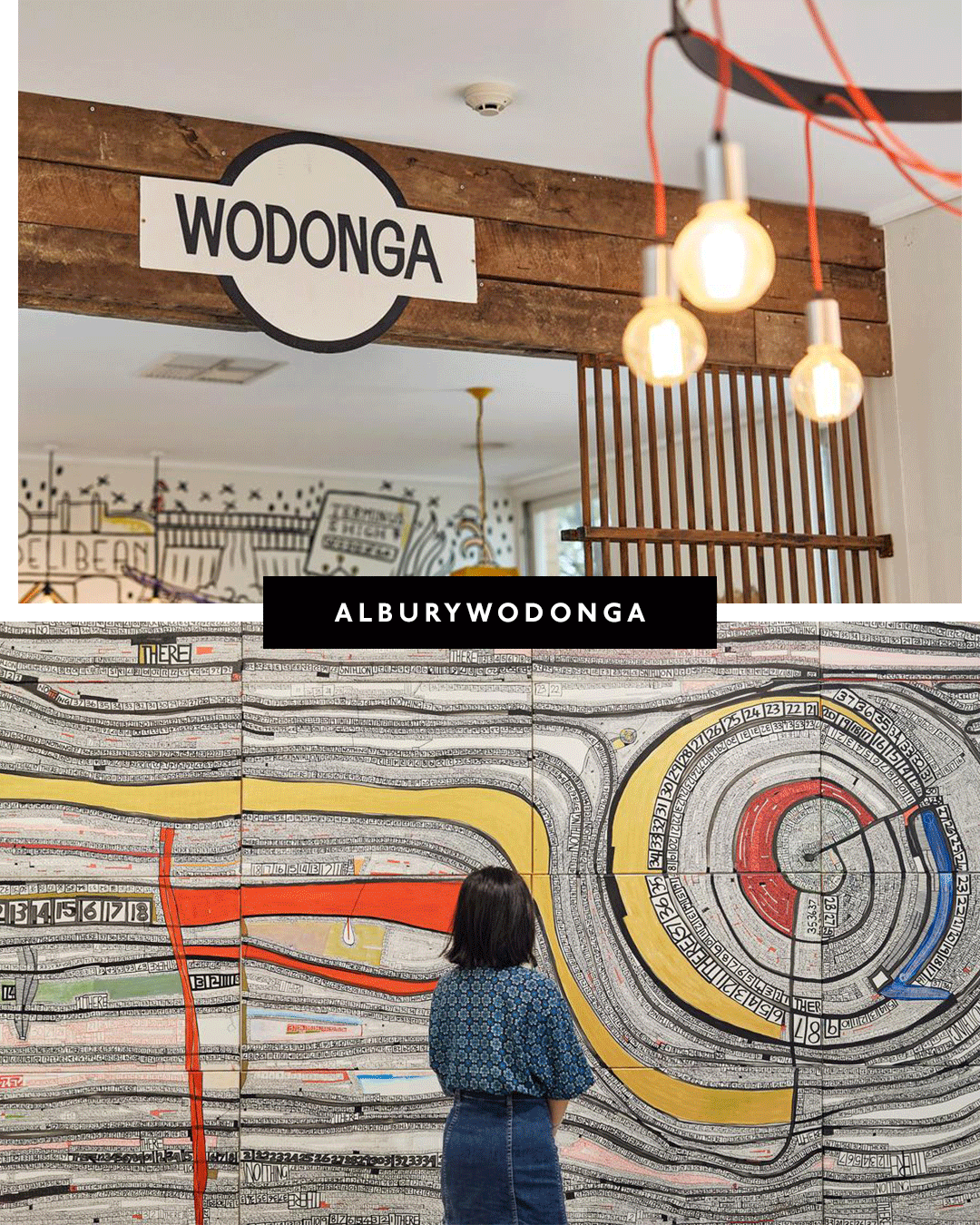 Play
Murray Art Museum Albury (MAMA)
One of the first things you'll notice about this region is its thriving art scene. And the heart of its beating soul is the Murray Art Museum Albury. More commonly referred to as MAMA, the space delivers on reimagining what an art museum can be. Once you begin exploring the space you won't find it hard to believe that the Archibald Prize was held here last year, as well as the dozens of international touring exhibitions coming in and out. MAMA currently plays host to 3000 works and is proud to host emerging and local artists, as well as major touring international exhibitions. Check out their website to see which exhibitions you can catch this season.
Yindyamarra Sculpture Walk/Bike Ride
If you're looking to appreciate as many of the Murray River's bends as possible, you'll definitely want to tick this one off. Just a 15-minute bike ride from Albury's CBD, you'll find yourself riding (or walking) along the Yindyamarra Sculpture Walk like a true local.
To accomplish this mission you can choose to hire bikes from either Atura Hotel or The Cycle Station. Along the trail you'll definitely notice sculptures scattered along, each created by local Aboriginal artists with the aim of storytelling the cultural significance of the Murray River. Begin the Yindyamarra Sculpture Walk at the Kremur Street Boat Ramp.
Arts Space Wodonga
Located in Wodonga's community cultural precinct, the humble space that is Arts Space Wodonga is a stop you ought to make. Up to ten exhibitions are hosted here each year, allowing both emerging and professional practicing artists the opportunity to showcase their work in a dedicated space. The space is super intimate and the perfect spot to enjoy the company of your own thoughts. For more info, visit their website to check out what's currently on show.
Editor's note: Accommodation was supplied by Quest Wodonga and Atura Albury. This article is sponsored by Murry Region Tourism Body and proudly endorsed by The Urban List. Thank you for supporting the sponsors who make The Urban List possible. Click here for more information on our editorial policy.
Image Credit: Griffin Simm