With well-loved institutions like Cafe Latte, Arki Bar, and Pizza e Vino under his belt, Luca Lorusso has proven to be a major player in Melbourne's Italian food scene over the last 27 years. But Lorusso's newest venture is not what you'd expect—following a recent trip to Israel, he felt inspired to translate all the great experiences of his trip into a new Windsor venue called Balagan Kitchen.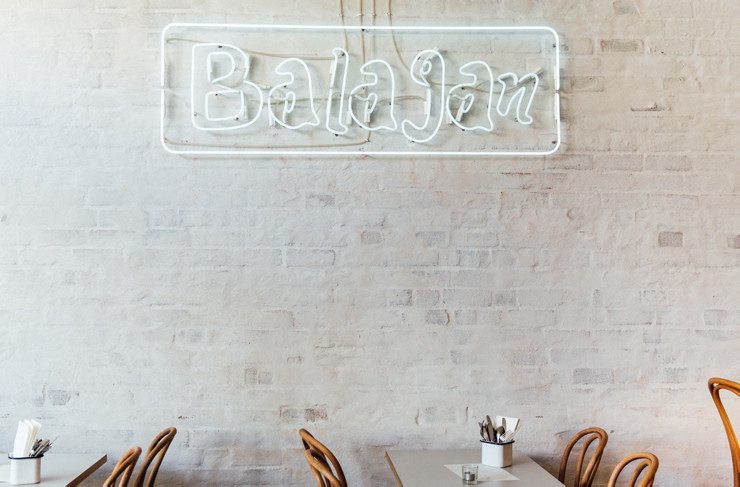 To assist with his new venture, Lorusso brought on his 22-year-old son Sacha to oversee the creation in its entirety. "Initially, my dad asked me to help him with the branding," Sacha says. "I was so inspired by the name, I came up with the logo in one night. And then I just kind of got more and more involved in the business."
Sacha's influence on the venue is palpable—Balagan feels young and fresh, with colourful posters and neon signage that doesn't feel overdone. "We definitely wanted to keep that Israeli-Italian, family-driven, homey feel when you walk in the door," Sacha says. "We want everyone to feel welcome here."
Despite its modern fit out, Balagan certainly feels welcoming and homey. But make no mistake, this is not solely an atmosphere-driven venue. Amid Balagan's bustle and laughter, there's some serious food to be had. Led by Iraqi-born chef Akad Al-Guepa, Balagan Kitchen brings all the best elements of Middle Eastern cooking to Melbournites.
The whole menu is designed to be shared, which is an amazing excuse to try everything. From the traditional small plates (aptly named "Munchies") to the more substantial dishes, it's pretty much impossible to go hungry at Balagan.
To start, you can dip into the tangy Baba ghanoush or the creamy hummus, or the fantastic Haloumi cigars, which are just as mind-blowingly delicious as they sound.
If you're feeling pretty hungry, tack on the delectable spicy half-chicken or the whole, fresh-as-hell barramundi fillet for some extra sustenance. Add in a side of deliciously crispy fries, and you've got yourself a party.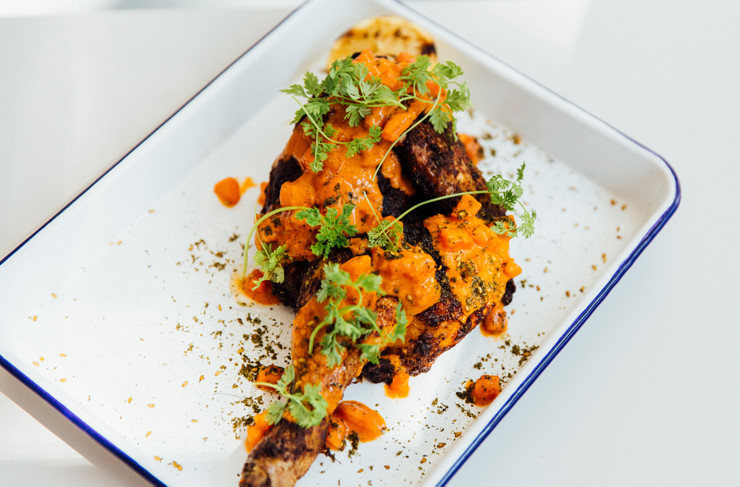 Sacha has also dreamed up a whole bunch of refreshing cocktails that are sure to brighten up your day—from the Melon Frosé to the Tel Aviv Sour, you can tell the Balagan Kitchen team are as talented behind the bar as they are in the kitchen.
And if you thought Middle Eastern cuisine subjected those of us with a serious sweet tooth to slim pickings, prepare to be proven wrong. You'll pick up your jaw off the floor once you've tried the creamy and refreshing Halvah semifreddo—it really tastes as amazing as it looks.
So if you're looking for a Middle Eastern treat in the middle of Windsor, look no further than 184 High Street. Balagan Kitchen is open Tuesday to Sunday, 12 pm - 4 pm and open for dinner from 5 pm until late.
Image credit: Annika Kafcaloudis