Finding good brunch in Northcote isn't hard. You can jump off the tram just about anywhere on High Street and stumble upon a winner. But Northcote extends far beyond High Street, and when it comes to an easterly bit of the 'burb bordering Fairfield, you might be a little bit more stuck for Eggs Benny.
That's where Cornerstone of Northcote comes in. Nestled away near Dennis Station, it's a light, airy café with polished concrete floors, pretty aqua-tiled tables and lots of hanging greenery. It's the type of place that instantly feels like your local, even if you're coming from across town.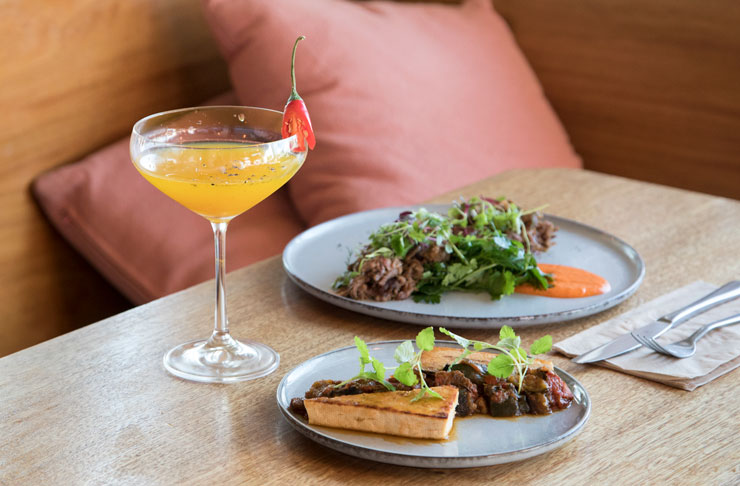 The kitchen uses a mix of science-backed superfoods and locally-sourced produce to create brunch and lunch dishes that are healthy and inventive. Dietary requirements aren't just welcome at this Northcote newcomer – they're seen as a chance to chat about food allergies and intolerances. Every dish is primarily vegetarian or vegan and gluten-free, with the option to add a protein or superfood supplement. While many inner-city cafes may huff and puff over modifying dishes on weekends, the team at Cornerstone are happy to be accommodating.
"Our name, Cornerstone of Northcote, works on two levels. Obviously, we're on a corner site, but we also believe the cornerstone to a healthy body is a healthy diet. That's what we're offering here," says Dani Walters, who owns the café with her partner in business and life, Will. The couple has also run Mount Buller's Snow Pony for the last seven years.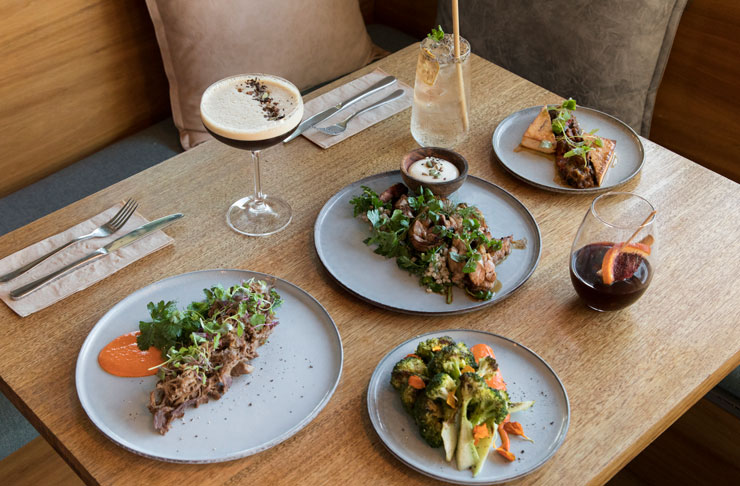 Standouts on the menu include turmeric scrambled eggs, which arrive with thick slices of buttered sourdough and are interspersed with kipfler potatoes, oyster mushrooms, banana peppers and leeks. A plastic syringe full of smoky hot sauce is not only fun to squirt over the top but takes the spicy heat from the banana peppers to a whole new level.
The porridge is an unexpected hero dish for the colder months: made with organic oats, pumpkin, nutmeg, rhubarb, bee pollen and lavender honey, it's got textural crunch from a moreish nut crumb. Coconut charcoal waffles are both visually arresting and 100% guilt-free, sitting pretty on a thick dollop of coconut yoghurt with a scattering of macerated berries and drizzle of blood orange syrup.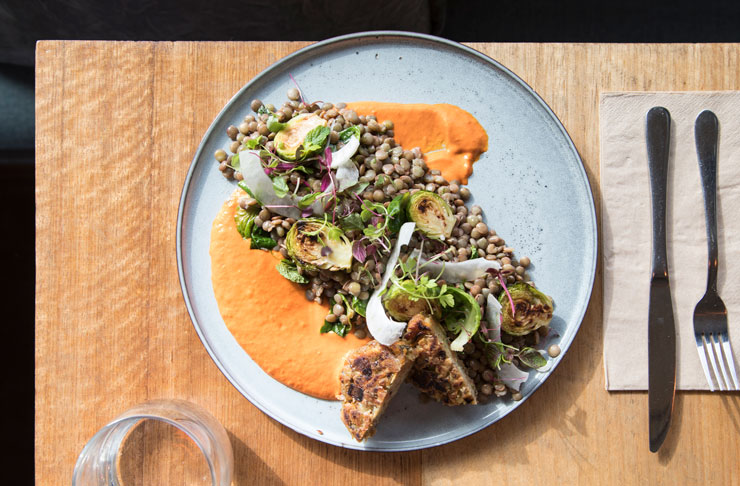 Don't worry if the dishes above sound too health-conscious for you. There's also a dedicated hangover cure featuring maple bacon, heirloom tomatoes, baked beans, poached eggs and buttered sourdough, and you can add an 'antioxidant shooter' for $2 to keep your headache at bay. The smashed avocado pimps up the usual medley of herbs, feta, nuts and seeds with hibiscus jelly, and you don't have to pay extra to get a poached egg on top.
For lunch, there's a baked veggie rosti with roast capsicum dressing that carnivores can meat-ify with slow-cooked lamb. The buckwheat salad and kale bowl will satisfy the clean-eating crew and there's a healthy take on chicken 'n' waffles featuring fermented slaw and Kewpie-style mayo.
Coffee comes from South Australia's Kommon Grounds roaster and can be made with the full gamut of milk alternatives, including almond, coconut, lactose-free and soy. There's a nutritionally-minded list of weird and wonderful lattes such as dirty lavender, charcoal, turmeric and beetroot as well as housemade 'lemonaid' and probiotic sodas. Hair-of-the-doggers will be pleased to see a ripping list of wines, beers and cocktails on offer including a Bloody Mary made with Kettle One Vodka and a Dirty Chai Martini served warm in a teapot.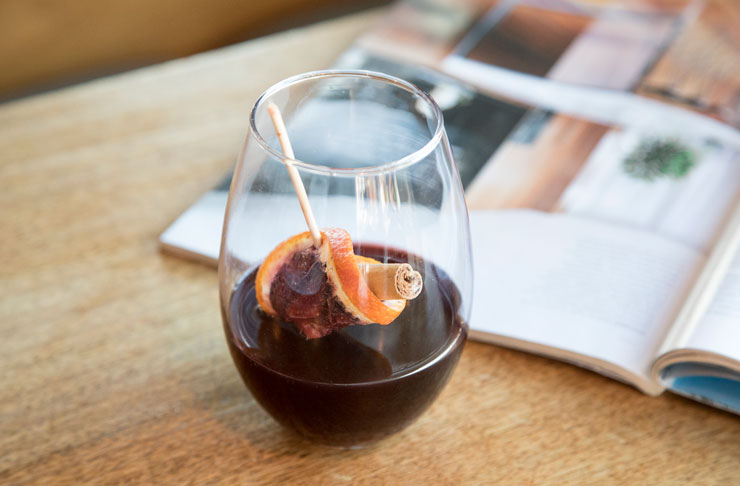 Speaking of cocktails, Cornerstone is kicking off a tapas night on Friday and Saturday evenings throughout winter. Share some grilled chill tofu on ratatouille or slow-cooked lamb on rocket with your mates and know that you'll leave feeling wholesome, not bloated. Don't turn down the citrus lava pudding – molten desserts are always a good idea and you can't be healthy ALLLLL the time.
You can check out Cornerstone's twilight tapas and cocktail nights on Friday and Saturday evenings starting RN.
Did you know avocado toast chocolate is now a thing? Read all about it here.
Image credit: Madeleine Gill