Just north of Geelong, the Moorabool Valley is on a road less travelled. It's a quiet wine region boasting a hatted restaurant and Melbourne-esque cafes, but most Melburnians would struggle to point to it on a map. Here are all the reasons you need to detour to the Moorabool Valley on your next road trip.
#1 There's An Old-School Bakehouse That's Every Bit As #Country As You Imagine
If you're travelling through Inverleigh looking for something more luscious than soggy servo pie, Inverleigh Bakehouse has something that will hit the spot. An old-school bakehouse with Irish roots, locals come to pick up daily baked goods and specialty items including traditional soda bread and potato bread.
Inverleigh Bakehouse makes all their pastries, breads and fillings in house. Piping hot pies may be stuffed with chunky beef, creamy chicken and mushroom, or a weekly special. Trays of croissants, danishes and pillow-soft scrolls are dusted with icing sugar and displayed in old-school baskets. We recommend taking your haul to the outdoor garden.
#2 Fine Dining That's Worth The Trip Alone
A hatted restaurant since 2015, Gladioli is housed in a restored Victorian-style cottage. The two set tasting menus, which rotate regularly, act as a showcase for the finest regional produce, all of which has been sustainably and conscientiously-sourced.
Foraged mushrooms with cauliflower and sorrel are delectably chewy and rich with sauce. The blue cheese, honeycomb and almond dessert is also a highlight. Sweet crunchy honeycomb is balanced with pillow-light, whipped blue cheese. It's blue-ming addictive, and not something to try at home.
#3 Brunch That's Better Than Your Melbourne Fav
The pleasantly surprising House of Sonny in Inverleigh is giving Melbourne café's a run for their Instagram-fuelled dollars. The menu relies on local producers (and their own veggie and herb garden) and rotates regularly depending on what's in season.
Expect homemade soda infusions and milkshakes using house-made syrup. The brunch menu is equally thoughtful, with fresh breakfast bowls, pesto poached eggs and egg white omelettes.
#4 You Can Wine & Dine Until You Drop
Stunning rolling hills, blooming vineyards and (of course) all the cheese are on offer at Clyde Park and Lethbridge Wines. Since they're within a very reasonable driving distance of each other, set a designated driver/wine spitter and hit both.
Clyde Park's tasting cellar door is open everyday. Taste through the boutique range, find something that tickles your wine fancy and order up a cheese board to match. The team also sell giant, 'magnum' 1.5 litre bottles of wine, so we really don't know what you're still doing reading this.
There's a focus on Italian wines at Lethbridge Wines. Pinot Noir, Shiraz and Chardonnay are sourced from the region's best. The entire range is also natural, making it one of the better alternatives compared to your local bottle-o.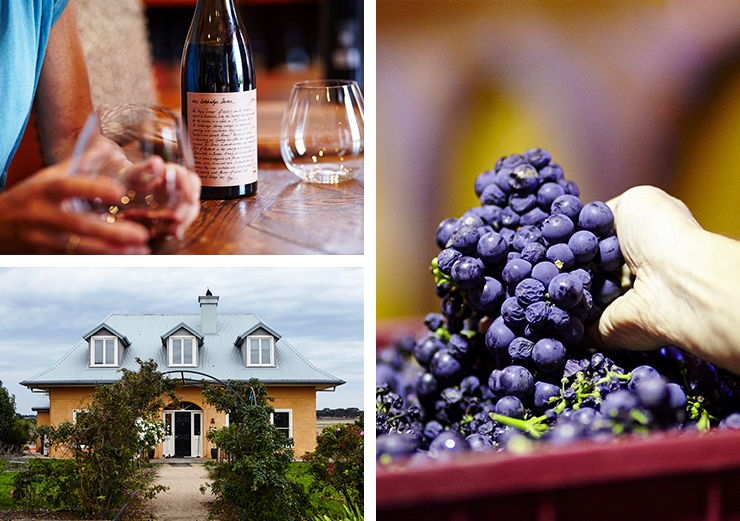 #5 Visit A Proper Free Range Farm
Sage Farm gives a whole new definition to the term free range. The team use regenerative farming (so there is zero, zilch, nada waste) to grow crops and keep animals in their natural state.
Two butcheries on-site sell to a range of local restaurants and directly to visitors. Look out for the small, renovated shed which is home to a miniature butcher shop. Tours around Sage Farm run on the third Saturday of every month, and let you get up close and personal with chicken and sheep (assuming you can catch them).
#6 Berries + Puppies…Need We Say More?!
When you're heading back to Melbourne, stop by Berry Organic Farm for a last-minute berry good snack. Look for the aged rooster sign out the front of the house, and keep going until the end of the driveway. The farm is open Tuesdays and Fridays from November to May.
A variety of berries including strawberries and raspberries are available to purchase from the cool-room. Certified organic vegetables and other fruits may also be on offer, depending on the season. Don't forget to pat the three farm dogs on your way out.
#7 You Can Experience It All...For FREE
We've teamed up with Tourism Greater Geelong and The Bellarine to giveaway the most luxe weekend retreat for you and your best mate! Including one night's accommodation at Devlin Apartments Geelong, an 8-course meal at hatted restaurant Gladioli, $100 voucher at Clyde Park Vineyard and the ultimate food hamper from The Food Purveyor (chocolate coated pretzels and vanilla pancake mix can be expected), there's everything you need to have the time of your foodie life. This competition has now closed, and is no longer accepting submissions.
Sorry, but this form is no longer accepting submissions.
Editor's note: This article is proudly sponsored by Tourism Greater Geelong and The Bellarine and endorsed by The Urban List. Thank you for supporting the sponsors who make The Urban List possible. Click here for more information on our editorial policy.
Image credit: Michelle Jarni for The Urban List