With winter in full flow, what better way to preserve against the cold than with your finest beer jacket? There's nothing like settling in for the afternoon/evening with a solid beer drinking session in one of Melbourne's finest beer halls, of which we have a fair few. We've rounded some of the best so you can dodge the winter blues in good beer style.

Set to open mid-August, Munich Brauhaus, will boost the beer brownie points down in South Wharf when the 900-seater German-style beer hall opens on the promenade. Urban Purveyor Group, who own a bunch of Sydney joints as well as Hamer Hall's Saké Restaurant and Bar, have designed a swishly cavernous space, all pale wood furniture and a funky tree stump wall feature with moose included.

They'll have their own Munich Lager on tap as well as a raft of imported Bavarian biers exclusive to Munich Brauhaus, like the Fürstenberg Premium Pils. Also look out for choice brews like Löwenbräu Original, Stiegl Goldbräu and Franziskaner Hefe Weizen Hell. The kitchen will have charcoal pits for smoky, meaty goodness and will pump out wieners galore.

Practically next door, it might be a wee bit bracing on its peninsula jutting out into the Yarra, but The Boatbuilders Yard, with it's small army of picnic tables outside and a good few spots protected from the weather offers a small but inviting craft beer list that includes a handful from Australia's oldest craft Brewery, Matilda Bay, including the Alpha Pale Ale, Little Ripper and the IGP. They also serve Byron Bay Pale Ale.

While you're in the hood, check out Hophaus Bier Hall in Southbank's Southgate centre, specialising in German, Austrian, Belgian and Czech beers. The Bavarian food offering includes wieners, bratwurst and schnitzel, to fill beer-laden bellies, with the tap list featuring the dark Konig Ludwig Dunkel, Germany's favourite Bitburger Pils and the creamy Weihenstephan Hefeweizen, which adheres to the strict rules of the Bavarian Purity law of 1516.



Image credit: Hophaus Facebook.

There are a handful of choice beer hall options in the city too, with Swanston Street's Cookie, located on the first floor of Curtin House, one of the best. It's a classy, old school joint with the best perch in the house right up at the marble bar, perfect for easy access to the 22 taps on offer, with over 200 beers in total once you count the bottle range. The tap list includes locals like Thunder Road Brewery's Brunswick Bitter and Collingwood Draught as well as international stars including Budejovicky Budvar and Trumer Pils.

Hofbräuhaus on Market Lane is a German restaurant cum beer hall that dates right back to 1968, so has more than earned its place on Melbourne's beer scene hall of fame. Wash down ta mighty schnitzel or a tasty bratwurst with the likes of the Paulaner Pils, HB Schwarze Weisse or Arcobräu Zwicklbier.

Beer DeLuxe enjoys a prime position on Fed Square, sandwiched between the NGV and ACMI, with their upper outdoor area now protected from the elements by a recently added and very cool honeycomb architectural flourish. There's a bigger outdoor bit down on the Flinders Street side. Their 'Beer Bible' has a tonne of bottled and there's a constantly evolving tap list. Beery good food includes the DeLuxe Burger with double beef, cheese, bacon, onion, mayo and their special sauce. There's also a Hawthorn outpost on Burwood road.

Head up north to the Little Creatures Dining Hall on Brunswick Street, Fitzroy, showcasing Freo's finest, including their Pale Ale, Bright and IPA. The vast warehouse-like space is a veritable beer temple, with their latest single batch beer dubbed The Rule of Three. It combines a big hoppy flavour with biscuity malt and spicy yeast in a kind of mash up between a Belgian Dubbel and an English Special Bitter. They do great pizzas too.



Image credit: Little Creatures Dining Hall.

The Brunswick Mess Hall on Sydney Road is another great place to while away a beery evening under a soaring vaulted ceiling, with its own neon-daubed brick laneway off to one side to boot. Tap beers include Vale Ale from South Australia's McLaren Vale and local brew Victorian Lager, with three guest taps on a constant revolving door. Bottles include the likes of 3 Ravens 55 Pale Ale, Two Birds Sunset Ale and Moon Dog Love Tap.

Rathdowne Street's the Great Northern Hotel in North Carlton is another awesome stop on the beer hall crusade with a huge tap list that includes 2 Brothers Growler Brown Ale and their Taxi Pilsner as well as Hargreaves Hill ESB and the Hop Hog Feral IPA all the way from WA. They do a mean steak night on Tuesdays and cheap parmas on Monday, to soak up the boozy weekend blues. They've got a great big beer garden out back.

The best beer hall southside, and one of the city's best beer selections full stop, is on offer at Carlisle Street's The Local Taphouse in St Kilda, with a staggering 20 taps to work your way around. It's like beer Christmas, with an always changing line-up too packed with too many to choose from. Plump for the likes of NSW's Angry Man Pale from Murrays Craft Brewing Company, US hero Brash the Bollocks Imperial IPA or Czech classic Budvar.

Another great option for beer halls is the gorgeous old beer garden space oout the front of the historical bluestone otherwise known as Village Melbourne on St Kilda Road formerly the Belgian Beer Cafe. There's plenty of brews to choose from and it's got an excellent vibe, though rug up warm if you do plan to camp outside.

Lastly, head west for Junction Beer Hall & Wine Room opposite Newport station with its choice of eight rotating beer taps like the Boatrocker Hop Bier or Healesville's White Rabbit dark ale, and around 50 brews by the bottle on top of that. They do pizzas, burgers and mighty fine steaks too.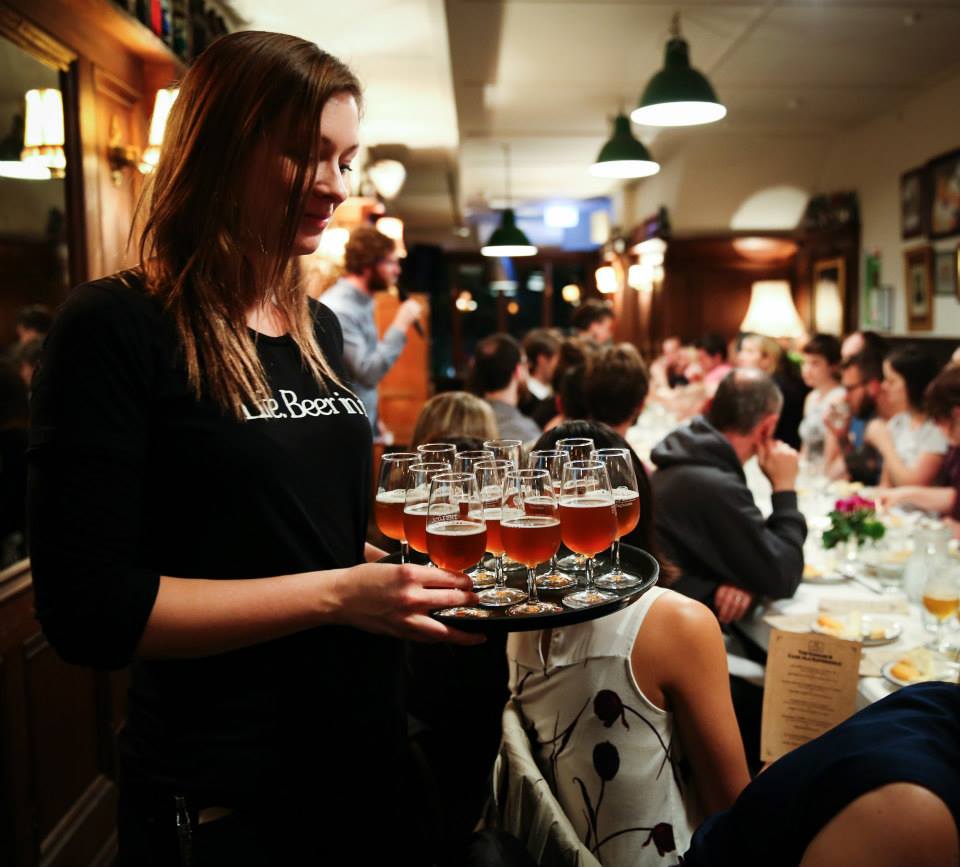 Image credit: Jessica Shaver Photography, The Local Taphouse Facebook.
Need more beer? Check out our Fave 5 Melbourne Craft Beer Breweries round-up!
Main image credit: Shock Mansion