Essendon-based brunch oasis, North & Eight, have just turned two and are showing no signs of throwing in the apron yet. Joining the Melbourne brekkie scene in 2015, this unassuming outer-suburb cafe has been quietly kicking goals in the kitchen since it first opened its doors.
First impressions of the venue suggest it's definitely received the memo on Melbourne decor, and read it word-for-word, aloud slowly, framed it and stuck it on the fridge. The modern, open-plan space features furniture in a very Country Road-esque light wood that makes for a stellar brunch dish backdrop. The white walls are filled with pastel artwork, while exposed bricks drape the others. To break up the cool tones and polished cement floors are lines of killer blue steel chairs and hanging plants that you'll want to steal and hang in your bedrooms.
Towards the front of the cafe are timber-framed bench tops where the baristas are hard at work making turmeric lattes, cappuccinos and Nutella doughnut-topped thickshakes that'll stop even the healthiest of hearts. On the walls by the counter are rows of sustainability-friendly Frank Green cups and bags of fresh Proud Mary coffee beans, because the folk at North & Eight are well versed in the importance of loading their plates and mugs with local produce.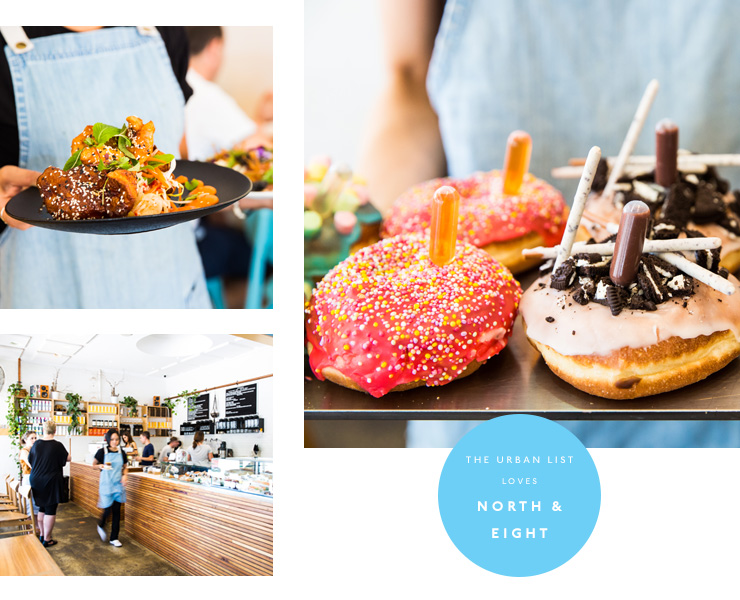 Plus, next to the swanky coffee machine is a pastry and sandwich cabinet that'll send you into a food coma just looking at it. It's loaded with handmade donuts, slices, muffins, cakes, sandwiches and other saintly snacks that'll get your taste buds twitching.
In terms of the their all day, errday menu, it includes classics like crushed avocado on sourdough with dukkha, radish, tahini yoghurt, salsa verde and feta; crispy zucchini, sweet corn and quinoa fritters; eggs benedict with pulled ham hock, poached eggs, apple cider hollandaise, hash browns and beetroot gel; and the wagyu cheeseburger on brioche with chips.
But it also features some fresh faces on the brunch block, including almond french toast, made from brioche loaf, with frangipane, creme patisserie, toasted flaked almonds, pistachio ice cream and orange blossom syrup. And the poke buddha bowl with Atlantic salmon pieces, lime and sesame dressing, red rice, wakame and vegetables. But at North & Eight there's one dish to rule them all—the Oreo pancakes and boy are our arteries still paying for it.
Most weekends this little venue is filled to capacity, which means if you want a seat at the table (inside or out—you choose) you've either got to be prepared to wait a mo' or get up a fraction earlier and skip the 9am 10km run (lol, nah). But trust us, it's worth it, even if the sweet dishes strip a few years off your life.
Want to learn a bit more about North & Eight? Right this way.
Image credit: Jenna Fahey-White