Melbourne's the best city in the world and you'll never hear us say otherwise. However, our Victorian regional towns don't get enough credit. Wheelie bin races, potato festivals, top-notch vanilla slice at every second bakery and some seriously cool art galleries—sometimes it's worth getting out of the big smoke.
Here's a little something to do in our favourite country towns (and distant suburban cousins). If you find one starting with X, let us know...
Anglesea | Don't get us wrong, Anglesea has a lot to offer, but our focus here is JUMS, the local chicken shop that haunts our dreams.
Balnarring | You'll find Balnarring on the way down to Mornington Peninsula. Make sure you stop in at the Emu Plains Market during Summer.
Ballarat | The raspberry drops at Sovereign Hill. Okay, and also get yourself to The Art Gallery of Ballarat. It's the largest and oldest gallery in regional Victoria and entry is free.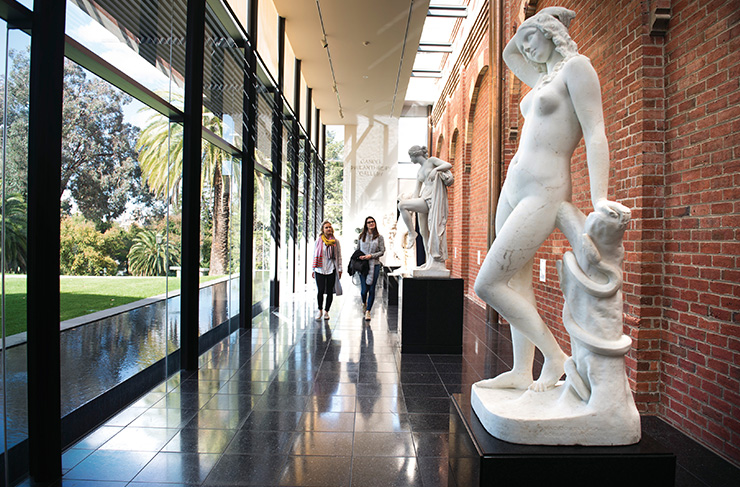 Bendigo | Check out Bendigo Art Gallery for a solid culture hit, with some great exhibitions. Plus, they're set to host a White Night soon. While you're there why not also grab a feed at Flight Burger Bar?
Clunes | The town is internationally recognised as a Booktown so there's a great literary scene all 'round. But you'd be remiss to skip the annual Clunes Booktown Festival.
Dandenong Ranges | The Dandenong Ranges usually means one thing, high tea. Get your scones at Sassafrass Café. If you're craving something different, get some fresh-baked goodies, tasty salads and quality coffee just down the road at Proserpina Bakehouse. Gotta reload after the 1000 steps, right?
Daylesford | Head down to Daylesford in March to join the ChillOut Festival—the biggest Queer Country Pride fest in Australia.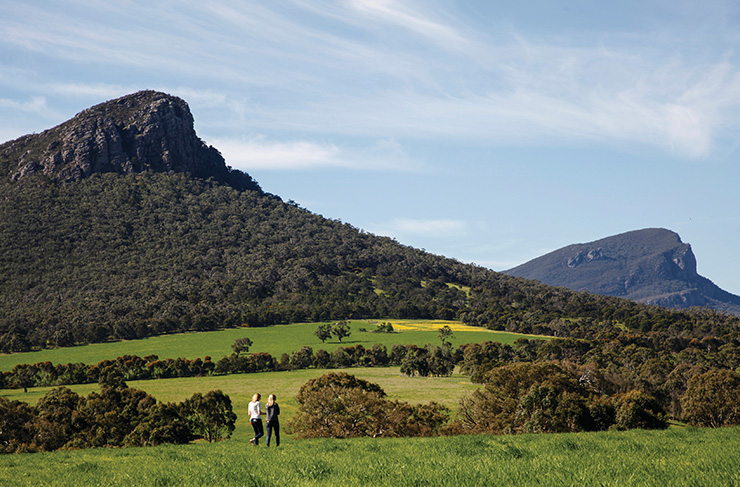 Dunkeld | One of our all-time favourite country towns. Stay at the Royal Mail Hotel, hike Mt Abrupt and check out the annual Dunkeld Races.
Eltham | Get down to the annual Eltham Mudbrick Tour and be shown all around the most beautiful properties in town, learning all about their history as you go. Don't miss Montsalvat.
Fish Creek | The Fish Creek Pub is an absolute must (just look out for the stunned mullet on top). But they also run a cracking tea cosy festival. Yep.
Geelong | 'Country town' might be stretching it (certainly according to G-Town locals). Start with a rummage at the city's multiple vintage markets, then head to Fyansford and check out the silo art.
Guildford | Guildford is like a town stuck in time. Nothing has changed here since approximately 1974. Check out the Ron Barassi statue and The Big Tree—an ancient river red gum on the edge of town that was nominated for Tree Of The Year (not even joking).
Healesville | Home to our favourite zoo, Healesville Sanctuary, filled with all Aussie animals. The kids (big and small) will love it. Four Pillars Distillery is also an excellent way to pass the afternoon.
Indented Head | Possibly the best town name in the state. This is a pretty sleepy Bellarine coastal town, but there's some excellent snorkelling at The Ozone wreck, about 50m off-shore.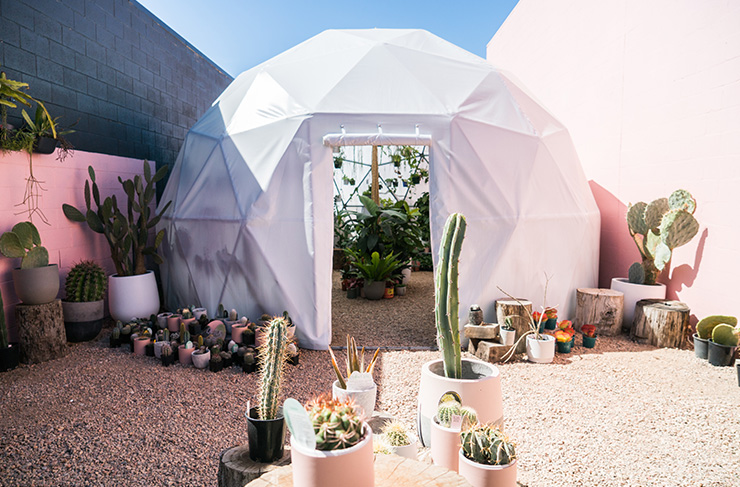 Photography: Matt Dunne
Jan Juc | Classic surf town, but the real hidden gem is a pastel pink nursery in the Stuart Avenue carpark. It's called Arizona Living.
Kilcunda | There's good surfing off Black Head, but it's the gorgeous Kilcunda General Store that's generating some buzz. Stop off for some butter-thyme mushrooms with goat's cheese and poached egg on San Remo sourdough.
Lancefield | Feeling like doing a bit of volunteering, and seeing some super cute animals in the process? Get yourself down to Edgar's Mission in this little pocket of nowhere. Plus, there's a great bakery nearby that does an excellent vanilla slice.
Loch | Get your mates around for a cold one at Loch Brewery & Distillery. They've got a distillery door, plus ales and spirits made the old-fashioned way.
Mansfield | The town at the base of Mt Buller is as charming as they come. Grab lunch at Mansfield Regional Produce Store, before catching a flick at Mansfield Armchair Cinema. They've got beanbags to sit in and they're HUGE—plus wine served in glasses with a lid. How practical.
Marysville | catch some natural beauty at Steavenson Falls in Marysville. The walk's a gentle 700m, and the view is an absolute cracker.
Nar Nar Goon | Another candidate for best town name ever. Gumbuya World is just down the road, but spend some time checking out the murals all over town. They're Nar Nar Goon's main claim to fame.
Omeo | Omeo is a historic Gippsland mining town, so history buffs, if you've done Bendigo and Ballarat, check this one out. You get a great view at the Kozsciusko Lookout, just outside town, or you can go horse riding at Packers.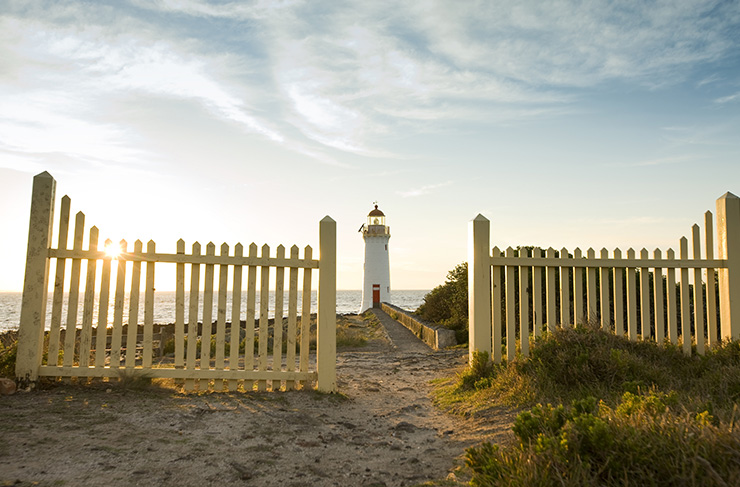 Port Fairy | Oh god, where do we start? An annual Daschund Dash. The Port Fairy Folk Festival. Or a fantastic pizza at Coffin Sally.
Queenscliff | Make a day-loop and catch the car ferry over to Sorrento. Before you go, pop into the local galleries and grab a bite at The historic Vue Grand Hotel.
Red Hill | Red Hill Market makes the list, of course. And don't leave without grabbing an apple pie at Johnny Ripe.
Rye | Pretty much every Aussie bakery claims to do the best vanilla slice, but Peninsular Pantry in Rye certainly puts up a fight for the ultimate snot block.
Silvan | In Summer, have a day of wholesome family fun as you pick berries at Blue Hills Berries & Cherries.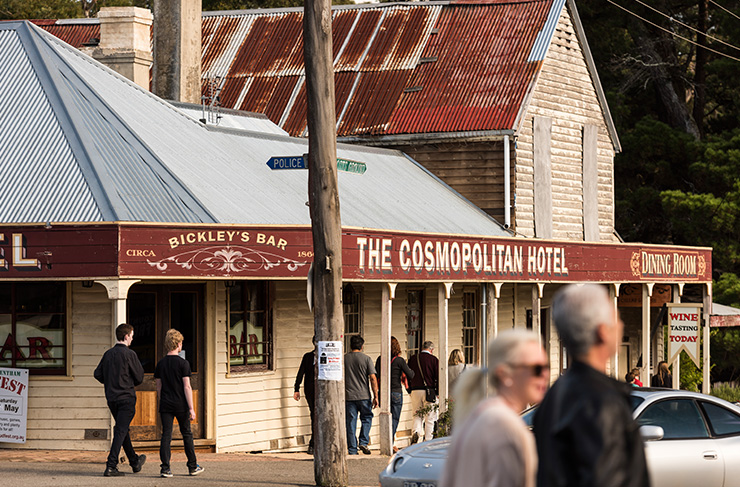 Trentham | One of the reasons we love country Victoria is all the niche events. Seriously, Trentham, a SpudFest? You guys are the best.
Thoona | Um, okay so this one is… niche and I think we're in love. It's an annual Wheelie Bin Race (age limit is 5+, sorry to the toddlers out there). Next year's date will be announced soon, so get training.
Upper Ferntree Gully | Stop by for a pre or post-1000 Steps brunch at Lorna. They've got all the brekky fuel you'll need.
Venus Bay | Tired of the beach crowds around town? Head down to Venus Bay—you'll be all by your lonesome. Head to Anderson Inlet if you're big on boating and fishing.
Warrandyte | In Summer, nothing beats fresh strawberry ice cream from Warrandyte Berry Farm. Add the fresh raspberry sauce and thank us later.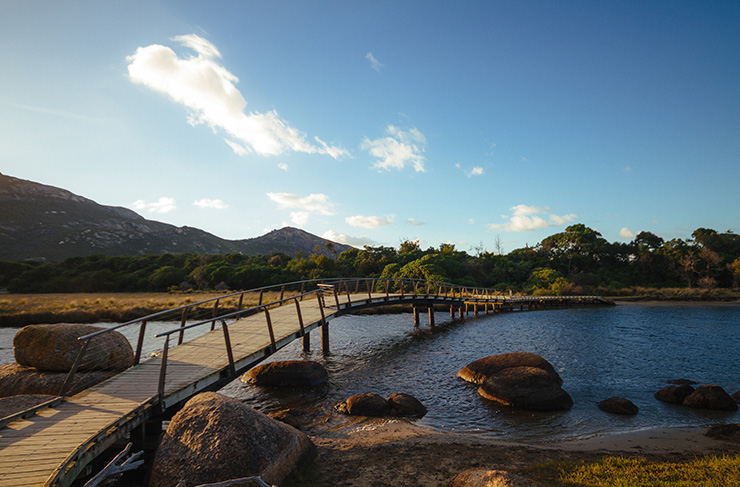 Wilson's Prom | if you're looking for the ultimate Victorian camping spot, you've just found it. Beautiful beaches, open forest, rainforest, mountains—The Prom certainly ticks all our boxes.
BuXton | Okay, so we couldn't find one that started with X. But Buxton has an X in it, so...you know. Check out Buxton Burger in the Igloo Roadhouse.
Yanakie | There ain't much in Yanakie, the gateway to The Prom. Just a friendly general store and a few sleepy dogs. But head down to the Yanakie Camp Ground and you'll find Prom Coast Eco Glamping—they're doing some of the cutest Lotus Belle Tents in town.
Yea | In the small collection of strip shops there are a couple of solid bakeries, but we're ducking into Marmalade's for some great pastries, a cup of coffee, and good old-fashioned rummage. Bet they do a damn good vanilla slice too.
Zumsteins | More a picnic ground than a town, but you try finding places that start with Z. Go ahead, we'll wait. Zumsteins is a pro tip for anyone looking to enjoy the Grampians. It's on the banks of the MacKenzie River.
After even more of a regional fill? Here's our round-up of all the best regional events going down in June.
Image credit: Visit Victoria