Even though we're shaking our fists at every cloud that wanders past in the sky, we'll admit that winter does have its own charms. It's also the perfect excuse for eating and drinking more than usual.
Whether you're living in your fluffy slippers or giving your winter boots a workout, here are 50 things to do in Sydney this winter that'll (almost) distract you from missing summer.
Get your ice skates on, bounce down the inflatable slide, and have a crack at the snowboarding machine—but not before warming up with a Lindt hot chocolate at Sydney's Winter Garden.
Design your ultimate winter chocolate bar at Chocolab (we can't go past the peanut brittle).
Shotgun a couch or cushy booth at any of Sydney's best cosy bars for winter.
Make like a cluster of mushrooms and huddle in the warmth at Margin's Mushroom Farm.
Take a deep breath. Madame Truffles just opened! We're looking at you, potato and truffle ravioli. Get in our bellies right now.
Be the host with the most—stir up one of these 6 winter cocktail recipes.
Warm your hands up by the wheelbarrow of fire and toast a marshmallow at The Potting Shed.
Get your winter layer on with 50 of the best fried dishes.
Detox from the fried dishes with your 5+ a day and pick your own mandarins and cumquats.
Get all wrapped up at ThaSpa with their Sauna Wrap or Zesty Butter Wrap.
Discover Sydney's hidden adventures, from treks to rafting to rowing.
Kit up with indie designers and treats from the Brewery Yard Markets, every first and third Sunday from 10am to 4pm at Central Park.
Take the Wiseman's ferry and free cable car across the Hawkesbury.
Cluck into the spicy buffalo wings at The Hayberry, and wash it down with a cocktail.
Sip on a steaming cup of tea overlooking Watson's Bay and pretend it's summer at Dunbar House.
Star gaze with your soulmate at Sydney Observatory.
Enjoy a luxurious lunch with the perfect view of the Opera House in The Dining Room at the Park Hyatt, while staying perfectly toasty inside.
Start channeling summer skin with Tan Temple's mobile spray tan tent from the 1st July.
The Boathouse Shelly Beach are your new reason to do a Manly walk (starting with brunch of course).
Climb your way up to a sweat at Sydney Indoor Rock Climbing Gym.
Who needs mittens when you can hug a big bowl of ramen at Ramen Ikkyu?
Walk up an appetite with Taste Cultural Food Tours, discovering all those places out West you keep hearing about.
Get a little nostalgic at the White Rabbit Gallery's State of Play exhibition, and don't forget to enjoy some dumplings and tea after.
Warm up with friends and a little fire in the belly, with some of Sydney's best cocktail jugs.
Steam up all the windows with Sydney's best dumplings.
Dive into the snow pit as part of Darling Harbour's Cool Yule festivities.
Defrost your fingers and melt into chocolatey oblivion with Sydney's best hot chocolates.
Brush off the skis (or the snowboard) for Thredbo or any of the other snowy peaks in our guide to the slopes.
Just want to ski without the road trip? Find the faux snow closer to home at In2Ski.
Crank out the slow cooker for this sausage, sweet potato and bean feast.
Tuck into the morning burger at Laneway café, featuring a hash brown AND bacon.
Camp out at home by building a blanket fort (bonus points if you have fairy lights).
Bao down and nestle into one of Sydney's best baos.
Brace yourself for the Do Dee Paidang spicy noodles, and go for the "supernova" if you're really feeling chilli.
Knit your own scarf with your newly acquired skills from Sew Make Create.
Trying to stay healthy even in winter? Order in Youfoodz and fight off temptation for the week!
Spice up your evening with these mulled wines around Sydney.
Jump around in the air like you just don't care at Sydney's trampoline park, Skyzone.
Make these Jaffa Protein Balls, then make some friends by sharing them around.
Warm up your kitchen AND get the warm fuzzies by baking on Cupcake Day for the RSPCA.
Seek delicious protection from the wind and rain at these Sydney cafés.
Binge watch Orange is the New Black on Netflix (electric blanket on, mug of tea at the ready).
Test out all of our toasties with the mosties (warning: cheesy times ahead).
Warm up with a kick of chilli and creamy coconut broth, in the form of Sydney's best laksas.
Curl up with your cat and appreciate the symbiotically warming relationship. While you're at it, indulge in 8 of the best cat lady buys.
Primp for cold weather beauty with our lazy guide to looking hot this winter.
Upskill like a boss at one of Workshop's regular classes. We'd love you to learn to blend your own gin (invite us over?)
Eat your weight in Grumpy Donuts. Worry about the consequences later.
Brew over a warming mug of Sydney's best chai at T2.
Eat pie for dinner, because you're an adult now, and adults decide what they can and can't have for dinner. The Pie Tin in Newtown is open until 10pm from Thursday to Saturday for your pie-eating pleasure.
Need more excuses to get into your winter boots? Check out these 50 things to do in Sydney for winter under $50.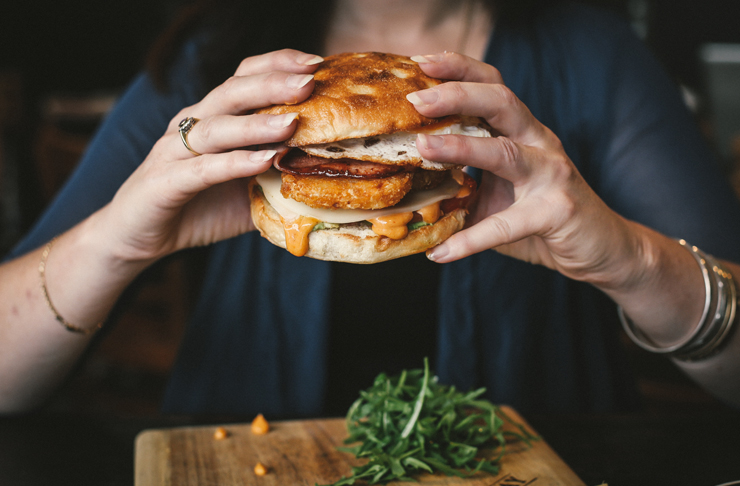 Image credit: Winter Garden Australia, Lisa Brooke at Laneway café.