Image credit: Then Let It Be
Ok, so can we dial it all back for a second? With the whole '70s thing happening in fashion at the moment, the denim scenario has gotten a bit out of hand. We're talking denim jeans, denim skirts and denim jackets, as well as denim duster coats, denim motorcycle jackets, patchwork denim jumpers, frayed denim halter tops, denim minis, denim bags, denim boots. Which is all well and good because I do love me some denim and so does everyone else, but when we're starting to look at double, triple, quadruple and quintuple denim in the same one outfit, it's time to draw the line.
Which brings me to denim's most widely-accepted sartorial form: jeans.
Sure, they're as classic as they come, they're the piece Yves Saint Laurent wished he had invented ("I have often said that I wish I had invented blue jeans: the most spectacular, the most practical, the most relaxed and nonchalant. They have expression, modesty, sex appeal, simplicity—all I hope for in my clothes") and yes, they're so effortless they're capable of inflicting the aura of ineffably cool detachment upon the wearer—the one, you know, who rolls a glass of red wine between her fingers, sitting on the floor cross-legged and fabulous while proclaiming what, this old thing?
Sure, the #belfie exists only thanks to jeans. And sure yeah, they're cool, but come on, look deep inside and you too will know that…they're plain, they're jane, and right now, they're booooring. Forget lactose or gluten intolerances: big news right now is that jeans are bad for you, and should only be consumed in moderation to avoid sartorial boredom and utter style rut of the pencil-in-hair, bathrobe, furry slippers, vodka and ice-cream kind. And since most recently there have been a plethora of more exciting places to wear your denim on offer, I suggest you wear it on your heart, on your head, on your sleeve—just, please, even if just for one day, let's not wear it on our pants. Because, you know, asking everyone how does your butt look in these is getting a bit old. Here are a few things that may help you kick the habit and provide solace during your detox phase.
1. The Flare
Ok, fair enough, so your butt does look great. Your game is tight, and you're kind of cool—not really though because damn it, you're always behind, and by the time you thought you were cool enough for flared jeans the real cool kids have moved on to flared leathers, gigantic Ellery leg-teepees or corduroys, which they then pair with their denim boots and denim jumpers and you can't because you have denim legs.
Then there's the repelling factor: members of the opposite sex just can't get flares. What you thought was all that interesting action happening south of your knees is, in their minds, just "pointless. Like, it doesn't serve any purpose", thus ruining all the positive appeal of the tight, mid to high-waisted behind. Then there's also the fact that Winter is coming, and a denim flare is to a puddle what a mop is to vomit. Don't tell me I haven't warned you when you're carrying your own weight in rain all the way across town, and your knees have turned to ice.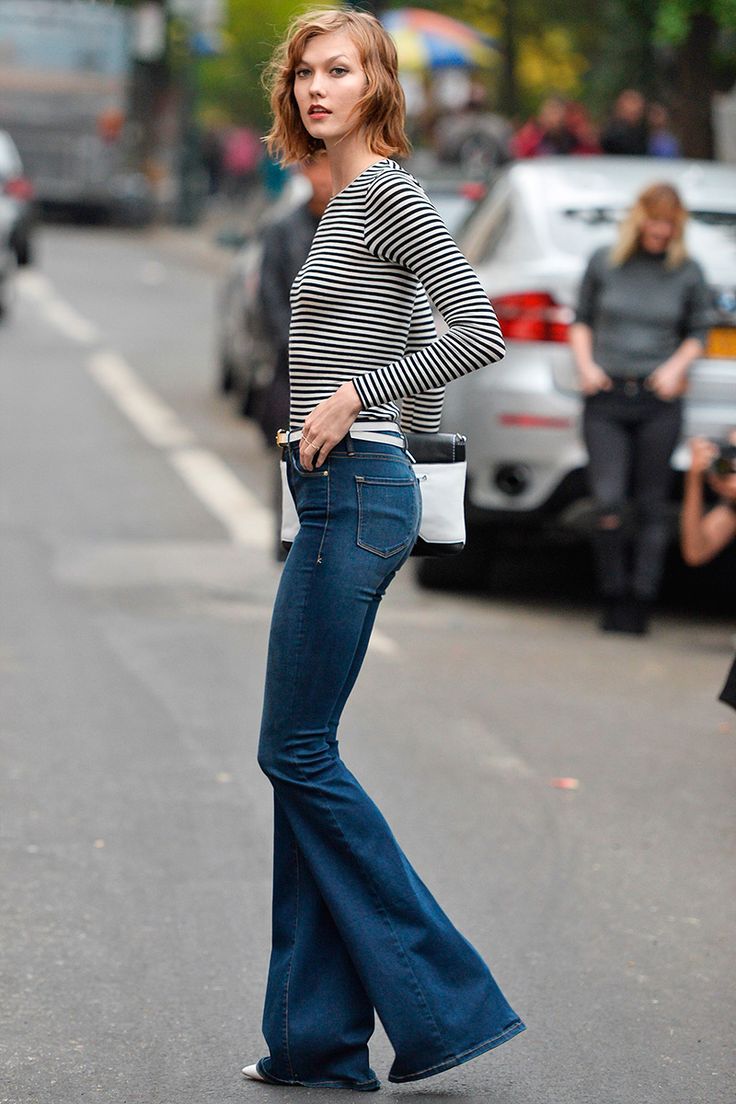 Image credit: Elle
2. The Boyfriend
Relaxed straights, girlfriend jeans, skinny boyfriends—although all somewhat amusing when it comes to semantics, let's for argument's sake group them in the same category where they all belong: the boyfriend jean. Let's be real here, all the names above are just a ploy denim brands have constructed to convince everyone that there are indeed many different kinds and degrees of slouch and, much like the boyfriend itself, the one boyfriend jean is out there for you, and when you find it, it's going to be all sorts of perfect and it's going to make you look and feel hot while still looking as effortless as if you didn't in fact give a damn, and it's going to take you out on picnics and food & wine festivals, and lead you to hot and sexy adventures atop its motorbike. The notion is so romantic altogether, and the perfect boyfriend so elusive to find, that the boyfriend aficionado spends most of her time Internet dating her ideal boyfriend on Net-a-Porter. Tinder creators, take note. It's time you introduce denim to your repertoire.
Such categorisation is also devised because brands seem to think the skinny jean fanatic may get a bit too scared of venturing on to the darkness full of terrors that is the baggy jean territory. She, like a jumpy baby gazelle, must be slowly hunted using comfort words such as relaxed and girlfriend because, you know, it's a boyfriend jean but it's still a skinny and it's not going to make me look like a man, or as if, god forbid, I sized up or something.
Truth of the matter is: whatever kind of boyfriend you're currently sporting, your butt looks like a sack of potatoes of undisclosed shape and size.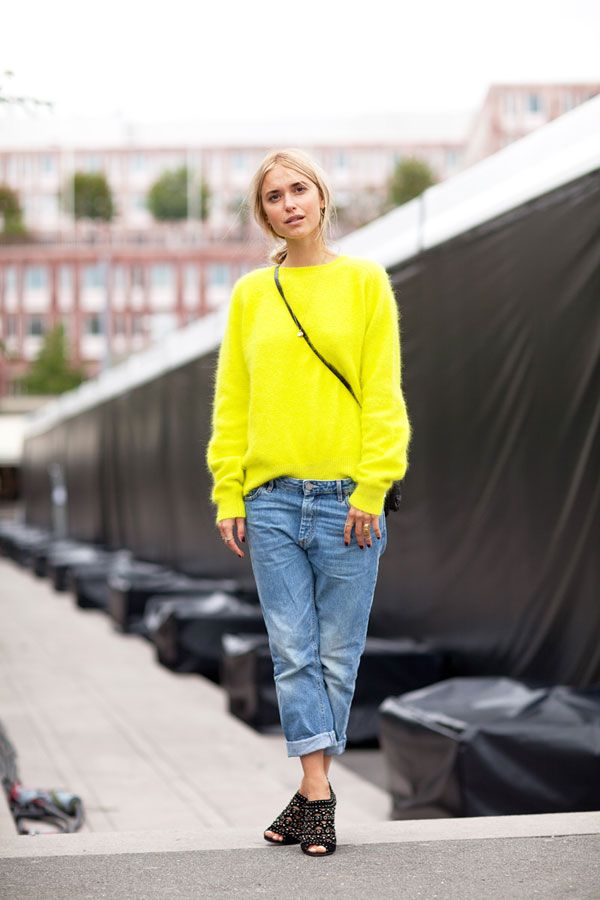 Image credit: Harper's Bazaar
3. The Drop Crotch
Happiness is a pair of drop crotch jeans. You're free, you're comfortable, the world is your oyster—and it fits, together with a small army, in the warm comfort of your ample pants.
You've long forgotten to check your butt in the mirror because your butt is now one of the greatest mysteries of mankind. In fact, who cares if you look like you've constantly pooped your pants when you can have all the mental comfort of having actually forgotten what your butt looks like? No, you don't look hot, and you probably can't do the splits, but you do look like Kanye, which is cool. Keep doing it, just not in denim.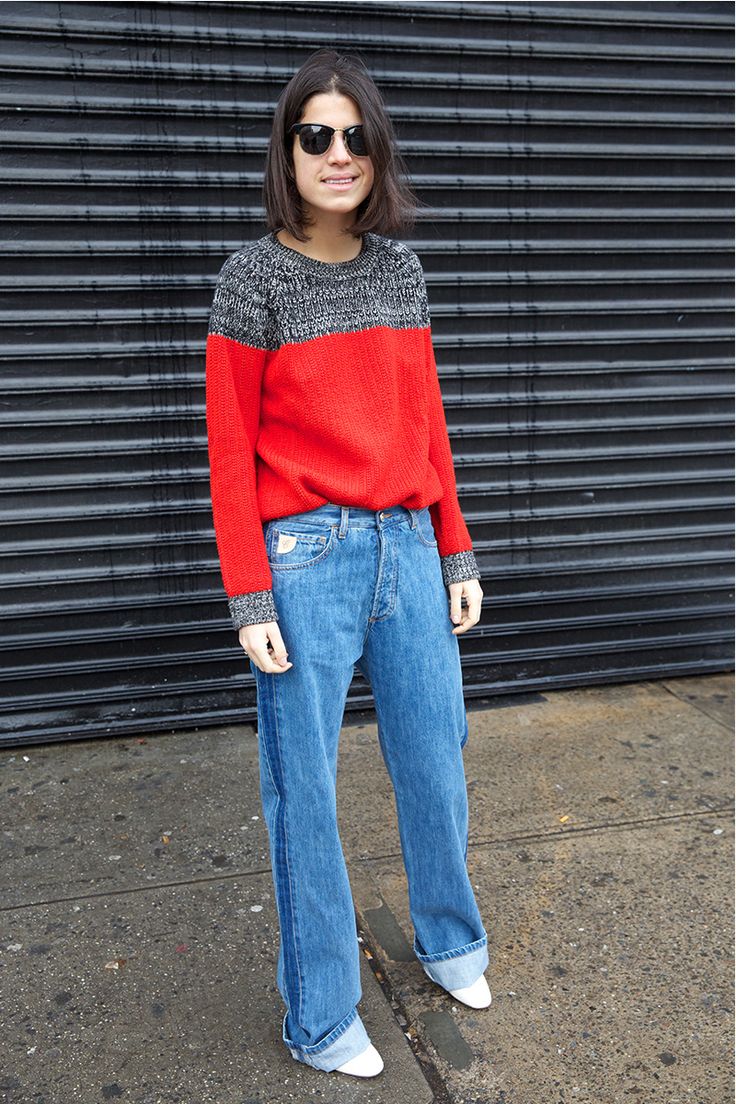 Image credit: Man Repeller
4. The Mom
Belly button-covering, carrot-legged, often rolled or cropped: you're a mom jean, and you've had a good run. You make legs look generally horrible, small butts look fuller and big butts look really good especially when in the presence of a contrastingly small waist (ergo the Kardashian-Lopez effect), which is why #belfies were made in your tailored Levi's 501-honour.
That being said, and despite all of your under butt-enhancing glory, your waistband is supremely uncomfortable, you make our legs look short, and you still remind us way too much of moms and of the supermodels we'll never be, so we'll have to let you go.
Image credit: Pay That
5. The Dad
You're the high-waisted, straight-legged, awkward pant length variety with a crotch so high it's practically a skyscraper. You tend to wear loafers and chunky belts, and then top it all off with cool ironic shrunken t-shirts, shirts that look as if they were made of part of your grandmothers curtains, oversized blazers, leather jackets or jumpers of the ill-proportioned sort. You're meant to look like Brooke Shields and Baby Kate in the '90s Calvin Klein ads. In real life, you have no butt. You look like Jerry Seinfeld.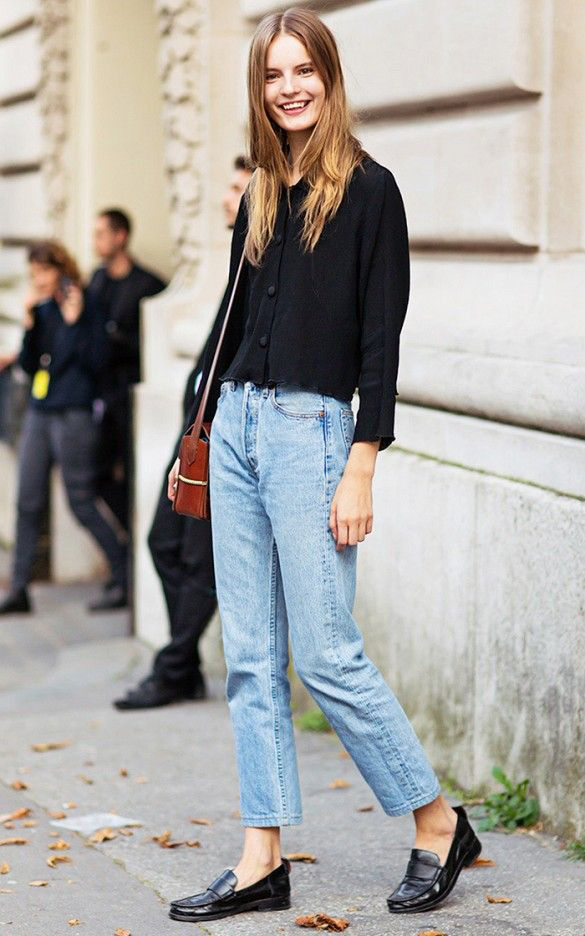 Image credit: Who What Wear
6. The Skinny
I don't care if you're hot. I don't care if they're safe. I don't really want to say it, but you're basic. You're wearing skinny jeans, so you're kind of boring.
There's a whole world of bottom-related possibilities out there, and it's been way too long since you've started to sausage yourself (even though when they first appeared you've sworn you'd never try them, figure actually wear them, remember that?) into a pant that, when it comes out of the wash, looks as if it belonged to your 12 year-old self and requires a half hour-long wiggle, a shuffle and a rain dance to rise above your behind and button at the appropriate waist level. It's been so long since your lower extremities saw daylight, in fact, that you've probably lost all leg circulation by now. The feeling started in your little toes, a slight tingling. After a while it spread out to your feet, which by the way you also can't feel by now because that foot opening is way too tight, and speaking of tight you're pretty sure the last time you bent down was in 1999.
Your butt, in most cases, has now turned into a pancake, and every time you look at a muffin all you can actually think about is your own muffin top (which, in your hyperbolic mind, becomes bigger and bigger every passing day). You, skinny jeans-wearer, are likely to be the one woman always checking your own butt in every passing reflective surface, and you're also likely to be the one who owns approximately 263 different pairs of the stuff because oooooooh, this one has new patented developments in stretch recovery so now you too can stop worrying about bagging knees or a bunching vajayjay area because, you know, that shit's gonna be sprayed on forever (most likely because they'll be too damn hard to ever take off). By now the whole circulation thing has impaired your brain, twisting you into thinking that skinny jeans are the only solution, and the only thing you'll ever wear ever again. If this is you, or a friend, dial the emergency button (ergo friends intervention, with plenty of crackers and wine) because this is some serious addiction. Come on, it's time for a change: no matter how comfortable you say your jeans are, you'll never forget the freedom and sheer joy that only an extra inch or two in each leg and a different fabric can give you. And that is why, to date, no one can touch Mc Hammer.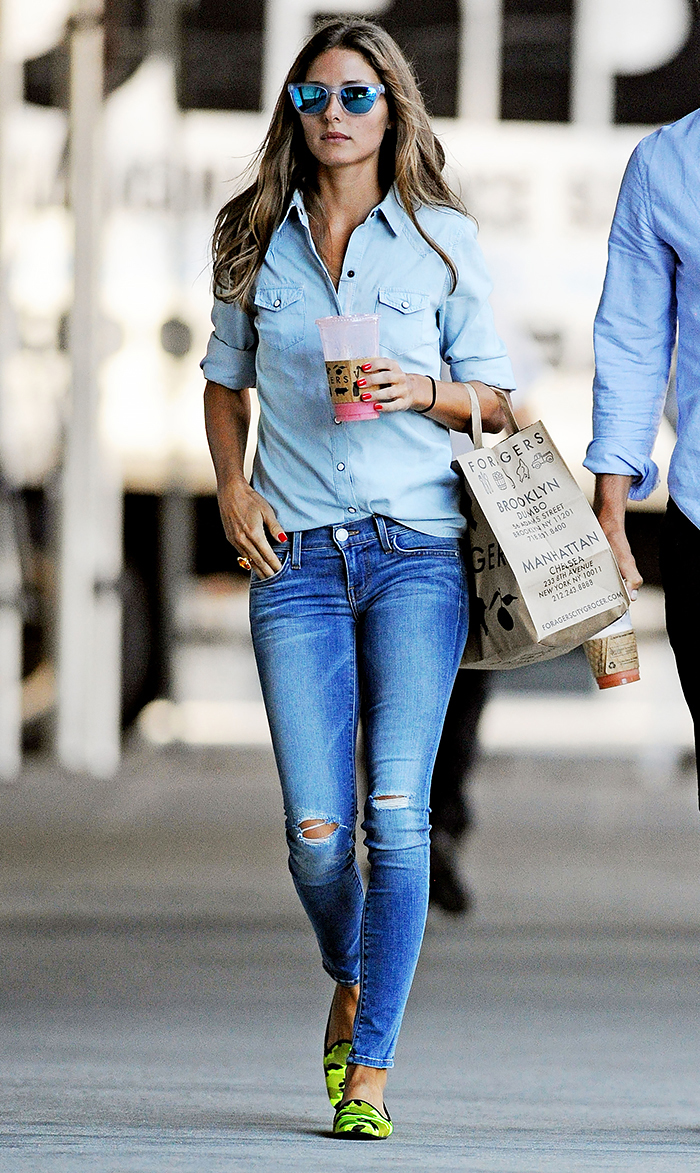 Image credit: Who What Wear
Want more great denim? Follow The Urban List on Pinterest!