They popped the question. You popped the champagne (well, we hope you did).
So, now what?
After you've told every person you know, and posted the "I said yes!" photo on Facebook/Instagram, it's time to start planning the pre-wedding events.
We've brought in the pros from Aqua Dining and Ripples Chowder Bay (part of Sydney Restaurant Group) to talk us through their tips and tricks to organising the best-ever engagement party and hen's. These guys have run more wedding-related events than you can shake a bouquet at, so you can prevent party planning burn out before your big day.
Here are some tips from the pros so you can spend more time on the things you ought to be doing—like finding the perfect dress, obsessing over flowers, and wearing in your wedding shoes (a must).
How to craft the perfect engagement party
Typically this is held two to four months after the question has been popped.
Find fabulous food
Don't try to deny food isn't at the top of your priority list when it comes to hosting a party. When you're making decisions based on your engagement party venue, "look for somewhere that trades as a restaurant—then you know the food and service will be high quality," Romy Hewett, Director of Marketing & Functions for Sydney Restaurant Group advises. Plus you can try it out as many times as you like (win!). Aqua Dining do lunches and dinners seven days a week, which is perfect for fitting into hectic schedules.
Blow guests away with an amazing backdrop
Minimise the need to invest time and money in decorations—save that for the big day. Romy suggests the easiest way to do this is to look for a great backdrop. At Aqua Dining, for example, the restaurant is so modern that you don't need any decorations—especially with the Sydney Harbour Bridge behind you (aka the ultimate decoration)! As an added bonus, you can also arrive in style by water taxi for some extra-special photos.
Engage the engagement pros
Rather than spending your precious engagement bliss back-and-forthing over email with your venue, look for somewhere with experience running engagement parties. At Aqua Dining, the packages are all-inclusive for both sit-down and cocktail-style events, and you can book the whole venue or the semi-private area. They take care of every detail, making life a million times easier for brides and grooms to be.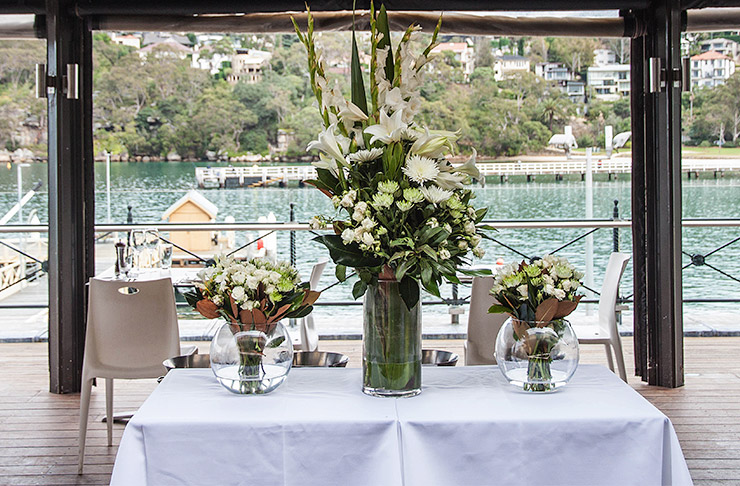 How to put together the perfect hen's party
This is usually a few weeks before the wedding and avoiding the night before the big day (obvs).
Find an experienced venue
Experience means the venue will understand your needs, saving you (or your maid of honour) hours of planning. "We have tailored two options specifically for hen's parties at Ripples Chowder Bay. One features a section of the deck overlooking the water while the other provides a private space and plenty of room for larger hen's party celebrations," said Romy.
Keep it casual and social
"We noticed that the trend was changing in terms of hen's parties," Romy said. "More and more people are looking to celebrate the bride-to-be over a beautiful lunch with their closest family and friends and then move on to other activities in the afternoon."
Their experience has informed the design of a casual and affordable hen's party package at Ripples Chowder Bay (beautiful views of Clifton Gardens included!). The starters, sides and desserts are shared to keep things social, and mains are chosen from a menu of mouthwatering options which cater for almost any dietary requirement. For a more private setting, the AquaMine Room greets your girlfriends with a Bellini on arrival, fresh flowers and personalised menus. Hen's party sorted!
Finally… Enjoy your engagement
It's one of the best times in your life, so enjoy every moment of it.
And if you're the super organised Urban Lister who has already booked in venues for your Engagement Party and Hen's but love the sound of Aqua Dining and Ripples Chowder Bay's all-inclusive packages, both venues also host weddings! Here are a few wedding venue packages from Aqua Dining and Ripples Chowder Bay to get you going.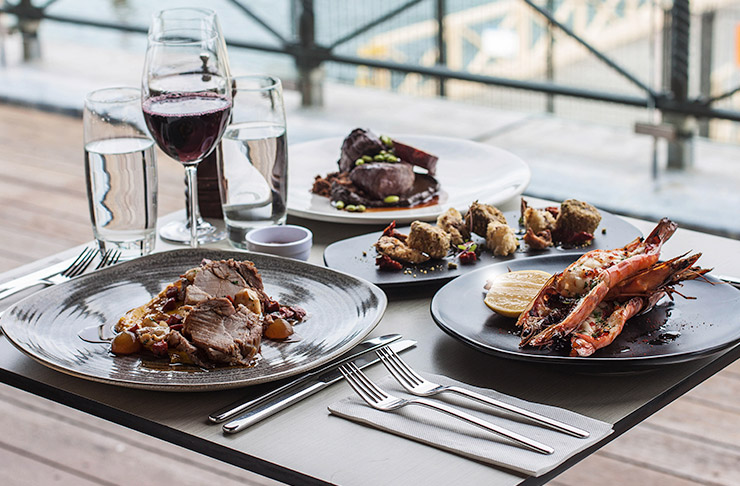 Image credit: Alessandro Squadrito at Aqua Dining and Ripples Chowder Bay
Editor's Note: This article is proudly sponsored by Sydney Restaurant Group and endorsed by The Urban List. Thank you for supporting the sponsors who make The Urban List possible. Click here for more information on our editorial policy.