For your big day, you'll want your venue to be as special as you and your betrothed are. Whether you're looking for stunning backdrops, a canvas for you to paint your personality on, or a bit of a getaway—we've got you covered.
Here's our guide to the best wedding venues in Sydney.
Looking for... A personal, boutique touch
Ripples Chowder Bay
Mosman
Ripples Chowder Bay specialise in highly personal boutique weddings, with a dedicated wedding coordinator so you can do more of the fun stuff. Overlooking Clifton Gardens Beach and the waves, this Heritage Listed site has as much history and character as you and your future hubby/wifey will! Plus, the neutral colours at this venue are a perfect palette for whatever colours you want to add. Meanwhile, in-house Head Chef Kristian Gamble ensures the food is a feast for the palate.
Looking for... Iconic backdrops for your photo album
Aqua Dining
Milsons Point
Want to spend more time with your friends and family and less time travelling to different shoots? Aqua Dining have all the perfect backdrops covered. The sweeping Sydney Harbour Bridge? Check. The playful backdrop of Luna Park? Check. The iconic Sydney Opera House? You betcha. Pro-tip: Arrive by water taxi for even more snappable moments, then use all the time you saved on photos to graze on the award-winning Italian inspired food.
Looking for... Bay views to take your breath away
Dunbar House
Watson's Bay
Overlooking glittering Sydney Harbour sits Dunbar House, as regal on the inside as it is from the outside. Perched atop a lush green hill that doubles up as a picturesque spot for your ceremony, it's positioned perfectly for you to make a grand entrance, right after a calming private water taxi ride. Once you've said "I do", relax on the balcony with some oysters from Dunbar's professional shucker, or nibble on the freshly sliced charcuterie. Everything from the pasta to the canapé cases are made in house, so your guests will be raving about the food as much as they will about you. Take a stroll down the beach at sunset, and you're all set for marital bliss.
Looking for... Something playful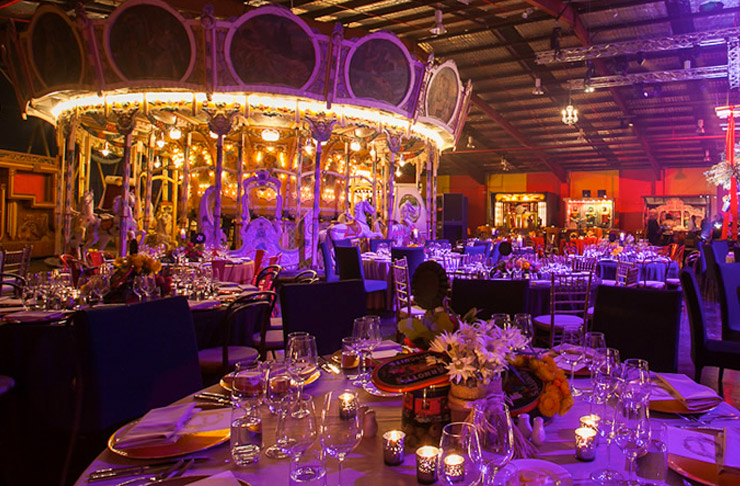 Fairground Follies
St Peters
Don't want anything too serious? Surprise your guests with a big reveal, and keep them entertained all night with beautifully restored antique fairground rides. Not just a pretty sight, the Parisian carousel will bring out all the smiles, and as a bonus, it'll keep all your cute little nieces and nephews in one place! There'll be no room for boredom with Fairground Follies!
Looking for... Country charm near the city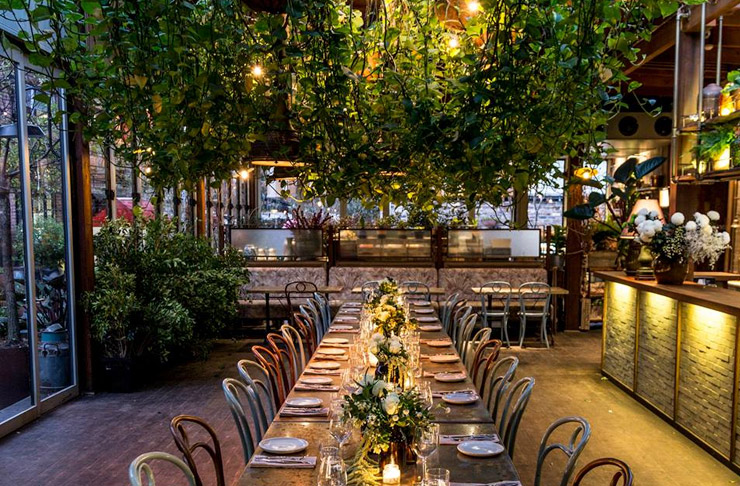 The Grounds
Alexandria
You don't need to stray far to add a little country charisma to your wedding day. The Grounds' formidable styling team will ensure everything is decked out, and you can expect the same amazing food too. With plenty of nooks and crannies for you to be photographed in and for your guests to explore, this is an ideal garden setting with a difference.
Looking for... The ultimate private getaway
The Quarry Retreat
Martinsville
Don't want anyone crashing your party? Get away from the city altogether and hire out The Quarry, perfect for really small intimate groups. This modern house is set among lush gardens, featuring its own mini golf course and pond for your nearest and dearest to kayak around in. The private pool is the perfect excuse for a wedding swimsuit too (doesn't everyone have one of those?). Feel free to party into the wee hours with plenty of room for your guests to stay.
Looking for more engaging tips? Check out our top tips for running a stress-free engagement party and hens.
Image credit: Alessando Squadrito at Ripples Chowder Bay and Aqua Dining, Federica Portentoso at Dunbar House, Fairground Follies, The Grounds, The Quarry Retreat.