Ever wanted to own an amazing piece of art, but didn't have the funds to commission your dream piece?
Well, Ed Slaughter owner of innovative new business, Row Faster George!, hears you! Row Faster George!, which launches this week as part of the James St RESORT festival, is all about merging high art with the function of everyday items.
And what better way to kick off a collaboration between art and utility than with the ultimate Brisbane summer must-have, beach towels!
The first Row Faster George! collection is of three awesome beach towels that feature the designs of legendary Brisbane artists Stephen Mok, Adam Lester and Michael Phillips.
We caught up with Ed to get the lowdown on what's in store for Row Faster George!, and to find out why a former marine archaeologist made the switch to the world of design.
Let's start at the beginning, what does the name mean?
The name Row Faster George! captures a spirit of fun, urgency, adventure. It's about getting things done! I guess it also refers to a dream I had as a kid, where I was stuck out in the middle of the ocean in an old rowboat being chased around by some crazy monster from the depths!
In reality, Row Faster George! is a company that is committed to creative ideas. It's about collaborating with artists and designers and taking their work into a more accessible, everyday, functional realm.
The first Row Faster George! collection is three large format 100% cotton luxury beach towels that feature artworks by Stephen Mok, Adam Lester and Michael Phillips. Uniquely different artists. It's not so easy though, merging the right art work or design with the right product, that's the trick.
What's the backstory of RFG? What made you decide to start it?
RFG! has been gestating, gathering form for a while now. I love contemporary art and design and I was looking for a fresh and interesting business concept.
I wanted to establish a business that engaged with artists and their ideas. The beach towel idea originated when I was down at Burleigh Heads one weekend. I forgot my towel, and had to buy one. What a limited selection. Living in Queensland, the obvious choice is to focus on lifestyle products and colour. We do outdoor and beach life so well here in Queensland!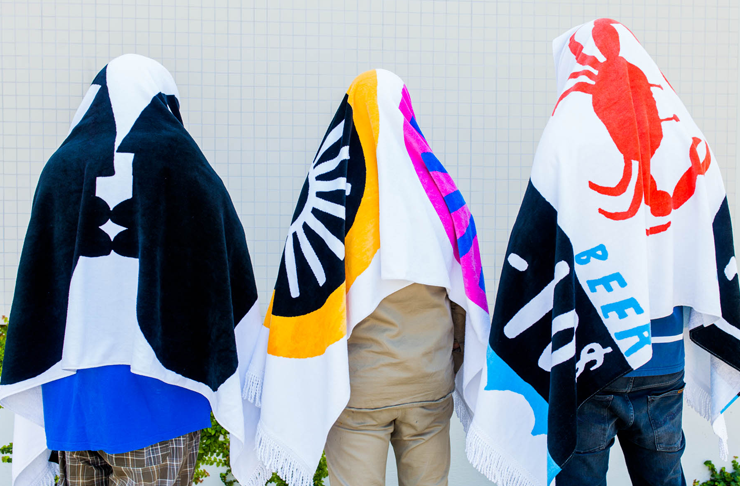 What was your background before this?
I actually have a Business Degree but my career and passion up until Row Faster George! has been maritime archaeology: shipwrecks and diving! I spent the last decade as an archaeologist and curator of historic shipwrecks and a fair bit of that time was searching for and diving on underwater sites along the Queensland coast, Great Barrier Reef and far flung exotic places around the world!
You feature 3 Brisbane artists for your towel designs, how did you select them?
The most important thing about collaborations, particularly with artists is you've gotta love their work, believe in it and respond to it. I met Stephen Mok, Michael Phillips and Adam Lester through friends. Actually the conversation with with one of these guys literally started over a beer at a friends BBQ! They are all super talented and they all really nailed the brief. BRAVO fellas!
Which beach towel suits which beach?!
I'd take Michael Phillips POPeyes Towel to Bondi. Stephen Mok's Night Romance Towel is perfect for Byron. And I can see Adam Lester's Muddies Towel at Cylinder Beach at Straddy!
Where would be your favourite place in Brisbane to take a Row Faster George! towel?
It's the perfect accessory for a casual paddle at the amazing Spring Hill Baths. The towels are ultra large so it's also great as a throw rug if you're having a picnic in New Farm Park!
We love the idea of merging function and design: what's your ultimate future collaboration?
Besides the love and support of my incredible partner?! That's such a hard question! At this stage I just want to keep working on interesting things and projects with a group of artists and designers. I am already working with some really amazing people on some totally new concepts, so watch this space for more fresh and exciting limited edition artist designed products from Row Faster George!
Row Faster George! towels are available online and stocked at camargue.
Image credits: Ariana Gillrie