Eugh, skin. Amirite? Just when you think you've got it under control (gotta love a good skin day), it goes rogue: random dryness, an outbreak of adult acne (the height of unfairness) or bouts of inflamed redness can honestly be the bane of our existence. Add in the skin nemeses we all battle with: sun (we love it really–just a bit too much perhaps), and the mother of all skin foes: time, you never think ageing skin will happen to you until, yeah, well, it does. Guaranteed.
Well, you can stop feeling powerless in this war, because we turned to total skin saviour Lauren Stevens from Inspiring Skin Health to share her winning strategies with us. Lauren's approach is holistic–she doesn't believe in a one-size-fits-all attitude, and tailors her treatments using a bit of this and a bit of that; cutting-edge technology combined with nutrition and supplement advice. So listen up, 'cause we're about to share the intel!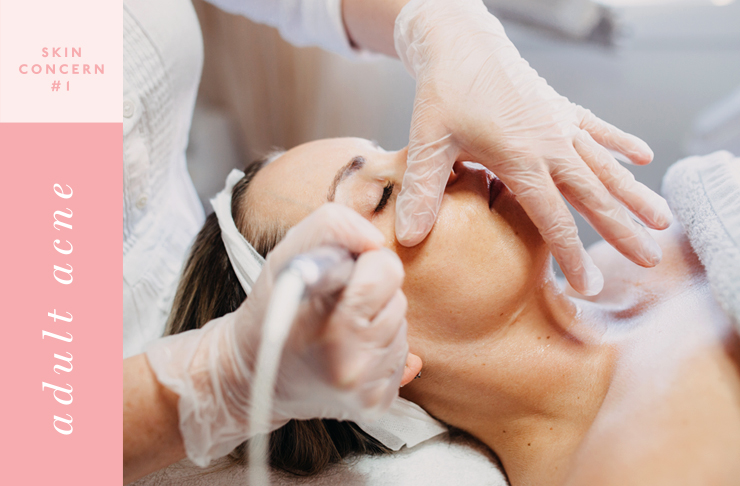 Adult Acne/Congested Skin
In an ideal world, adult acne would be an oxymoron. But since we can't have nice things, Lauren recommends skin needling (also known as micro-needling) for congested skin instead. A pen-like machine buzzes over your face, piercing it with tiny, super-fine needles that can actually be used for a multitude of issues—depending on the depth of the needles.
Congested skin is epithelial, AKA near the surface, so to treat it the needles don't have to go deep, meaning a) it's basically painless and b) with almost no redness and downtime. Win! "The shallow needles activate enzymatic connectivity, which basically re-calibrates your skin," says Lauren. They also open up the skin to receive nutrients during the treatment–for example, zinc and vitamin B for clearing congestion.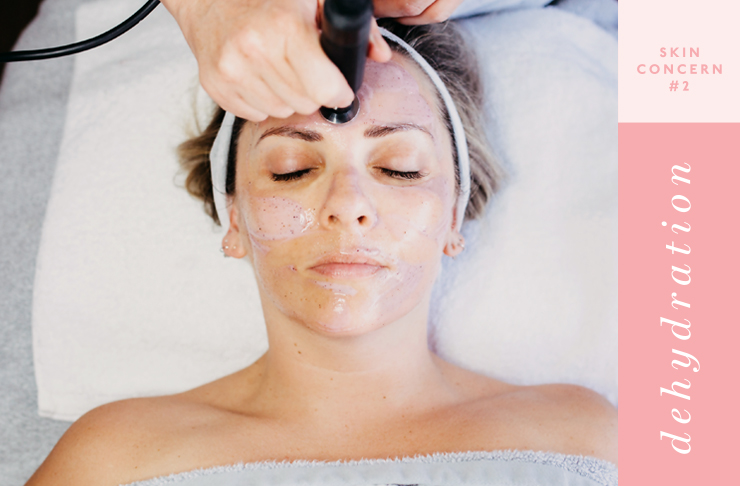 Dehydrated Skin
Winter can be a trying time for sufferers of dry skin. Or any time, for that matter. Any moisturiser just seems to soak up instantly like a sponge, and it never feels like you can get enough. Enter Lauren's Ionzyme DF2 machine. It uses ultrasound and electrical currents to penetrate your skin's natural barriers and push ultra hydrating product molecules deep into its layers to absolutely drench skin from underneath. And never fear, product is all water, not oil-based so there's no greasy feeling, just a super-fresh glow.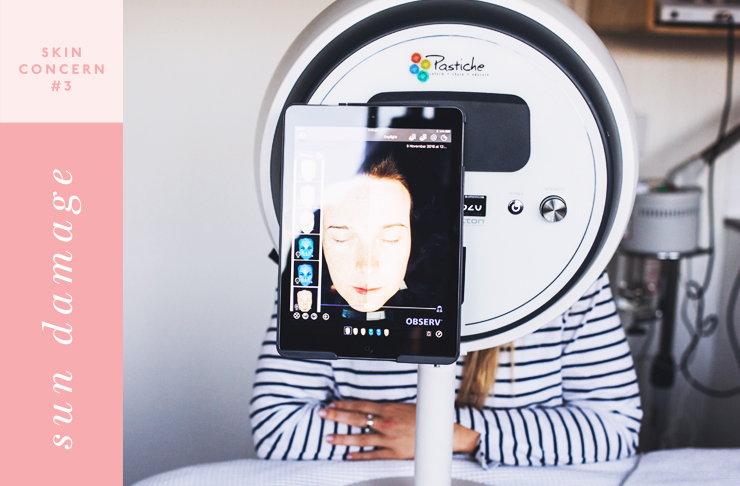 Sun Damage
Living in the Sunshine State, unless you've been an absolute angel with your sunscreen application from day dot you'll probably have some degree of sun damage, which can manifest as either premature ageing or pigmentation. Lauren's first step is to thoroughly check it out with a diagnostic machine that looks at all the different layers of your skin, from the surface right down to 5mm deep. This is great for seeing existing issues as well as upcoming ones, meaning she's able to identify what damage has already been done (and what can be nipped in the bud). Lauren's strategy is to first stop the mechanism of the sun damage with a tyrosinase inhibitor—a topical treatment which blocks melanin production—and once that's had a chance to work its magic, going in with a course of skin needling or IPL to remove whatever pigmentation is left.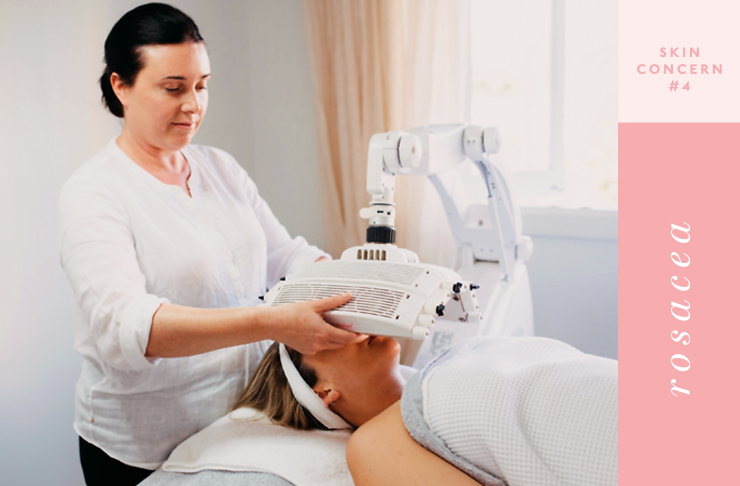 Rosacea
As well as frustrating us with red, rough swollen skin, rosacea can be a tricky one to treat as there's some debate about its exact cause. But one thing we do know is that certain wavelengths of light have a therapeutic effect on the inflammation. You might have heard of celeb fave Omnilux, or its cousin Healite, which use phototherapy to detox and re-nutrify skin. Different lights do different things, like kill bacteria, repair at different depths, increase cell vitality and reduce inflammation—all used without product so the light can fully penetrate the skin without resistance. Redness be gone!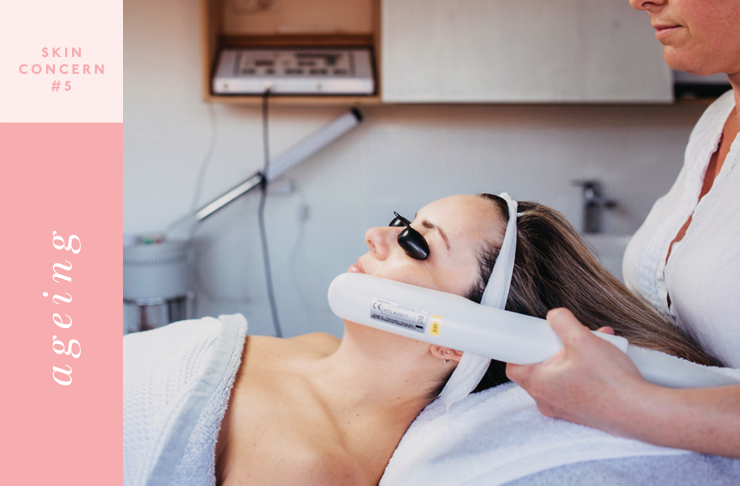 Ageing
Woe were we the day we first noticed fine lines appearing on our faces. The arrogance of youth suddenly gives way to the startling realisation that you're getting older, and there's no going back. Except, great news: there kind of is, with Lauren recommending IPL as her top pick for combatting the signs of ageing. The Intense Pulsed Light warms the skin, tricking it into producing more collagen (the stuff that keeps skin plump and firm). Best of all, there's no pain or downtime!
Depending on the results you're after, skin needling is another option, this time using longer needles that target deeper skin levels, creating micro-tears that stimulate collagen, and opening your skin to receive all the goodness of an anti-ageing product (go for vitamins A and C). The results are more profound, but definitely expect some discomfort, and about five days of redness afterwards.
And for any and all skin issues, Lauren believes it's just as important to treat from the inside out, as the outside in. For all her clients she recommends pre- and pro-biotic supplements to address the cause, not just the symptoms that make themselves known in your skin.
"A healthy gut means you absorb your nutrients better," says Lauren. "Once they improve their gut health, most people will notice their skin health will improve dramatically."
Sign. Us. Up.
Image credit: Hayley Williamson