There's nothing like Brisbane in December. The air is thick with the scent of mangoes, good cheer pervades every aspect of daily life, and drinking is now acceptable with breakfast. It truly is the most wonderful time of the year.
Speaking of liquors most divine, 2017 welcomed some spanking new additions to the Brisbane sipscape including some reminders of a bygone era, a triptych of world-class wine stops, and a couple of sneaky secrets that almost passed us by. Luckily our keen snouts sniffed 'em out and now we're flush with choice for a rollicking end-of-year crawl.
Bottoms up, you salacious dipsomaniacs, and get around our 11 favourite Brisbane bars of 2017.
Doo-Bop Jazz Bar
CBD
This jivin' joint burst onto the scene with no shortness of vigour and brass. We'd expect nothing less of a jazz bar that thumps with live music seven nights a week. On top of these bluesy tunes, Doo-Bop also offer a bunch of late-night eats including snack plates, platters, and dessert; perfect for sharing and goes down a treat with the slick rhythms of a four-piece band. Check out their website to stay abreast of who's playing and when.
Savile Row
Fortitude Valley
Here's one for the stylish lush who likes a touch of glamour with their whiskey sour. Trading in the heart of the Valley with nought but an orange door to identify them, Savile Row harks to a bygone era of drinking. Everything about this bar glitters; from their glorious chandelier to the absolutely stinking array of top-shelf liquours. Of course the real stars are the bartenders, who'll use their encyclopaedic knowledge to mix you up a world-class cocktail. With a name like Savile Row this was never going to be a sticky dive.
Jessie's Girl
Petrie Terrace
This year also welcomed the cool older sister of feisty Scout Cafe to Petrie Terrace. With generous share plates of comfort food and a variety of refreshing, technicoloured spritzes, Jessie's Girl thrums with a mellow energy perfect for tempering the bruises of a hectic day/week/month. She also does a mean boozy brunch on the weekend, complete with free-flowing tides of bottomless filter coffee. Why? Because she cares.
Little Big House
South Bank
Matt Moran's latest Brisbane venture is perhaps the most perfect summer venue this city's ever seen. Rekindling our adolescent love of house parties, Little Big House lives in the bones of a heritage-listed Queenslander boasting tonnes of deck space and a homey, lived-in decor that makes all guests feel right at home. For drinking Little Big House mixes up a bunch of super refreshing, summer-appropriate cocktails in a can, and when it comes to eating they've set their sights on mastering the perfect rotisserie chicken. There's even a karaoke den for when you're ready to get wild.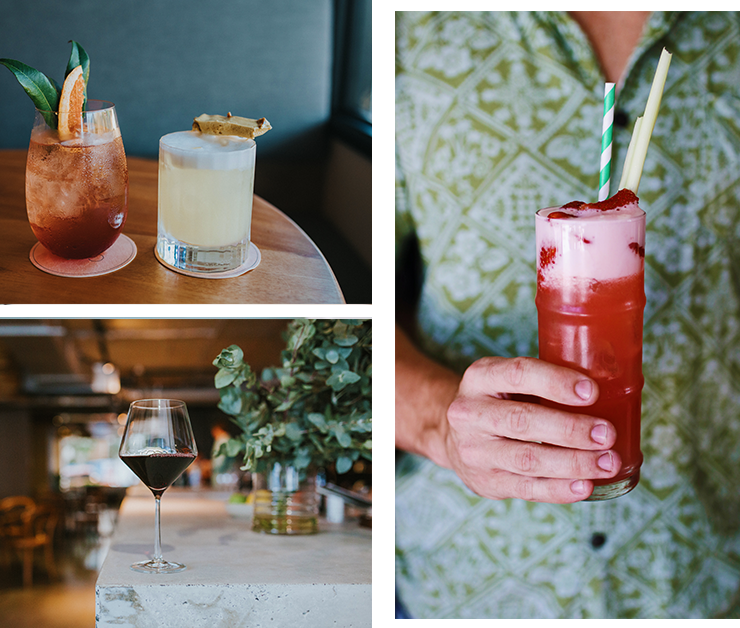 Riverland
CBD
Riverland is like the Bunnings of Brisbane's bar scene: it offers literally everything under one roof. Their bar boasts 80ft of frontage, 16 taps, river views, and a heckin lot of bottles in the cellar. Where food is concerned, Riverland champions the luxury of choice with a rotation of local and beloved street vendors pumping out the goods from each of Riverland's three shipping container kitchens.
La Lune Wine Co.
South Brisbane
These days it really feels like Fish Lane is the place to be, especially now that it has La Lune as a tenant. Not to be confused with just any other wine bar, La Lune enhances the divine nature of their drops with a seasonal menu where each dish has been designed to match varietals off their wine list. If you'd rather something lighter La Lune is good for that too, serving up a tidy selection of cheese, charcuterie and fresh oysters.
Mr Chester Wine Bar
Fortitude Valley
The formula is simple, take a glass of wine, pair it with food, and euphoria ensues – that's the underlying theorem governing Newstead's newest wine bar, Mr Chester. Featuring an expansive range of New World boutique wines, the best way to divine your ideal drink is to have a nice chat with the bartender, we promise they'll hook you up with something perfect. The choice is much easier if you were after a more spirited knock-off because Mr Chester features just two fantastic gins and two fantastic whiskeys. On that food we mentioned earlier, Mr Chester's menu is a constantly-changing selection of bites ranging from hunks of cheese to whole pizzas, and naturally paired with wine.
Copado
Teneriffe
When the mind behind Dalgety Public House decided to set up a tandem operation literally next door we reaching maximum intrigue. Copado is a dimly lit den that takes its cue from Europe, serving up lashings of wine, gourmet toasties, and the most plentiful cheese and charcuterie boards in the city. Don't leave without a glass of fortified wine, poured from the barrel behind the bar.
Jack Rabbits
Woolloongabba
We're getting into the secretive section of our wrap-up and we can think of no better place to start than with Jack Rabbits. 2017 truly was the year of the bar-within-a-bar, and it all started here, upstairs from the brand new Woolloongabba bistro, Electric Avenue. Entering via the back of a wardrobe no less, Jack Rabbits is a whisky salon decked out in the trimmings of an ultra-cool speakeasy.
The Cloakroom Bar
CBD
Specialising in bespoke cocktails to go with their bespoke suits, the official tipplery of Brisbane's Cloakroom tailors don't have a menu. Instead, their masterful bartenders have a wealth of supreme mixing knowledge which, following a casual discourse with their customer, will be put to work to craft a completely customised elixir. With operation this slick it's no wonder they keep secretive digs – entry is via a back alleyway and then up a couple of flights of fire escape.
The Drawing Room
CBD
Tucked into the forgotten nook inside the award-winning Gresham Bar, the Drawing Room is a wee bit special. Taking over the space that always seemed like a licensed lounge, this babushka bar features a much truncated menu of ten cocktails, compared to the more voluminous offerings of the Gresham, and promises a cosy, intimate feel. With seating for a maximum 24 people at a time, the Drawing Room is the perfect place for starting your night with a smooth tipple.
Making a night of it? Have a gander at Brisbane's best nightclubs ad prepare to bust out the big moves.
Image credit: Hayley Williamson for The Urban List