They're blonde, wide-eyed, and would probably fit in your pocket: just a few of the factors to take into consideration when trying to explain why we've adored the Mary-Kate and Ashley Olsen since they were no more than cherubic little faces popping up on our TV screens.
Fast-forward 20 years, and those cute-as-a-button twins have since carved out a global fashion empire and are probably the reason that ripped jeans will forever be in style. From maxi-sized sunglasses, boho skirts and kitten heels, battered boots, ginormous bags with eye-watering price tags, skinny jeans, masterful scarf-tying and layering of herculean proportions, it is safe to say that the Olsen twins have, are, and will always be amongst the most closely-followed style icons around.
Whether you're a die-hard fan, or you consider your own Olsen obsession to fall under the 'guilty pleasure' spectrum, here's a quick cheat sheet for true twinning style, courtesy of the fashion gurus at camargue, so you too can almost (because, you know, Olsen cheekbones) look like an Olsen.
Dinner With Your Billionaire S.O.
Black is the new black when it comes to Olsen-favoured evening attire. Infamous for their other-worldly layering skills, and dab hands at stacking on the jewels, dinner with your French billionaire bf is an opportune time to play a game of 'who's picking up the bill?'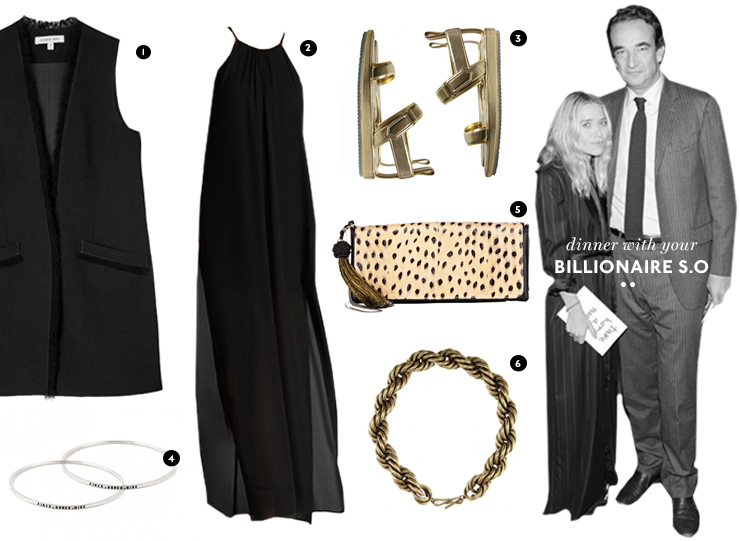 1. Elizabeth & James Hanover vest
2. Black Lia dress from Elizabeth & James
3. Gold sandals by Golden Goose Deluxe Brand
4. Silver bracelet by Serges
5. Dries Van Noten Clutch
6. Dries Van Noten necklace (all items available in-store at camargue)
Brunch With The Girls
Sticking to your finely honed monochrome palette, natch, lunch with your lady friends is a chance to out-style your best pals. Because, let's be honest, you were never going to lend them a bag from your super luxe fashion label, were you?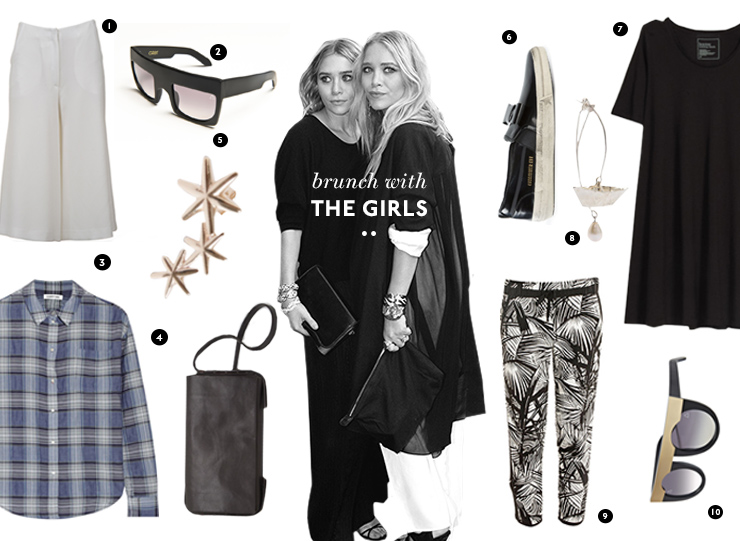 1. Presly draped culottes by Elizabeth & James
2. Cast eyewear Coco Flannel sunglasses
3. Elizabeth & James Carine shirt
4. Rick Owens clutch
5. Sarah & Sebastian Bold Star earring
6. Golden Goose Seastar Sneakers
7. Kowtow swing dress
8. Mirit Weinstock Earring
9. Elizabeth & James pants
10. Cast Eyewear Tranquilo Tigre sunglasses (all items available in-store at camargue)
​
Totally Office Approps
Never one to let your A-game slip, even dressing for the office requires equal amounts of attention to detail and haphazard dousing of oversized items to layer unto your body. Take it from us: more is more in a minimal sense if you catch our drift…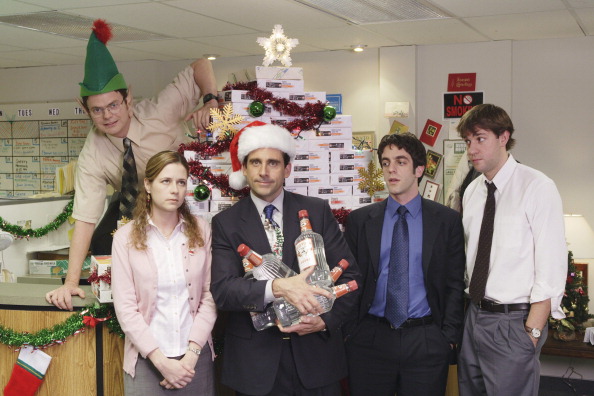 1. Elizabeth & James Franco drapey blazer
2. Elizabeth & James Tashi top
3. Sarah & Sebastian Oblong ring
4. Victoria Beckham Denim boyfriend jeans
5. Victoria Beckham Black Skinny Jeans
6. Elizabeth & James Diem Bomber
7. Mirit Weinstock Raffia Bow earring
8. Elizabeth & James Jeza top (all items available in-store at camargue)
Feeling a shopping spree coming on? Enter your details below for 10% off Elizabeth & James at camargue!
TUL Note: This article is proudly sponsored by
camargue
and endorsed by The Urban List. Thank you for supporting the sponsors who make The Urban List possible. Click here for more information on our editorial policy.