In this digital age, it feels like everyone is trying to create their own home cinema by investing crazy money on whizz bang audio-visual equipment and streaming Apple TV or Netflix or The Bachelorette (slowing down Wi-Fi networks everywhere).
But one thing that is harder to replicate at home is the old-fashioned charm of the cinema candy bar. Cinemas serve food that you would rarely make at home or buy elsewhere – where else would you order massive boxes of salty popcorn or stuff your face with retro lollies like chicos or pineapples?
Which brings us to the mother of all cinema food: the humble choc top.
Even though eating one in a dark cinema usually results in chocolate stains all over your clothes, the traditional cone with a scoop of vanilla ice cream covered in chocolate cannot be beat. And we're rejoicing because some of Brisbane's best cinemas are putting their own twist on this nostalgic favourite.
Get ready to crunch through that chocolatey goodness, because we've found the best choc tops in town.
Blue Room Cinebar
Rosalie

Boutique cinema Blue Room Cinebar in Rosalie is winning at choc tops by offering a range of flavours that not only change daily, but are also covered in bittersweet Lindt couverture chocolate. Like everything else on the menu, you can elect to have it delivered during the film and avoid having no treats left by the time the previews end.
Palace Cinemas
New Farm and Paddington
Both Palace Centro in New Farm and Palace Barracks in Paddington cinemas offer a stellar selection of hand scooped choc tops made with Connoisseur ice cream in crunchy wafer cones. Flavours include cookies and cream, chocolate honey nougat and - pure heaven - caramel honey macadamia.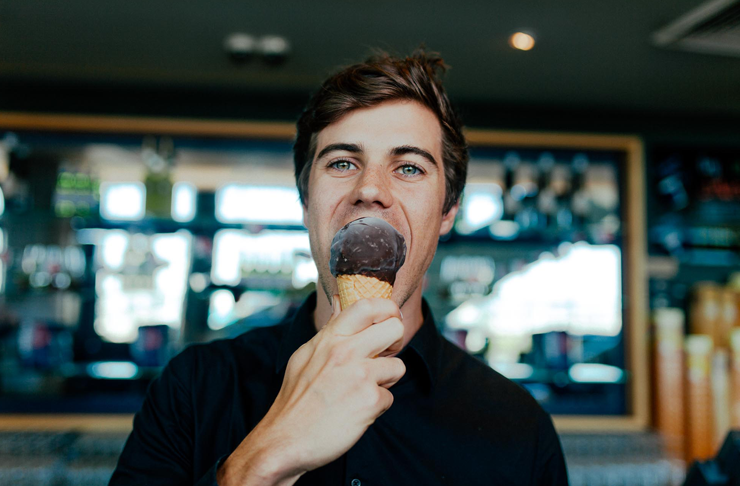 Dendy Portside
Hamilton
The candy bar games is also strong over at Dendy Portside where they elect to use sassy Mövenpick flavours like maple walnut, tiramisu and espresso. From time to time, they dare to break with tradition and dip the ice cream in white chocolate #controversial.
New Farm Cinemas
New Farm
If you are able to make it past the street-level gelato bar offering La Macelleria Gelateria's indulgent varieties, chances are you will cave at New Farm Cinema's candy bar. The last time I visited, I had boysenberry and my plus one had salted caramel choc tops. And we're waiting for any new releases to drop so we can replicate the experience.
Cineplex South Bank, Bulimba and Hawthorne
South Bank, Bulimba, Hawthorne and Victoria Point
We know and love the Cineplex chain for providing the cheapest movie ticket prices in town, and the same applies to their sweet treats. If you are too much of a cheapskate to pay the standard $3 for a choc top, guess what? Sometimes you can hit the jackpot and get a half price "broken choc top" in a freezer bag. Waste not, want not!
Image credit: Ariana Gillrie