If you're anything like us, you're clutching your face in your palms at the thought of Christmas just five weeks away. Seriously, where did the year go? 2015 was another epic 12 months of new openings, new menus, and general arse-kicking in the Gold Coast dining scene.
So before you find yourself cracking bubbles on the eve of 2016, grab your friends and work your way around the Gold Coast's flourishing café culture, with eight breakfasts you must try before the year ends.
1. Grocer & Grind
We reckon you'll be pretty chuffed with anything off the menu at Broadbeach favourite, Grocer & Grind—it's wholesome, fresh, colourful (hello edible flowers!), and bursting with locally-sourced organic goodness. If you were to devour just one last dish before the year is out, make it the Vege Benny. House-made hollandaise sauce is drizzled over a stack of smashed avocado, poached eggs, juicy roasted roma tomatoes, and topped with feta. Okay, so we can't stop at just one—the oh-so-sweet caramelised banana crepes will also blow your mind, guaranteed.
Where: Shop 1/1 Sunshine Boulevard, Broadbeach
2. Bam Bam Bakehouse
If you've not yet heard of beautiful Bam Bam Bakehouse (brought to you by the creators of The Paddock Bakery), never fear—they've just recently opened in Mermaid, so all the more reason to add them to the top of your list. For something a little different, we love their Asian breakfast staple—two-egg Nasi Goreng with spiced and sautéed rice, vegies, chilli, garlic, and yummy chilli sambal on the side. Beef it up with chicken skewers or prawn crackers. Oh, and you can drag along your hung-over BFF too, as they serve chicken parmigiana and seasoned shaker fries from 6.30am! We think you'll agree that Bam Bam Bakehouse is a hot new contender for one of the best breakfasts on the Gold Coast.
Where: 2519 Gold Coast Highway, Mermaid Beach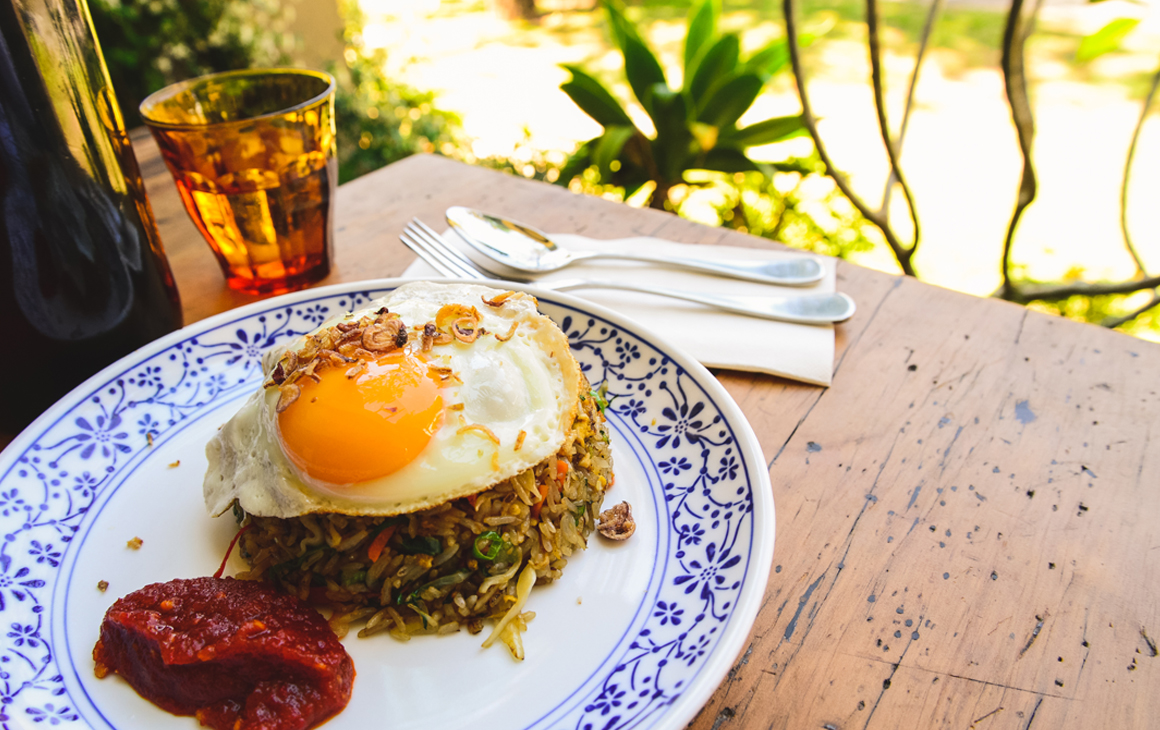 3. Burleigh Social
We can't get enough of the fun vibe and sunny outdoor set up at Burleigh Social. Our pick of the bunch is their nutritious Paleo breakfast—think two perfectly poached eggs, avocado, crispy sweet potato hash, kale, and a healthy serving of sweet and delicious smoked salmon. Oh my, breakfast and lunch in one sitting! We've caught word they have a new menu on the way later this month so, folks, your window to devour this baby has just shrunk.
Where: 2 Hibiscus Haven, Burleigh
4. The Salt Mill
Acai bowls are synonymous with breakfast on the Coast, especially when that beloved Queensland sunshine is beating down overhead. Even though we're still unsure exactly how to pronounce it, let's be honest, it's one of those in-demand dishes most cafes appear to be nailing. While everyone has their favourite place to nab a healthy bowl of frozen goodness, there's one particular Currumbin hole-in-the-wall we reckon is going above and beyond. The Salt Mill's loaded Acai bowls come au-natural or topped with coconut and cacao, or choco granola. Grab one for you and each of your mates, then take those bronzed bods to the beach.
Where: 1/784 Pacific Parade, Currumbin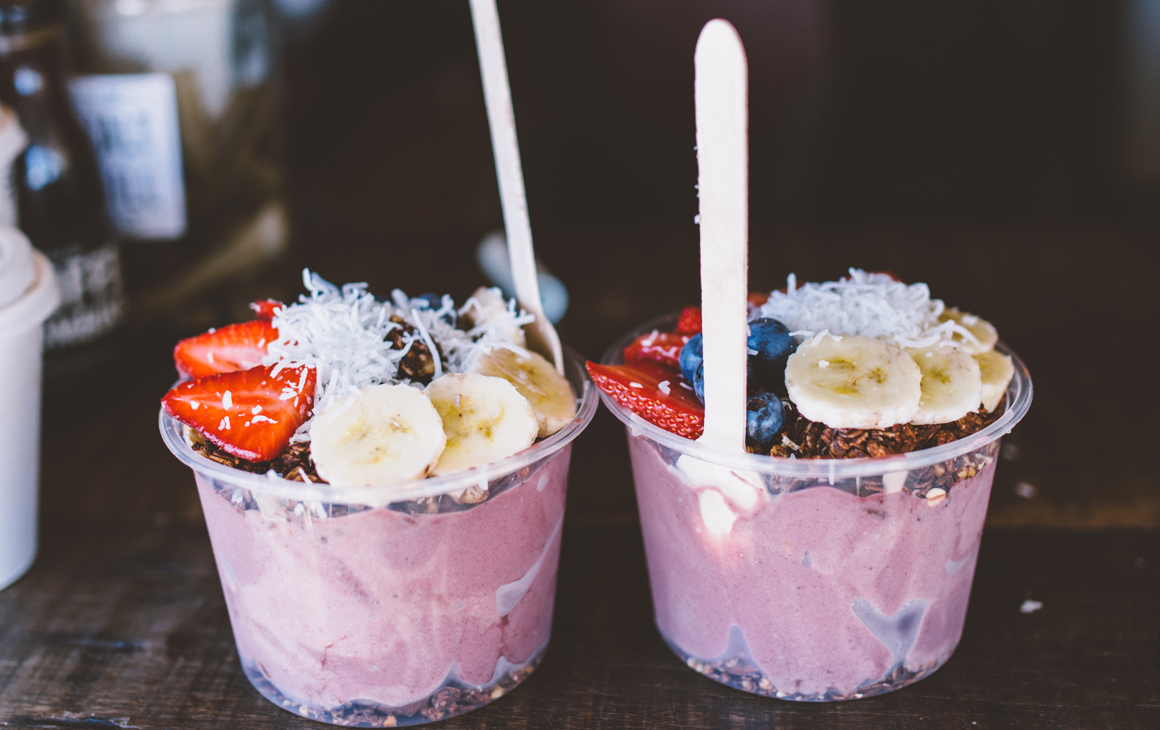 5. Sparrow Eating House
You've got the appetite of a bird, you say? Sucks to be you! No we don't mean that, but in all seriousness you're best not ordering the The Sparrow Feast —a monster breakfast plate piled with poached eggs, flavoursome smoked Byron bacon, avocado, roasted tomatoes, feta, and relish on sourdough. Think you can handle it?
Where: 2/32 Lavarack Road, Nobby Beach
6. Skull and Bones Espresso
Mermaid Beach's Skull and Bones should be your go-to for a damn fine bagel. There's something special about eating your entire breakfast wedged between two freshly baked rings of doughy deliciousness, all those flavours fused together with every gaping mouthful. Beats a soggy sanga any day. We recommend you head right in and order a towering Caesar Bagel with poached egg, bacon, parmesan cheese, and tangy house-made caesar dressing; pair it with a to-die-for peanut butter milkshake. North American ex-pats or ex-travellers will definitely get a kick out of this breakfast joint, eh!
Where: 2577 Gold Coast Highway, Mermaid Beach
7. Barefoot Barista
Satisfy your inner child this weekend with Ricotta Hotcakes from Palm Beach's Barefoot Barista. Quite possibly one of the prettiest hotcake-pancake-waffle dishes on the Coast—your fluffy hotcake comes served with a generous dollop of mascarpone, strawberry slices, slithered almonds, and roasty toasty nuts. Too pretty to eat? Never!
Where: Shop 5, Palm Beach Avenue, Palm Beach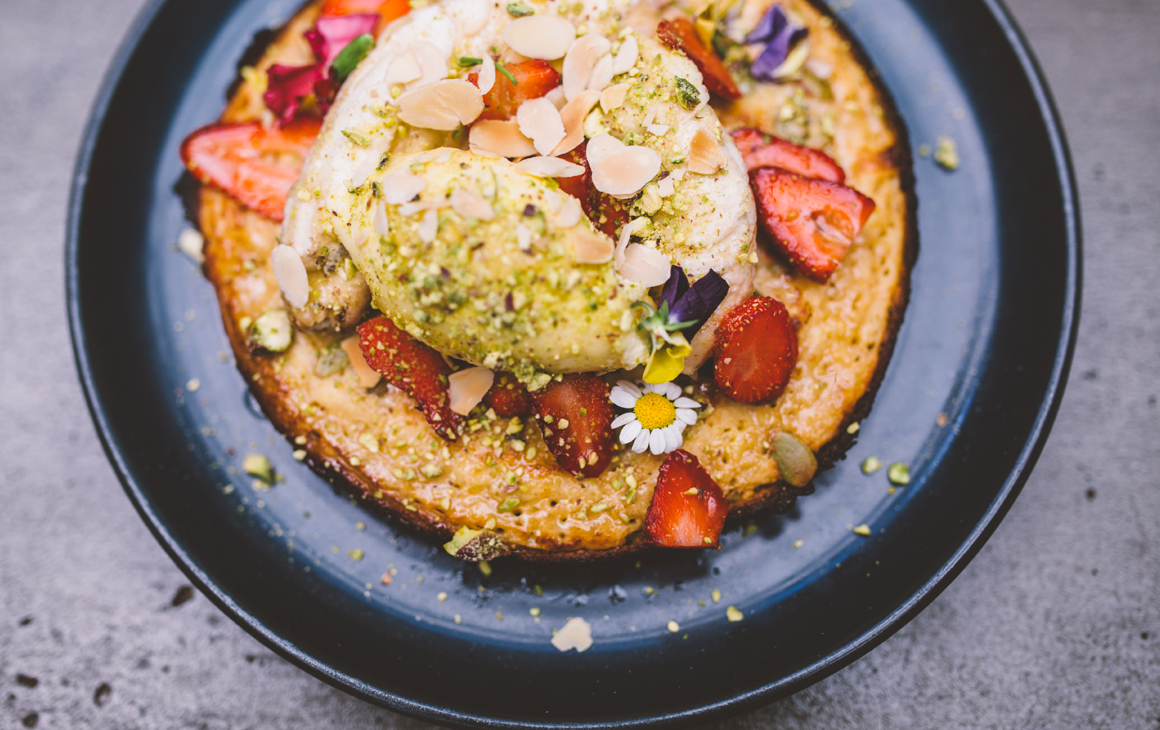 8. Daark Espresso
Up north in Chirn Park, Daark Espresso has just released a new summer menu to the cheers of their adoring fans. But we breathed a sigh of relief to see their cracking crowd favourite, smashed avocado had survived the cut—nom nom! So, go on, swing by and tell them we sent you.
Where: 41 Musgrave Avenue, Chirn Park
When Brooke Darling is not travelling to far flung places or sailing around the world, she's scouring the coast for the best ethnic food, new openings, and hidden gems, all in the name of research for Metropolist. She loves motorbike rides to the hinterland, learning (frustratingly) to surf, will try any adventure sport at least once. Find her on Instagram @darlingisamrs 
Photo Credit: Hayley Williamson and Brooke Darling for Metropolist