And we're not just talking about any ol' pro. We're talking learn how to craft a pizza just like it's made in Italy—the birthplace of pizza—with your very own capable hands.
We don't know about you, but we adore pizza. It's one country's national dish that has been replicated the world over in various forms or another. It's one of those staples that's always been there; loved unconditionally, yet under-appreciated, and often misunderstood. So, being the foodie fiends we are here at Metropolist, we jumped at the chance to join a Pizza Masterclass at Broadbeach's Double Zero.
Our gracious host and head pizza chef, Nicola Masci, immigrated to Australia five years ago. He first learnt the art of pizza making as a teen in his tiny hometown of Pescara on Italy's east coast, before eventually going on to compete in world champion-level pizza contests.
Yet when arriving Downunder, Nicola was disheartened by the barstardisation (our words, not his) of Italy's national dish with the likes of BBQ sauce (not gonna lie, I still freakin' love BBQ sauce on a pizza… sorry Nicola), inferior flour, too much yeast, pineapple, stuffed cheesy crusts, and toppings loaded to the high heavens.
Fate brought him together with Double Zero owners, Matthew Slivonik and Martina Jahodova, who shared Nicola's passion for traditional, authentically-made pizza. So they set about returning "the world's original fast food" to its European roots: perfecting their recipes, and following a strict rule book right down to the exact ingredients, meticulous preparation techniques, and cooking process in a "very special" forno (brick oven).
Earlier this year the team's hard work was recognised with the highest honour for a pizzeria, that being acceptance into the Associazione Verace Pizza Napoletana. Meaning Double Zero has mastered the art of making Pizza Napoletana EXACTLY as is done in Naples, the birthplace of one of the world's most loved dishes. Impressive, huh?
Fortunately for us, Double Zero is now sharing their expertise via monthly pizza-making masterclasses, and is on a mission to grow a cheer squad for traditionally-made pizza in the process.
As I tie a white apron around my waist, Nicola apologies for his English. Though there's nothing wrong with it, and it's his sexy yet thick Italian accent that has us ladies concentrating hard with every word. Swoon.
Spend an hour or two with a fiercely passionate chef such as Nicola—who talks with heart about the strength of the flour (it's "00" aka double zero, so you know), quality of the gluten, achieving the perfect density of air bubbles, and kneading like you're making love—and you'll never cave to drunk-dialling Dominos ever again.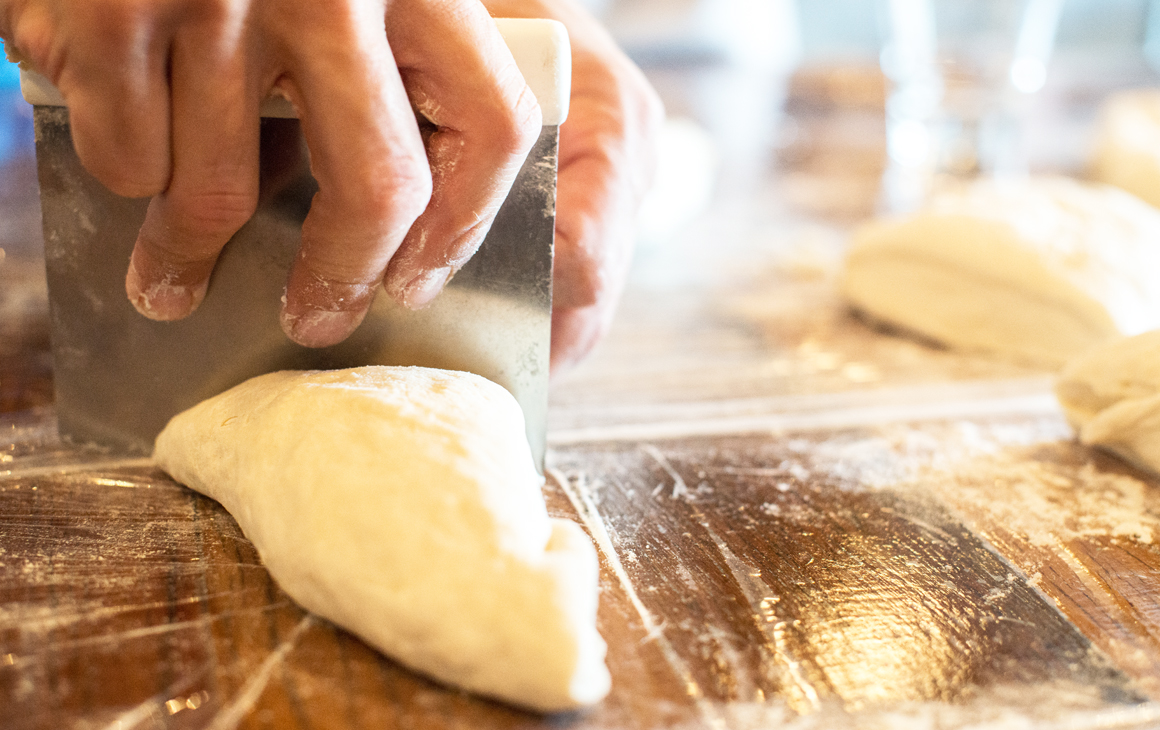 After methodically blending the simple ingredients as instructed, soon we're caressing and folding our dough balls until they bounce back with flawless prod-able resistance. "Now they just need 10 or so hours to rise," Nicola explains. Huh? Fortunately, he whips out some he prepared earlier… and we're next invited into the chef's workshop to hand stretch the dough before a few slick flicks of the wrist (tossing is generally for show, we're told) and my beautiful base is ready for dressing.
With too much goodness tempting from the kitchen pass, my saucy-covered base is soon sprinkled with buffalo mozzarella, fresh basil leaves, and prosciutto di parma. Nicola attempts to tug my pizza out from under me… oh, but I can't go without the mushrooms… and the olives… Opps, soon enough it's rather loaded. "Ah, it's the Australian way," he chuckles.
My pizza creation is whisked into the searing hot pizza oven (sourced from Naples, of course), where at 400 degrees Celsius it is wood fired and ready to eat in just 90 seconds. Do not look away, 'cause there's no room for burnt crusts here! I'm handed a smooth red vino and it's time for family-style feasting alongside my equally-chuffed pizza-making buddies. Yep, we devoured an entire pizza each. #nobigdeal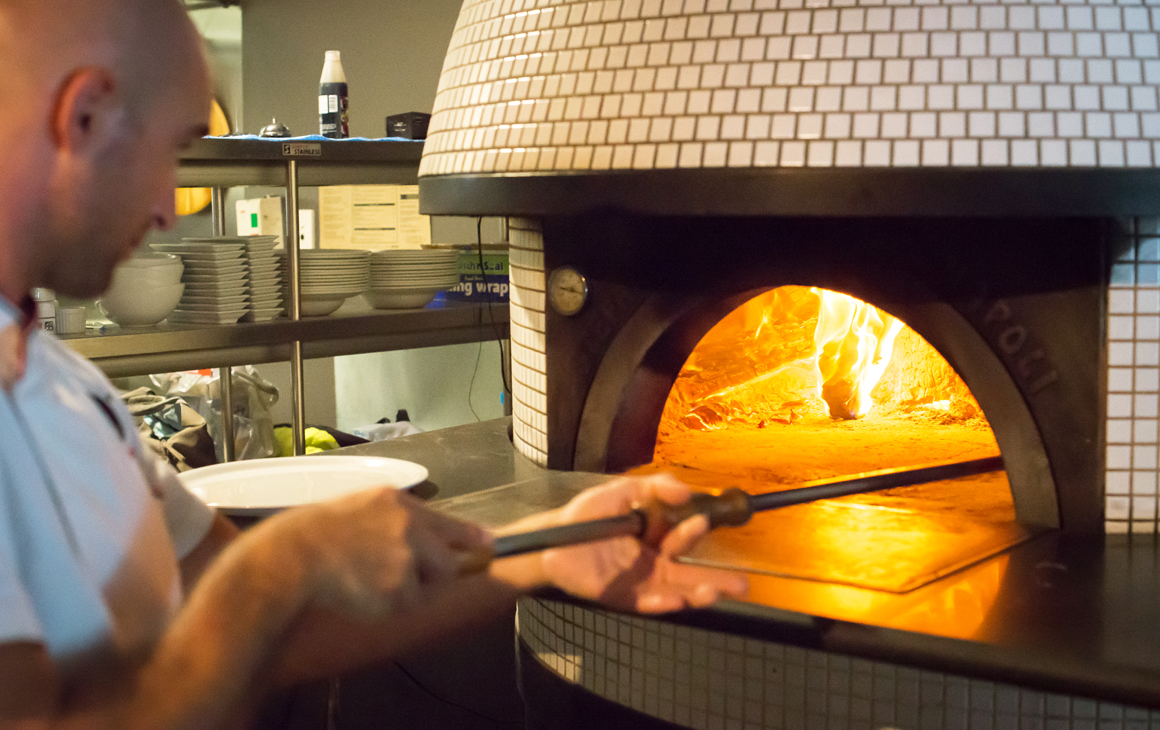 Now, I've joined a few cooking classes in my travels, and the takeaways are the best part, i.e. recreating your new skillz at home and impressing your friends. Double Zero gave us a head start, sending us away with five or so ready-to-stretch pizza bases that just required a few extra hours to rise as the yeast worked its magic.
Sure it didn't have the same smoky wood-fired crispy perfection from a 400-degree brick oven, but trust me when I say it'll be the best pizza you've ever made at home. When cooked at your oven's highest temps (which for me, was 250-degree Celsius fan-forced) it took a mere five minutes and dinner was ready. I ate pizza for another two nights, and with whatever was left in the fridge fresh ingredients and a light-as-a-feather crust, this was definitely not a bad thing. (No BBQ sauce was used Nicola, honest.)
I've already promised myself that this weekend I'll be gathering up four simple ingredients (00 flour, sea salt, fresh yeast, and water) and making those bases at home before I forget the dough love-making technique.
Don't have the energy to learn for yourself? Shame on you! Let the man Nicola himself cook for you, with Broadbeach's Double Zero open for dinner seven nights a week from 5:30pm. Bellissimo!
What's best, we're sending one lucky reader and a friend to a Double Zero Masterclass, so enter your deets below for a chance to win. 
When: 11am, first Saturday of each month (book early as they always sell out)
Where: 2/2715 Gold Coast Highway, Broadbeach
Cost: $69 per person includes masterclass, lunch comprising your homemade pizza and glass of wine, course notes, and 5—6 fresh "take home" pizza bases
Contact: 07 5526 8635
Terms & Conditions: Prize is two tickets to a Pizza Masterclass at Double Zero, Broadbeach, valued at $69 each. Entries close 4pm on 13/4/16. The winner will be contacted by email and must claim their prize within 24 hours or it will be re-drawn. The winner is responsible for booking their class direct with Double Zero.
Photo Credit: Brooke Darling for Metropolist

The writer was a guest of Double Zero.