To some of us, a miniature burger is kinda like when chocolate companies made mini chocolates and called them "fun size". But they're not fooling anybody. 'Cause our idea of a "fun size" food item would be a one-kilogram Mars Bar or a 6,000 pack of Skittles. Now that's fun!
However, if you have multiple "fun size" burgers (which from hereon we'll refer to by their more formal name, the "slider"), and they come with several different topping, that's when things start to get a little more appealing. Okay, a LOT more appealing.
So, for the indecisive but burger-hungry peeps out there, here's our pick of the best sliders on the Gold Coast to slide-r down your throat this weekend.
Obsessions on Chevron
First of all, we've written about these guys before when tracking down the best burgers on the Gold Coast, paying special tribute to their unparalleled social media banter. Seriously, get on it. Secondly, LIQUID FREAKIN' CHEESE. Yep, we're yelling! Have you ever heard three words so beautiful in your life? Well Obsessions feature liquid freakin' cheese on their beef slider and if you're not already sold, well, we can't really be friends anymore. Regardless, you should also know there's a chicken slider with Asian salad and onion rings, plus a bacon slider with (prepare yourself) a cheese stick wrapped in bacon. Dear lord we're hyperventilating.
Where: 37 Thomas Drive, Chevron Island
Ball Boy Meatballs
If a slider stacked with meatballs only sounds like a meal you'd normally make from random leftover ingredients in your fridge when you're running low on groceries, well you'd be so, SO wrong. Because there's no way you could nail a meatball slider like the crew at Ball Boy Meatballs do. New on the scene in Mermaid Beach, order a trio of sliders including the Mini Mac topped with a monster pickle, Buffalo Chicken, and Sriracha mayo, and you'll never be so stoked to have balls in your mouth.
Where: 2475 Gold Coast Highway, Mermaid Beach
Bine Beer Bar
If you're seeking something a touch different in your slider-sphere, Bine Beer Bar is where it's at. Just to prove it, let's play a game. We'll say a food ingredient then you think of the ultimate flavour combo. Okay, smokey BBQ pulled pork (answer: apple slaw), Angus beef (answer: grilled haloumi and pickled mustard), chicken schnitzel (answer: oh dear lord… camembert and spiced bacon), and last but not least—soft shell crab (answer: red cabbage 'slaw and wasabi mayo). If they were your answers, congratulations! You've found your sliders paradise in Bine Bar.
Where: Shop 1, Chairlift Avenue, Nobby Beach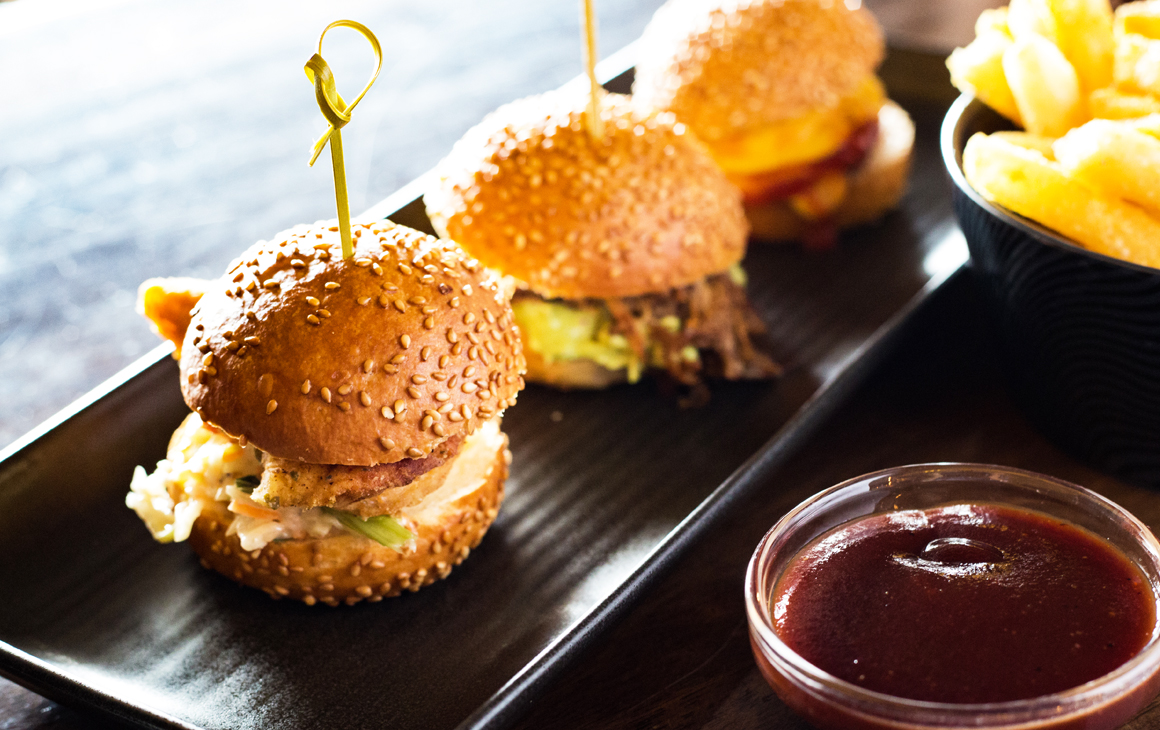 Tribeca NYC
In the real US of A we're pretty sure the reaction to a slider would be something like "What is THIS?! A BURGER FOR ANTS?!". Yet the boys at Tribeca NYC have nonetheless created an extensive menu of mouthwatering slider combos, including the classic cheese with beef, mustard, and tomato sauce (or is it ketchup?); the fried chicken slider; and the pulled pork with guacamole slider; plus more, including a veggie option! Grab three for 14 bucks, which sounds like a deal to us.
Where: 58 Thomas Drive, Chevron Island
N3 Tapas Bar
A relative newcomer to the Gold Coast, N3 Tapas Bar are bringing fabulous tapas to Marina Mirage and heading in for sliders is the perfect reason to give it a crack! Using gorgeous ingredients, the N3 trio of sliders looks like three fresh little bundles of joy on a plate. You can't go wrong with a mixture of beef, lamb, and veggie-fritter sliders on plump seeded buns with fresh mesclun lettuce plus a slither of tomato, and, of course, a cocktail to wash it down. Excuse me, waiter? What pairs best with sliders?
Where: Shop 33, Marina Mirage, Main Beach
Chubby's Diner
Chubby's Diner have been making a big impact on the food truck scene and it's worth stalking this retro white and orange caravan around the Gold Coast for the sweet array of sliders they serve up. Regularly seen at The Village Markets in Burleigh, our fave is the pulled pork slider smothered with homemade BBQ sauce on a squishy, shiny brioche bun and coupled with drool-worthy extras like buttermilk 'slaw or spicy kimchi and sriracha aioli. Buy one for a snack ($6), or mix and match three for a meal ($15). Plus, you can use the slider's petite size to argue that they won't really make you chubby.
Where: Check their website for locations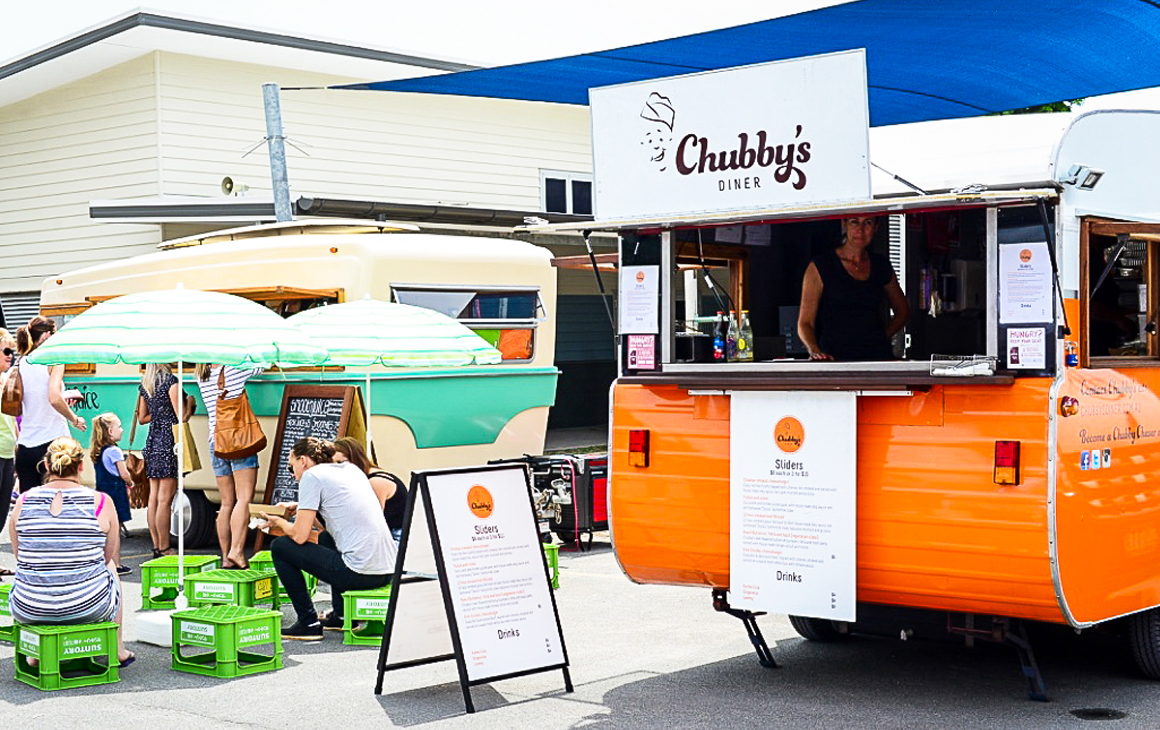 Stingray Bar
You know that annoying classmate at school that could honestly do no wrong, and you felt resentful that one person had so much talent? Well that's QT's Stingray Bar. No matter what they do, they do it so very well, and the sliders are no exception. The ultimate bar snack which will ensure you're not drinking cocktails for dinner (again), we suggest that you branch out and try the epic fried oyster po-boy with coleslaw, mayo, and Habenero hot sauce. Everything about this slider sounds sexy, plus you can eat it with one hand and continue sipping your martini with the other.
Where: QT Hotel, 7 Staghorn Avenue, Surfers Paradise
House of Brews
If you're at House of Brews to try all the awesome craft beers on tap, there's a good chance it means you're not a connoisseur, you're just indecisive. For folks like you, they've kept the eating part simple with a trio of sliders to fill the tiny hole in your stomach not already occupied by beer and cocktails. Mini buns topped with pulled pork, classic beef, or the salt and pepper calamari should do the trick.
Where: 17 Orchid Avenue, Surfers Paradise
Know another joint serving up some of the best sliders on the Gold Coast? Let us know!
Photo Credit: Hayley Williamson, Edmond Tsang, and Brooke Darling for Metropolist