There aren't many things better than an Australian summer on the Coast, but there aren't many things worse (or more painful!) than accidentally getting burnt to a bright red crisp.
Whether you're surfing, paddle-boarding or lounging beach-side, protecting your precious pelt from the sun's damaging rays should be a routine priority if you want to avoid waking up looking 80 on your 40th birthday. So, here are six of the best sunscreens that'll help you put the slop in slipping, slopping and slapping this summer!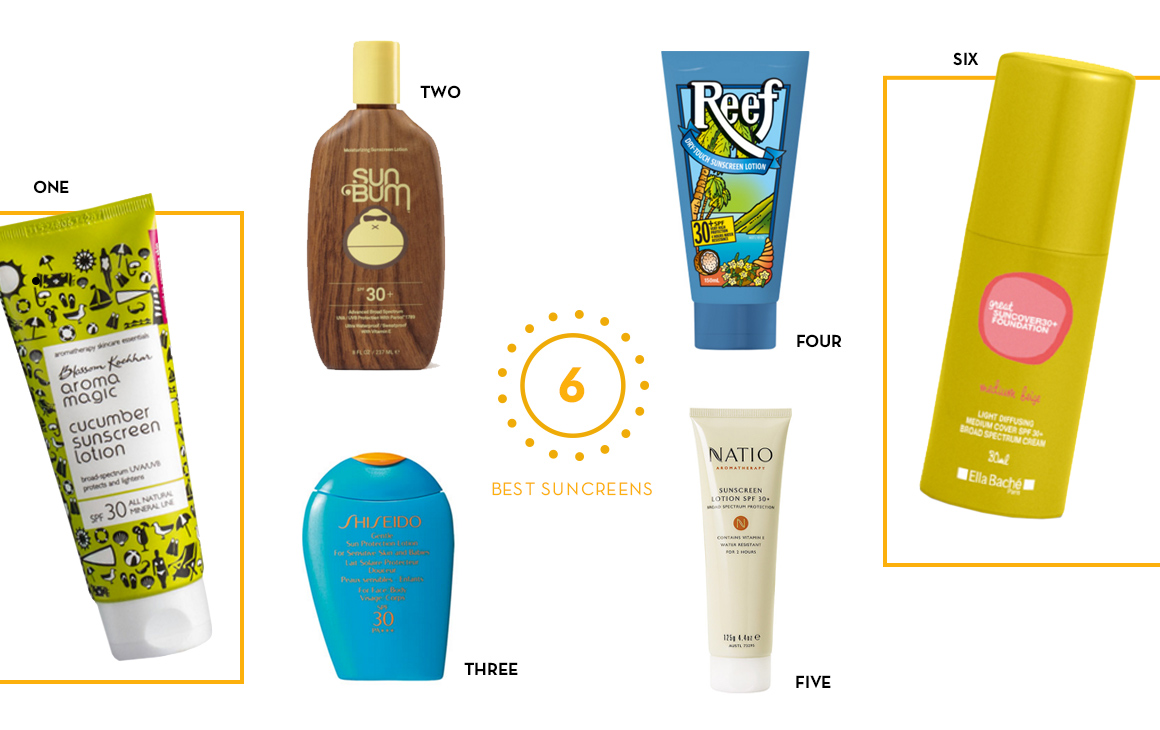 #1. Aroma Magic SPF 30+ Cucumber Sunscreen Lotion
If you shy away at the thought of chemically-laced lotions touching your skin, reach for Blossom Kochhar's Aroma Magic's line of aromatherapy skin care essentials. Their SPF 30+ all natural moisturising sunscreen is free from harsh chemicals, alcohol and artificial fragrance. Win!
#2. Sun Bum SPF 30+ Moisturising Sunscreen Lotion
Sun Bum's oil-free, broad spectrum products provide a sheer no-fuss, long lasting cover. Sun Bum is yet to hit retail stores in Oz (you can buy it online), but we think it's not a matter of if, but when.
#3. Shiseido SPF 30+ Gentle Sun Protection Lotion
OK, so it might be at the top end of your budget, but Shiseido's hydrating water-repellent lotion glides on and soaks in effortlessly. In our humble opinion, when you love applying it there's a better chance it'll become part of your morning routine, thus making it worth the few extra bucks. To ensure your wee bottle lasts the summer, we suggest saving this gem for your delicate face and neck only.
#4. Reef Dry-Touch SPF 30+ Sunscreen Lotion
If you're active or prone to forgo (aka: forget) reapplying, Reef's non-greasy, four-hour water resistant sun lotion will keep you protected and smelling like a coconut pina colada. This one's a Metropolist beach bag staple.
#5. Ella Bache Suncover SPF 30+ Foundation
If it's good enough for six-time world surfing champ Stephanie Gilmore and friends, it's good enough for us. Ella Bache's SPF light-diffusing, make-up cream foundations are designed for everyday wear and protection while leaving you with a flawless complexion. And who doesn't want that?
#6. Natio SPF 15 Daily Protection Face Moisturiser
This bottle of age-defying goodness from Natio is the bee's knees if you're on the go at work or on the weekend. Lightweight and hydrating coverage for the face, just pop your make-up on over the top (or go fresh and barefaced, girlfriend) and voilà !
See you at the beach!
Photo Credit: BKRM.com